Episode 84
Edit
Season 1 Episode 84: The Power of the Name (1)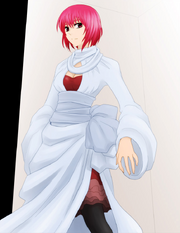 A person says that the unhappiest being in the world is a god, because gods have no repose, and must spend an eternity with every sorrow and regret, unable to look away, escape or forget.
During an undetermined timeline, Agni congratulates Kubera for killing the one destined to be the strongest. God Kubera had taken all their troops, but left out Agni. Realizing that Agni didn't know the details, Kubera tells Agni that he has no rights to his congratulations. Agni recalls that the primeval gods seemed unhappy. Kubera admits that he committed a terrible wrong: for his conquest, he overlooked the importance of the Power of the Name. Soon, he will no longer have a place in the world of the gods. He thinks of Ananta, wounded and kneeling.
In Lorraine's shop in Atera, Lorraine tries to convince Brilith to buy a new outfit. Brilith and Ari like the outfit, but Airi thinks the blue color doesn't fit the concept of fire. Lorraine claims it's fashion, noting that some priests even |wear animal suits. Lorraine then suggests a very high price, based on the high price of materials, and the fact that she is the creator. Airi notes that Lorraine got the materials for free from the Priest of Creation. The two begin to bicker, and Airi reminds Lorraine of her promise to get married to her fiance if she failed to remove Ruche from her position.[1] Sadly for Lorraine, Ruche has widespread support, as not a single person at the Magic Guild died despite the building collapsing. Airi thus blackmails Lorraine into giving her a free outfit. Brilith decides to pay for her dress herself instead of using temple funds, noting that the city's restorations will be quite costly.
Back at the temple, Brilith asks Agni about her new dress. Agni hadn't come along because he helped with repairs. The Fire God is massively disappointed by how much the dress covers her and because blue is Gandharva's color, but he nonetheless tells her to keep wearing it in order to keep her happy. When Brilith inquires about the Staff of Agni, hoping to learn how to use it, he makes it reappear out of thin air. He then explains that a god-class item is a part of a god, but not a part of his or her body. For a god, the body and soul can't be separated, and their power, memory and name form a single concept. To Brilith, the first part makes sense, since Agni can visit the underworld freely. She then inquires about the name and about humans with a god's name. Agni tells her that apart from offending some gods, humans having a god's name usually isn't a problem. Even in Atera, there are five people named Agni. Thinking of Sagara, Brilith tells him that the suras that attacked Atera were searching for a human named Kubera. Agni frowns.
In the water channel, Leez complains that someone appears to be talking about her. Ran, thinking that Leez is Asha's girlfriend and that Asha is a male, tries to figure out what Asha likes about her. He asks Asha about her preferences, and Asha tells him that she doesn't care about a girl's face other than to distinguish one person from another. Ran deduces that Asha only cares about breasts, and that Rana doesn't have a chance. Asha assumes from his expression that he doesn't know the way, and tells him to go straight, causing him to complain.
Spoilers and Trivia
Edit
Episode 85
Edit
Season 1 Episode 85: The Power of the Name (2)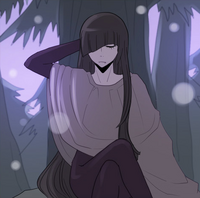 In a forest near Rindhallow, the Ananta clan rakshasas are bickering with Hura over the fact that he didn't kill the humans at the Atera Magic Guild. Hura was scared away after magicians appeared from inside the building, then ran away when Agni summoned the fire snakes since he only had a few revivals left and was vulnerable to summoned transcendentals.
Still, Hura is unapologetic, noting that he doesn't need to risk his life for them. He also blames Riagara for heading to the temple to join Sagara instead of checking for survivors, and implies that Sagara isn't worth such devotion. Pingara holds back an angry Riagara, and notes that they'd be worse off without Hura. Cloche adds that she and Clophe escaped safely thanks to him, even though they had a close call because Clophe went off and did something weird. Clophe looks away in embarrassment. Hura starts bragging again about how he prevented the the dragon from killing them, but Cloche tells him to stop and wait for news from Sagara.
Sagara tells them that she doesn't have good news. They failed to kill the target, since 'his' power remained unchanged. They deduce that the target must have escaped. Sagara blames herself for attacking Brilith, but Riagara claims that it was Maruna's fault for failing to do his job. Cloche then informs them that they don't know of the whereabouts of Maruna and Shess, and Gandharva has apparently gone into the depths of the ocean. Hura concludes that nastikas from the Gandharva clan keep coming to the Asura clan because of Gandharva is a lousy king. However, Sagara notes that she used to respect Gandharva, but he and his clan were ruined by his pacifist wife, Menaka. They wonder if he really believes that Shakuntala is still alive.
In the water channel, Asha, Ran, Leez, and Yuta have been traveling for a week. They decide to rest before proceeding to Area 51 (SIC). Yuta isn't feeling well, and the earrings he borrowed from Kasak suddenly crack. Asha notes that traveling will become more difficult because of the presence of suras. The fact that the geography started changing earlier could also indicate something else up ahead. Ran worries that it might be dangerous. Asha asks if he's afraid, then Leez starts making fun of him for being afraid. She also calls him a weakling for being afraid of the cold, when even Yuta isn't bothered. Ran informs her that he was just worried for her sake, and that he'll take off his clothes to prove his point. However, he stops when Asha starts glaring at him.
Later, Ran and Asha are sleeping, but Leez is unable to fall asleep. She decides to take a bath, then notices that Yuta has left as well. She walks off.
Spoilers and Trivia
Edit
Episode 86
Edit
Season 1 Episode 86: The Power of the Name (3)
Leez heads to Area 50, avoiding Area 51 since Asha warned them about suras. She removes her clothes and takes a dip in a pool. She hears splashing sounds in the distance and worries about Yuta possibly drowning. She puts on her undergarments and heads in the direction of the noise, but once she arrives near the source, the sounds disappear. She calls out to Yuta, then remembers that he can't speak. Thinking that he's hiding because he's bathing, she decides to leave.
Within the water, Yuta, in sura form, is holding down his prey. The still-living prey starts thrashing violently. Hearing the noise, Leez is worried that Yuta might be in danger, so she switches on her bracelet and dives into the water. What she sees there is a half-eaten Gandharva clan sura that's just been killed. She wonders why the predator ran off without eating the rest. She starts looking for her friend again. Yuta, hiding behind blocks of ice, blushes when he notices her in her undergarments. Kubera suddenly appears before Yuta in child form, chiding him for his habit of eating prey live, resulting in the commotion that grabbed Leez's attention. He tells Yuta that he'll distract her, adding that he isn't doing this because he likes him.
Leez emerges to the surface, having failed to find Yuta. She wonders if she was mistaken. However, she notices that she's no longer in the same location. She then spots Kubera in child form, floating on the water in a yellow tube. He notes that Leez must give her magician caretaker a lot of headaches, and asks if she's thought of an answer to his earlier question.[17]
Episode 87
Edit
Season 1 Episode 87: The Power of the Name (4)
Kubera asks Leez if she has an answer to his question.[17] Shocked, Leez tries to ignore him and leave, but realizes upon seeing a sign that she's lost. Kubera tells her that he's the only one who can help her, and repeats his question. Leez climbs out of the water to put some distance between them, then asks him why he's in child form. Kubera turns into adult form, but instead of feeling embarrassed (like he expected her to be), Leez complains that it's gross for an adult to be using a children's tube. He returns to child form, blaming humans for being blinded by appearances.
Leez ponders his question again, and asks him if he'll stop following her if she says she doesn't want to live. Kubera states that he'll kill her in that case, much to her chagrin. Thinking of her current companions, he tells her that if she chooses life based on the reasons she has now, she'll end up regretting her choice.
Leez returns his question. She notes that since he appears to know the future, he must know what will happen to himself as well. She asks him what he'll be doing, while she's living in regret. Kubera sees himself standing under a large tree. A person calls out his name, then notes that he isn't Kubera anymore. The person adds that Kubera will not be easily forgiven, even if he starts being honest, so he should try using cunning and deceit, like when he tricked Ananta. Kubera tells that person that he has no wish to repay wrong with wrong. The person says it is up to him, but reminds him that his opponent already knows how the battle will end, adding that only fools fight battles they are destined to lose.
Leez still ponders her situation, and then deduces that if she lives, there must be some kind of benefit to him. Kubera tells her that he doesn't know, since he isn't Visnu. To his surprise, Leez concludes that he's basically asking her to choose in his place, noting that everybody sometimes wants someone else to make decisions for them. Smiling, she chooses to live and watch over him to see whether he ends up happy or sad. She tells him that she knows he's not a bad person. Kubera looks upset. He sees a future insight of Leez, where she tells him to get lost and not come any closer or she'll kill him. He realizes that the future he sees has changed, as Leez is addressing him differently. He wonders why, then returns to adult form, fully clothed. He offers to take Leez wherever she wishes to go.
Spoilers and Trivia
Edit
Episode 88
Edit
Season 1 Episode 88: The Power of the Name (5)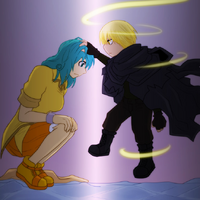 Alone in the tunnel, Yuta holds the now-broken earrings that Kasak lent him. Upset, he wonders how his mother is able to destroy a god-class item by Visnu, and why she'd go to such lengths to drag him into Chaos when she doesn't need him there.
Kubera brings Leez back to where she left her clothes. She notes that Mister is really fast, and asks him to teach her. He responds that she doesn't have enough power yet. He then informs her that she doesn't need calculations to use magic. Gods and suras don't need calculations for transcendental skills, and some humans are able to use similar methods. This is unrelated to intelligence. Instead, it's about being able to intuitively grasp higher dimensions. He tells her to ask a magician to test her, as she should be capable of it.
Leez thanks Mister for guiding her to the right place, and tells him that he no longer needs to follow her. However, she's worried that he'll continue to come after her. Reading her mind, he tells her that he's busy, too. He asks Leez why she chose to come to this place, when he could take her anywhere she wishes. Leez tells him that her companions are here. When he asks if there is somewhere else she wants to go, Leez darkly informs him that the place no longer exists. Reading her mind, Kubera sees Leez longing for her village.
Smiling again, Leez starts to leave, but asks for his name. Kubera turns into child form, and informs her that he doesn't have a name. He warns her that he just divulged important information. He then refuses her attempt to name him Alexander and tells her to keep calling him Mister. Leez finds that awkward because of his young appearance. In response, he starts messing with her hair to prove that she shouldn't be deceived by appearances. As he leaves, he tells her that next time he hopes to see her strong enough to be worthy of the Power of the Name. Before Leez can ask him more questions, he disappears.
Leez returns to see a livid Asha, hair dripping with water. Asha forces Leez to sit down for a three-hour lecture. Yuta, however, just looks down darkly.
Spoilers and Trivia
Edit
References
Edit