This chapter focuses on Yuta.
Episode 89
Edit
Season 1 Episode 89: Lies for You (1)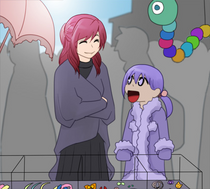 Inside the water channel, Asha examines the earrings that Yuta borrowed from Mr. Kasak, which are now broken. She wonders about the reasons, since god-class items normally restore themselves immediately, or disappear if the god has disappeared from existence. Yuta writes that he will be more careful, but Asha worries about Ran and Leez finding out. Yuta promises that he will leave if he interferes with their journey in any way.
In the merchant district of Atera, Leny enjoys shopping together with Agwen. Shess and a reluctant Kasak follow not too far behind. The half dragon is very troubled about his relationship with his daughter, who puts on a pretense that everything is fine. Shess observes that Kasak thinks differently from the other dragons he knows, and is incredulous that he would get rid of something as crucial as his earrings. Kasak sounds uncertain that he will get them back, so Shess offers to help him and his daughter keep the peace.
Back in the water channel, Leez asks Ran about people who can use magic without calculations, and he replies that he is one such magician, causing Asha to mock him, leading him to bet 10,000 gold that he scored higher on his magic exam than she did on hers. She accepts the wager and tells him they will check each other's scores at the Kalibloom Magic Guild. Leez interrupts to ask if there's a test to see if someone could use magic without calculating, so Asha uses hoti brahma to create a pair of loops. Just as Ran is about to get started with the test, a boat full of scared magicians appears. They report that the signs in Area 51 and beyond no longer work and randomly change. The three of them are the only survivors of their original party of thirteen, who encountered black suras with undefined shapes that caused their magic to fail.
Yuta suddenly thinks of a woman telling him he can never be completely out of her reach, and that neither Garuda, Shuri, nor Visnu can stop her. She claims that she made him so that if he left her, he'd forever be alone. Yuta grits his teeth.
Spoilers and Trivia
Edit
Episode 90
Edit
Season 1 Episode 90: Lies for You (2)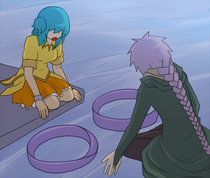 Asha leads her party back and forth through the tunnel to Area 51, theorizing that they can get to any area from 52-100 by doing so. This is safer than passing through several areas and risking encounters with suras. Ran is still worried about strange suras appearing in Area 100, but Asha decides to deal with this once they get there. Ran thinks she's irresponsible, and asks her what she can do without her magic. Asha assures him that they will remain safe as long as they do what she says.
After failing in 100 attempts, they decide to rest until the next day. While setting up their beds, Leez notices that Yuta has left. She asks Ran about magic without calculations again. Ran uses hoti brahma to create two large loops—one normal, one with a single twist—and asks her to imagine gluing the edges of the loops. For the first loop, Leez guesses that it would form a tube shape, then correctly guesses that doing the same is impossible for the second loop because of the twist. Ran compliments her for guessing correctly right away, but Asha dismisses the accomplishment. Ran recalls that even Rana had trouble figuring it out at the academy, and scolds Asha for judging Leez at the standards of magicians. When Asha glares at him though, he stops, worried that he's giving off the impression of being interested in Leez, whom he still thinks is Asha's girlfriend.
Leez asks him to continue, and Ran explains that in the case of the second loop, it is still possible to guess a theoretical shape, though most people can only imagine an incomplete answer. Leez points out that indeed, it wouldn't be possible to draw it unless one makes the shape intersect itself, but that doesn't correspond to the image in her head. Asha is surprised by her answer. Ran is really surprised as well, as it reveals that like him, Leez can learn magic without calculations. However, Asha dismisses the whole concept, noting that using magic by guesswork makes one dangerous to those around them. Ran is annoyed at Asha's inability to give praise to 'his girlfriend', then suggests teaching Leez a spell that doesn't cause much damage even if it fails: hoti kubera.
Spoilers and Trivia
Edit
Episode 91
Edit
Season 1 Episode 91: Lies for You (3)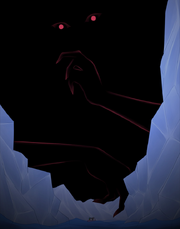 Ran suggests teaching hoti kubera to Leez. She is startled at hearing her own name, quickly acts as though it was nothing, then asks what the spell does. Ran is surprised by her ignorance, and explains that it is a spell to make her stronger. Leez listens to his explanation, and turns around to ask Asha if she also knows the spell. However, Asha is gone.
In a separate tunnel, Yuta asks Asha why she isn't teaching Leez magic. Asha tells him that indeed, it would be better for Leez to learn magic, but it would be better for Asha, not Leez. Yuta is confused by her answer. In response, Asha asks him why Leez would suddenly show interest in magic, and how she'd learn about magic without calculating while they were in the channel. She then tells him to forget about it, stating that even without calculations, magical theory is difficult. Thus, she thinks that it'll take time for Leez to learn magic. She expects Leez to start complaining about how difficult it is.
At that moment, Asha hears Leez shouting hoti kubera. Startled, she thinks of a woman asking her if this isn't what she wanted, and telling her to be happy that the most useless pawn has acquired a useful function. She then thinks of a man, telling her that she's living for the dead, whereas he is living for the living. He told her that his only wish was for his daughter to find happiness. Clenching her teeth, Asha starts mentally apologizing over and over, and runs back to find Leez. However, Leez just smiles apologetically and tells Asha that it didn't work. She tried saying the spell since the theory seemed easier than she expected. Ran tells her off for being impatient, noting that she should at least see the spell first. He proceeds to cast hoti kubera, causing a golden glow to surround his arm. He tells her that visualization is also important.
Looking at the golden glow, Leez thinks back to the glow around Mister,[7] as well as his subsequent explanation. She deduces that hoti kubera is the spell he talked about. She then tries to cast hoti kubera again, but fails again, much to Ran's amusement. Asha sees her bracelet, currently off, then tells her that it's enough. She instructs both Ran and Leez to go to bed.
The next day, the group manages to reach Area 100 in one try. Asha tests the area with hoti surya, but notes that she is unable to see the outer limits due to the large size of the area. While navigating through, they note that strangely, the ceiling is all black. Later, Asha informs them that they are near the exit. Ran wonders about the type of suras mentioned by the fleeing magicians earlier.[8] Asha states that they may be from the 'clan of Chaos'. There is very limited information on them, and they are rarely sighted in the human realm. It is forbidden to even utter the name of the clan. Ran is surprised by Asha's knowledge.
The boat suddenly stops, and Leez tells Ran to cast hoti varuna again. Ran notes that the spell shouldn't have run out yet, however. Looking up, they see a huge, looming figure with red eyes.
Spoilers and Trivia
Edit
Episode 92
Edit
Season 1 Episode 92: Lies for You (4)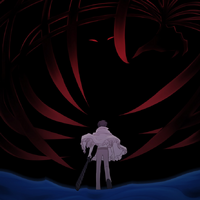 Upon seeing the the looming figure, Ran realizes that it's the sura mentioned by the magicians earlier.[8] Asha confirms this, and states that most magic will be nullified as long as its eyes remain open. Concerned, Ran decides that someone needs to act as bait for the others to get out of the sura's range of vision. He looks over the options. Asha appears to be a typical magician who's never exercised. Leez is a useless human girl, and Yuta is young and doesn't look too strong. He decides that he has to be the bait and gets up, annoyed that his graduation quest has come to this. However, Asha tells him to stay seated. While Ran is arguing with Asha, Yuta writes down something and passes his notebook to Leez, telling her to ignore him and head straight to the exit. Before the others can react, he then runs off on the water, ignoring Leez's cries for him to return.
The looming figure looks amused. Her finger breaks apart into many tentacles and picks up Yuta, bringing him to her eye level. She tells Yuta that it has been too long, and that Visnu had used dirty tricks to prevent her from finding him. She then proceeds to squeeze him, causing him pain, then taunting him for being in his weak human form. However, Yuta recalls Asha telling him that Leez hates suras.[17] He bites himself to prevent himself from transforming. Surprised by his reaction, she tells him that he's deluding himself by thinking that what he's feeling is love. She takes him away, promising to educate him.
Once they have disappeared, Leez is angry and wants to go after him. Asha merely gives instructions to Ran to start moving the boat again, then informs Leez that Yuta left of his own free will. She tells Leez that Yuta will return perfectly fine. Angry, Leez decides to go after Yuta on her own. Ran grabs her, but Leez yanks her hand away with her bracelet activated, surprising Ran with her strength. Asha then uses hoti brahma to bind Leez, but Leez casts hoti kubera, recalling God Kubera's instructions to use her mind.[18] With the spell activated, she breaks away from Asha's restraints.
Spoilers and Trivia
Edit
Episode 93
Edit
Season 1 Episode 93: Lies for You (5)
In a past memory, a very young Yuta cries because of what happened to his only friend. He tells his mother that he hates her. His mother asks him if he really believes that she was the one responsible, then tells him to believe what he must.
Back in the present time, Leez examines the glow all over her body. Ran is surprised that she cast hoti kubera on her entire body on her first use, and even managed to break through Asha's hoti brahma. Before Ran can stop her, Leez jumps all the way to the top of the cliff. Ran is surprised that she didn't need intermediate steps, as it is a rare skill even among fighters. He suddenly thinks of a man with curly green hair, and wonders why he's thinking of him. Mentally, he notes that if that man's child were alive, he or she would be Leez's age. He also thinks about Leez's name. Asha tells Ran to keep going while she goes to find Leez. Ran objects to her going alone, noting that she is human, and that a human is so weak compared to a sura that even the strongest fighter or magician can die in an instant. He recalls himself crying in front of a portrait of Rao Leez, his date of death marked as N5. Asha agrees to let him come along.
Yuta tells his mother that he was planning to go to the sura realm, so she didn't need to come find him. She asks him who he wanted to find, noting that Garuda and Vinata didn't care about him, and Shuri disappeared with Visnu. She concludes that he is looking for Maruna and Kalavinka, but claims they probably forgot about him. Yuta remains silent, and she notes that he is so well-made that he no longer needs to close his eyes when facing a god. She then informs him that Maruna and Kalavinka are in the human realm, but that she's taking him to the sura realm immediately. She tells him that he can't feel emotions such as friendship or love, because she made him unable to feel so. Yuta denies that, so she states that Maruna and Kalavinka can be excused because they share Garuda's blood.
However, she then turns the topic to Leez. She notes that there isn't anything special about her, in terms of ideologies, strength, personality, or looks. There is no reason for him to be attracted to her. Yuta meekly replies that he doesn't need a reason, but his mother laughs and claims that Shuri has ruined him with useless fancy words, as no love exists without explanation. Yuta says that he just felt she was different from the first time he saw her. She asks him what he'd do if those feelings turned out to be a form of suppressed hunger. This surprises Yuta but doesn't seem to convince him, so she offers him a chance to face the truth.
Yuta's mother takes him to another location which appears to still be in the channel, yet is different. It reminds Yuta of the sura realm because of the atmosphere. Yuta sees Leez from afar, and his mother mocks Leez for her futile attempt to rescue her son, noting that she'd die as soon as hoti kubera runs out. Yuta is worried, but his mother holds him back with a tentacle, stating that if he wants to go, he must do so in sura form, though it would force him to reveal his true nature. She tells Yuta to watch and realize that what he's feeling isn't love.
Spoilers and Trivia
Edit
Episode 94
Edit
Season 1 Episode 94: Lies for You (6)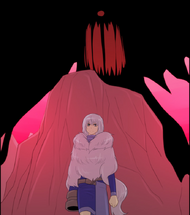 Leez is surprised by the place she's arrived in, but before she can start searching for Yuta, black figures appear from the ground around her. Yuta is worried, but his mother assures him that Leez was made to not die so easily. She praises him for instinctively choosing the best type of prey, even if he hasn't realized it, and tells him to watch and learn why Leez deserves to be eaten.
Elsewhere in the channel, Ran is surprised that a sign is unreadable. He also worries about the fact that the way back has disappeared. Asha informs him that the symbol is part of the alphabet of Planet Carte, and that this area is one of the 400 areas of the channel on Carte. Ran is surprised that they'd be on another planet, especially since the planet was destroyed in N5. Asha recalls pleading to her mother to open her eyes. She then confirms that the planet has been destroyed, but notes that the inside of the channel isn't actually located on the planet, so it is now a sealed space with no entrances or exits. Asha reveals that she has memorized the layout of Carte's channel, because the magic exam was held there. Shocked, Ran realizes that Asha is a survivor of Carte, and took the Carte Magic Exam there. He thinks it doesn't make any sense, since Asha would have been a little child in N5. Asha then tells Ran not to move, as she appears to have stepped into a trap. She instructs him to go straight ahead and find Leez before her hoti kubera runs out. She then disappears into the trap.
Asha reappears in another area, and notes that it's fortunately quite close to her destination. To conserve her uses of hoti vayu, she casts bhavati vayu. However, a large Chaos sura appears behind her.
Left alone, Ran notices that oxygen is getting sparse, and the air smells wrong, so he casts hoti kubera to proceed ahead. He suddenly hears a loud rumbling sound, and when he comes out of the tunnel he sees Leez with the ground around her destroyed.
Spoilers and Trivia
Edit
Episode 95
Edit
Season 1 Episode 95: Lies for You (7)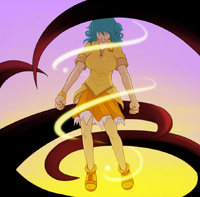 Leez has destroyed the ground around her, killing the Chaos suras surrounding her. Yuta's mother notes that Leez is presently much weaker than Yuta, but will grow stronger in time. She tells Yuta that unlike other clans, who search for larger prey, those of their kind search for stronger prey, but feel fear when faced with an opponent they cannot defeat. Thus, the best prey are those who they can usually not defeat, but are at their mercy after being weakened. She thinks of Gandharva in the sura realm, surrounded and bloodied.
Yuta claims that this isn't the case for Leez, but his mother notes that their perception of strength is not limited to the past or the present. Leez has a 'future' surpassing Yuta's 'present', making her attractive as food. Meanwhile, Leez has regained her senses, and is surprised that the monsters have disappeared while the terrain has changed. Yuta's mother concludes that Yuta was confused by his feelings, and ended up deluding himself into thinking that it was the 'love' everyone was talking about. Yuta blames his mother for interfering, stating that he can choose not to see Leez as food. She thinks that he always says the same thing, but will end up losing her, mourning, then wiping her from his memory. Rather than seeing that happen, she states out loud that she'll kill Leez herself.
Leez realizes that she blacked out again. Recalling all the past times when she blacked out, she wonders why it keeps happening, and wishes she could remember what she did then. She then sees Yuta being held by a monster atop a cliff. Unable to hear Ran shouting at her, she heads towards them, warning the monster to let Yuta go. Yuta's mother wonders why everyone keeps calling her a monster, and sends tentacles in her direction.
Elsewhere, Asha notes that her spell hasn't activated. She then notices the Chaos sura behind her. Because of its size, she decides that hoti brahma isn't enough, so she'll have to use another spell, even though she doesn't want to use it there. She casts hoti visnu.
Yuta's mother catches Leez with a tentacle, and taunts her for being unable to pick her battles. Still, she notes that Leez should have been powerless after using her 'chance', so she should be dead by now, but her hoti kubera is keeping her alive. She is too proud to use her eyes against her, however. Crying, Yuta pleads for his mother to stop. Seeing Yuta, Leez recalls her village, and how she lost everyone to her opponent because she was too weak back then. However, she has strength now, so she promises never to run away again to save her own life. She vows to save Yuta, and somehow forces back the tentacles. Yuta's mother is shocked, because Leez should have used her 'chance' for the earthquake. Leez's fist then flares up, and she jumps to punch the monster, telling her to get lost. Her opponent is stunned for a moment, then activates her red eyes.
Spoilers and Trivia
Edit
Episode 96
Edit
Season 1 Episode 96: Lies for You (8)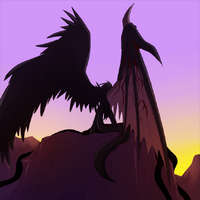 Taraka activates her red eyes, causing Leez's bracelet to turn off. She then grabs the girl with a tentacle and smashes her into a cliff, and blames herself for not finishing her off earlier. With Leez buried under the rubble, Taraka thinks she's dead, but wants to make sure. Yuta is shocked as he observes the scene.
Yuta recalls a woman with blue-green eyes calling him her masterpiece, but states that she will not leave him there alone. So, she will take her maternal love, which she refused to give up until then, and give him a mother who will always put him first, would do anything for him, and would always return to his side even after repeated deaths. She concludes that she will never see him again, but that he will always be able to see his mother, even if he doesn't wish to. Yuta wonders why she was smiling as she left, even though she knew that the boy would suffer. He transforms into sura form and rips apart the tentacle keeping him prisoner.
Unaware of this development, Ran is surprised that his hoti kubera spell really disappeared the moment the sura opened its eyes. Still, he is able to hold out without hoti kubera despite the unpleasant atmosphere. He wonders how he could rescue Leez against a monster immune to magic, and wonders if he should attempt a sneak attack from an unseen spot. He deduces that he'd only deal minimal damage, and be killed immediately afterwards. He wonders if he should use 'it', and recalls a conversation with Rana right after his magic exam. Ran used the ability because the simulation was so realistic that he thought Rana would die, but it allowed him to get the highest recorded score ever. Still, Rana scolded him and warned him never to use it again, as it might kill him. While Ran ponders whether to use the ability or not, he gets hit by a stray rock, and finally notices that a second, stronger-looking sura has appeared, and is fighting the first sura. The two disappear from view. Ran decides to search for Leez and Yuta, and sees Leez climbing out from beneath the rubble, bloody and surrounded by a green light.
Elsewhere, Taraka asks Yuta what he's doing. Yuta tells her that he did his best to protect Taraka this time, but Taraka never changes, no matter how many times she resurrects. Though Taraka once told him that he took the things he didn't wish to believe and erased them from his mind, she wouldn't tell him what he had forgotten. Taraka says it was because the knowledge would only hurt him. Yuta says that for the same reason, he didn't want to tell her the truth. He did the first few times, but she forgot each time she resurrected. Even though Taraka has insight, she distorted reality to only believe what she wanted to. Taraka only thinks she is the King of the Taraka clan, with power and beauty surpassing all, and that she had a proud son with Garuda. But apart from the name, all those memories actually belong to the primeval god Kali. Yuta is also the only one who can see her with a beautiful appearance.
Spoilers and Trivia
Edit
Episode 97
Edit
Season 1 Episode 97: Lies for You (9)
In a flashback, Taraka remembers cradling Yuta with Garuda facing her. He looks up to her monstrous form, and notes that Taraka is truly a mother created for the son alone. From how she appears to him, he deduces that he has been granted leave to depart. He expresses thanks for the only consideration that person has ever shown him, noting that she is now somewhere his voice won't reach.
In the present time, Taraka starts crying, and begs Yuta to tell him how she managed to forget everything.
The green glow around Leez finally fades, leaving Leez fully healed. She complains about being dizzy, and is confused that she no longer feels pain. She tries to go after Yuta again but stumbles. Ran catches her just in time, but is confused about the light from earlier, noting that it resembles a fusion spell. He then realizes that she fell asleep. He is surprised that she's fine, even though her hoti kubera ran out. Suddenly, he hears a loud rumbling sound, and realizes that the water channel is collapsing. The way to the exit also collapses, leaving them stranded.
Suddenly, Yuta shows up in sura form and brings Ran and Leez to safety. Ran is surprised that one of the monsters is helping him, then realizes that it reminds him of Yuta. He dismisses the thought at first, finding it impossible for a superior sura to be traveling with humans. When he asks why it's helping them, Yuta carves into the stone that Ran seems fine with suras, and it'd be nice if that were the case with Leez. Ran concludes that he really is Yuta, and realizes that Asha knew the truth, but kept it hidden from Leez. He tells Yuta that he should return to human form to continue hiding the truth from Leez. Ran suddenly hears Asha calling to him, then sees Yuta flying away. Asha tells him that Yuta may not return, and that they should find a way out on their own, or they will be stranded in the middle of space.
Elsewhere, Yuta returns to Taraka's side.
Spoilers and Trivia
Edit
Episode 98
Edit
Season 1 Episode 98: Lies for You (10)
Yuta asks Taraka if she's made her decision, but claims he knows the answer. In a flashback, he recalls Taraka asking him to kill her so that she can escape from her role. The younger Yuta cries because Taraka stops showing any maternal instincts the moment she realizes the truth, proving all her words until then to be false. After he kills her, however, she is reborn, having lost her memories about the truth. The reborn Taraka asks Yuta why he's crying, and he responds that he lost someone very precious to him. He concludes that he needs to lie to protect his mother.
In the present time, Taraka grabs Yuta's hands, noting that he had to kill her every time. She apologizes for what she did to him, and reveals that she realized some time ago that there were lapses in her memory. They corresponded to the moments when she realized the truth, but she refused to probe any further. However, Yuta had to remember everything. Yuta promises to protect her this time, but Taraka smiles and tells him that lying is harder than he thinks. She thinks of the anger and frustration of having the blame put solely on her shoulders. She then tells him that she's happy that she's better than her previous selves, because this time, she chooses to live. She wants to try harder to prevent her son from suffering. Yuta is worried about her, and Taraka thanks him for worrying about her and acknowledging her as his mother, even though she's a fake.
Taraka tells Yuta that she can't stay any longer, and asks him once again if he'll come with her to the sura realm. Yuta says he won't, and Taraka regrets telling him about Maruna and Kalavinka. She then asks him if he'll leave Leez, as he no longer needs the Sword of Return. Yuta tells her that he plans to help Leez draw the sword if necessary, then leave afterwards. Taraka seems frustrated by this, but assures him that she's too weak to drag him off by force. She then reveals that she hesitated when Leez was about to attack because she saw something very important then.[15] Yuta realizes that she used insight on Leez and interrupts her, noting that her view of the future is distorted, and she used it before to separate him from his friends. Taraka asks him to listen without taking it seriously, because she'd regret not telling him otherwise, as she can't see the future at will, and this vision could be important. She then tells him that in the few scenes she saw of Leez's future, Leez was alone in all of them. She was either fighting countless suras, standing alone in a deserted plain, or crying. But then Taraka saw her son in her future. In that vision, Yuta is attacking Leez and pinning her down while holding a transformed form of the Sword of Return. Leez, however, has extended a hand to touch his cheek.
Spoilers and Trivia
Edit
Episode 99
Edit
Season 1 Episode 99: Lies for You (11)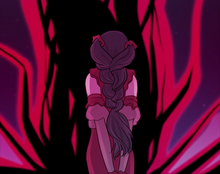 A dark, crackling gate forms near Taraka and Yuta, and Taraka prepares to leave. She tells Yuta that the future she described won't happen if Yuta leaves Leez after he draws the Sword of Return; however, it seems that he will be unable to leave her side. She warns him that the longer he stays with her, the more it will hurt. She asks once again if he still chooses to return to her.
Ran carries the unconscious Leez as he follows Asha through the crumbling tunnels. He blames Asha for not telling him the truth about Yuta sooner. Asha points out that Yuta barely knew him, and the boy had no reason to trust him with this information. Ran asks if they have a way to return to Willarv, and Asha points out that a passage has already appeared. Ran finds her predictions amazing and almost suspicious. Asha has a dark look on her face as she hears that, then tells him to prepare his spell.
The group finally escapes the channel. Ran asks if it collapsed because of the suras fighting. Asha tells him that the water channel is a god-class item made by the primeval god Brahma, so it can only be destroyed if a force equivalent to Brahma's power acts upon it. She then claims she can't guess the true reason it collapsed.
Ran then asks Asha why the name of the clan of Chaos can't be used. Asha asks him if he knows about the Power of the Name, then explains that there are names holding special kinds of power. These were giving to the first living creatures of the universe, which were then divided into nastikas, Those who are strong, but live only once, and astikas, Those who are weaker, but can resurrect themselves an infinite number of times. The astikas later came to be known as natural gods or created gods. The ones responsible for naming them was the primeval god Visnu. He already had a name that was immortal regardless of the existence of the universe, so he had no interest in keeping the other names. So, once the universe was created, the most powerful names belonged to the newly-created beings. Out of the four primeval gods, Brahma and Shiva also held no desire for the names and their power, but Kali was different. Whatever the reason, she took possession of the leftover names of nastikas that were not given out because they had flaws or elements of danger.
Ran realizes that Asha is talking about the god who made the Sword of Return, who had a bad reputation. He concludes that the name of the Chaos clan was among those taken by Kali, and that Kali is both a primeval god and a nastika. He finds the information very interesting and wonders why he didn't learn this at school. Asha informs him that the knowledge is considered heresy. Ran then starts complaining and proclaims he'll forget everything. Asha tells him that all information is beneficial, and one just has to refrain from talking about it. However, she is confident that she'll be released even if she's arrested. Finally, Ran asks about Yuta's return. Asha informs him that Yuta doesn't benefit from traveling with them, and he has to make a decision. Yuta is shown looking at the gate.
Leez wakes up in a village near the exit to the channel, not far from Kalibloom. Ran is surprised by how fast she woke up. Realizing that Yuta isn't there, Leez rushes to find Asha. Outside, she realizes that the water channel is closed. Others believe that the Gandharva suras within have become violent. She sadly thinks back to all her moments with Yuta. Curry mushrooms start appearing everywhere, and people nearby rush to gather them. However, all Leez notices is Yuta, standing atop the cliff.
Spoilers and Trivia
Edit
Episode 100
Edit
Season 1 Episode 100: Lies for You (12)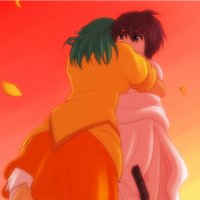 In the future, Leez expresses regret that she was unable to lessen Yuta's pain or realize his grief. She regrets not seeing the shadow beneath his smile on the day the two reunited, after their passage through the water channel.
In the present time, Leez rushes towards Yuta, in such a hurry that she ends up tripping and losing a shoe. She hugs him tightly, relieved that he's safe, and tells him that she thought she'd lost him, too, just like how she keeps losing everyone else. Yuta wants to return her hug, but recalling Taraka's parting words, he holds himself back. Leez asks him how he got away, then drags him back after recalling that he no longer has a notebook. Her shoe is left behind.
At the hotel, Leez tries to find Asha. The magician is in the shower, with apparently red splatters on her towel. When Leez tries to enter the bathroom, Asha casts hoti marut and bhavati indra against her. Leez blames her for not locking the door, while Asha retorts that the lock was broken, and blames her for not knocking. She adds that Leez and Ran both share a lack of manners. Elsewhere, Ran is pouting because Asha got mad when he accidentally opened the door. He still hasn't realized that Asha is a woman.
In Atera, Shess catches up with Kasak in a dark alley. He asks the Half dragon about the magicians' meeting he's about to attend. Kasak tells him he needs to go because it's about the attack on Atera, and asks the rakshasa what he's worried about. Shess notes that the dragon has something he needs to hide, and that there's a summoned god at the temple. Kasak reveals that insight won't work to gain that particular piece of information, since facts originally obtained through insight can only be re-conveyed through oral or written means. They can't be retrieved via insight again. Shess smiles and notes that Visnu must have cherished Kasak, and decides to return to Leny. Kasak asks him if he won't come along to the meeting, since he likes humans. Shess tells him that despite being a neutral sura, he'd still have trouble facing a god witih civility.
At the Temple of Fire, Agni is pensively looking into the distance. He had hoped that the person would come himself, but it didn't happen. What's more, that person would run away if he approached first. Agni adds that even insight won't work on him. Brilith suddenly calls him, reminding him of the magicians' meeting. Agni promises to attend, much to her surprise.
At a meat restaurant, Ran claims that he found out about Yuta being a Half, but that he's all right with Yuta. A happy Leez asks him if he's cured of his Half-phobia, but Ran claims that he's only fine with Yuta. Leez then asks Asha what she bought, and she responds that she went searching for float patches to repair the swimsuit she received for her birthday. Leez wonders why she'd need to repair it when she never went swimming. Ran wants to tell Leez about what Asha did in the water channel, but Asha prevents him from doing so. Ran thinks Yuta is pitiful for traveling with humans and thus being forced to eat small portions, so he orders a hundred portions of raw meat for him.
Outside Rindhallow, Maruna wonders what's happening with Gandharva. He saw him arguing with God Kubera and then disappearing again. He wonders if Gandharva is refusing to talk to him, and thinks it would be better if Gandharva raged at him openly. He notices Sagara complimenting her underlings for bringing back good information, so he asks them what they're talking about. Sagara tells him that he doesn't need to know since Gandharva and God Kubera decided to leave him out of this mission, as he'd just get in the way. She taunts him for being abandoned.
Ran, Asha, Leez, and Yuta are on their way to Kalibloom again. Leez and Yuta hold onto Asha for the teleport, and Asha calls Ran to come over too. Since Leez and Yuta are already hugging Asha from the sides, he decides to hug her around the neck, but lets go upon seeing Asha's angry expression. Asha tells him that she changed her mind, and that Ran can decide to come along or return to Mistyshore on his own. She then casts hoti vayu and disappears with Yuta and Leez. Angry, Ran decides to follow along until he claims the prize for their bet. He casts hoti vayu as well.
Elsewhere in Kalibloom, a young Half with bunny ears informs a blonde woman, whom she refers to as President (LINE Webtoons: Union Master), that she has spotted an injured pureblood human that needs sponsoring to pass the checkpoints. Gandharva sits near a cliff, disguised as a human.
Spoilers and Trivia
Edit
References
Edit