Episode 2-1
Edit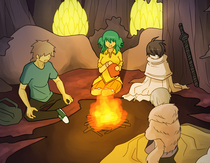 Asha's group is unable to teleport directly to Kalibloom even though it is within their sights, because the Chaos barrier interferes with magical calculations. Asha abandoned Ran back at the water channel exit, but he secretly follows them anyway. He wants to have his little revenge for being left behind, so he attempts to use hoti varuna on Asha, but ends up flung away by her much-faster bhavati vayu. Later at the campfire, Ran is still upset, stating that anyone other than him would have died from that spell; Asha only rebuts that he tried to use magic first. The atmosphere grows tense and when Leez tries to mediate, both tell her to shut up.
As they travel through the forest on foot, Leez would remove obstructions by brute force using hoti kubera. Eventually, the group becomes used to being "accidentally" hit by Asha's anti-sura spells. While Leez feels that clearing out suras is an easy task, Asha warns her that the level of suras will rise to 4th-stage upanis and maras as they approach the city. Soon enough a mara appears, only to be immediately killed in one strike by Yuta. A secret camera records the action, and a green-haired woman with a fan decides to capture this very interesting half.
Teo Rakan, Kalibloom Fighters Guild Branch President, and Elwin Rakan, a half sponsored by Teo, venture outside the city to investigate a suspicious man. They locate the shirtless man standing alone with an injury; he claims to be in need medical attention in the city, but lost his ID and clothes.
Spoilers and Trivia
Edit
Episode 2-2
Edit
Teo and Elwin immediately rush to the assistance of the strange man (Gandharva).
In Atera, the meeting on the sura attack is about to begin at the Magic Guild and a few important people are late, but Mr. Kasak arrives on time. Also in attendance are Ruche Seiran, Lorraine Rartia, and Airi Yui. Airi recalls (thanks to a diary entry) getting 10 valuable autographs from Kasak before the Cataclysm, but doesn't actually remember how because of amnesia from the Cataclysm; Agwen hadn't remembered anything about them when she asked her about it, either.
Brilith rehearses her speech but wants to avoid calling Agni "Idioty Smith." She then becomes upset over his lack of preparation and leaves him behind. Agni makes the decision to break one of Visnu's rules after he saw Brilith's sadness about having to hide him.
Teo treats Gandharva's wounds before returning to Kalibloom. She worries about how he would manage inside the city without having any money or being able to remember his own name, and so offers him some work.
Advancing through the forest near the city, Asha and Ran discover more and more half traps (which Ran breaks with his bare hands), while the only thing Leez cares about is food. Yuta senses the cameras following their group. The stalker behind the cameras continues to plot to capture the boy.
Spoilers and Trivia
Edit
Episode 2-3
Edit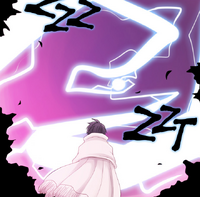 Just as Yuta senses something approaching, Ran casts hoti indra which stops an incoming trap but makes Asha angry; apparently Ran, through not calculating at all (the source of Asha's anger), cast it fast enough so the magical defense system of the trap couldn't block it. The mysterious stalker then decides to activate the Hide of Bondage, a god-class item created by Kali, to capture the target.
At the Kalibloom checkpoint, Gandharva makes the observation that the system made it too easy for him to get through. Teo responds that in a city full of fighters, a human causing trouble would be suicide. In an infirmary in West Kalibloom, where Teo lets him get treatment, he notes that she never puts her sword down, and she explains that it is very valuable. She is a weapon collector, but her collection methods are legal, unlike those of certain other people (with a visual reference to Yuta's stalker). Gandharva decides he is in no hurry to dispose of Teo because, as she said, it would be suicide for him to make a move now.
At the Temple of Fire in Atera, Brilith gives her speech as audience members wonder who that stupid-looking guy standing next to her is. Several people consider her account of using the Staff of Agni to ward off the suras to be a bit far-fetched. In a panic, she then presents "Idioty Smith" as an expert on the staff, creating a buzz among the audience. Upon further questioning, Agni finally reveals his true self.
Spoilers and Trivia
Edit
Episode 2-4
Edit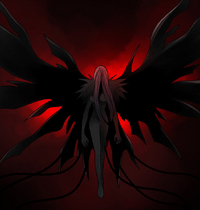 Agni's unexpected reveal puts everyone in shock, especially Ruche. When Brilith wonders what Agni's plan might be, she realizes he has none at all. He then hurriedly changes back to Idioty Smith, only to be glared at. So, finally, he properly introduces himself to the humans as the Fire God Agni.
Teo and Gandharva see Elwin, who does not live with Teo, off to the Fighters Guild. While Gandharva and Teo walk, she explains her history with Elwin and why she adopted her. Teo's parents (a half and a quarter) somehow ended up in the sura realm during the chaos of the Cataclysm. She still hopes they're alive, but knows that it is false hope. Gandharva, with a surprised expression, momentarily stops walking.
As Asha's group approaches the Kalibloom checkpoint, the stalker's computer system measures Yuta's transcendental value at 1350, making him a sure target for the Hide of Bondage, which captures the individual with the highest transcendental value in its target range. Yuta suddenly senses his mother and notices the Hide, wondering why it is there. The Hide, however, passes Yuta up and continues toward the rest of his group. The stalker, surprised at this turn of events, has her system measure a wider area, and finds that someone else in a 100m radius possesses a transcendental value of 17860.
Spoilers and Trivia
Edit
Episode 2-5
Edit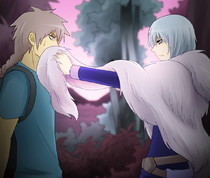 Ran has a hunch that something is wrong, and thinks he heard Yuta yell, "Watch out!," believing it might be one of his transcendentals. He begins to cast a hoti spell, only to be stopped by Asha.
Praul Ajes hurries late for the Atera meeting, and runs into a depressed Ruche. He mentions that she had been right about Agni's summoning before anyone else knew. Brilith is still worried about the Fire God's revelation. Agni recalls a recent conversation with the Death God, who he apparently defeated in order to extend Brilith's life, but who told him on that occasion that his efforts ultimately would be in vain. Agni continues to hide the true reasons for his actions from Brilith. Kasak arrives to to discuss some business with him.
Ran continues to fret that something is wrong when Yuta runs towards them and hands his sword to Leez. The Hide appears, Yuta's eyes turn blue-green, the computer only shows "Error" for transcendental value, and the Hide changes its target to Yuta, capturing him. Asha recognizes the Hide right away, and correctly predicts that Yuta would disappear. Leez is left standing there, the sword in one hand and the other still reaching out for Yuta.
Spoilers and Trivia
Edit
References
Edit
Ad blocker interference detected!
Wikia is a free-to-use site that makes money from advertising. We have a modified experience for viewers using ad blockers

Wikia is not accessible if you've made further modifications. Remove the custom ad blocker rule(s) and the page will load as expected.