Episode 2-27
Edit
Season 2 Episode 27: Reflection (1)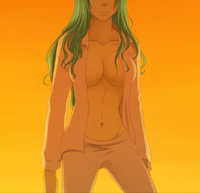 The exhibition pamphlet describes Gandharva, the King of the Gandharva clan, based on Varuna's account. Varuna had sighted Gandharva in the year D1 near planet Gresvan. The person with Teo notes that Gresvan was destroyed when the humans renounced the suras. When asked by Teo, she responds that obviously, all suras hate humans, and vice-versa. Teo wonders what Gandharva is up to, and thinks back to the attack on Atera. When prompted for instructions regarding the Test of the Sword, she deduces that Gandharva must be after the Sword of Return. She leaves instructions to make the test harder, and decides to return to the city with Gandharva.
At the hotel, Ran is outside Leez's room and invites her to come buy clothes with him. Leez turns him down, stating that she is too tired. Ran feels sorry for Leez because Asha and Yuta seem to be leaving her out, so he decides to buy clothes for her.
Back in the city, Gandharva asks Teo if it would be okay to come down even though there is a lot of work at the Temple. Teo is surprised when he does not insist on going back up, so it appears that he is not going after the Sword of Return, and it does not appear as though he intends to kill her, since he has yet to do so. She wonders if her eyes had deceived her. Gandharva then says he will go out for a walk, so Teo decides to tail him.
Outside the hotel, Asha and Yuta have just concluded several hours of talks. Asha apologizes for being unable to reveal much, but Yuta says he can understand thanks to his long life experience. Asha tells Yuta that she wants to win, yet she is taking the harder path now, even though she could achieve victory by discarding Leez. She starts to ask why it had to be Leez, but she is unable to continue further. Yuta inquires if she is being prevented from speaking again. Asha decides that this is enough, and thanks Yuta for listening. Yuta then asks her to stop yelling at Ran and Leez, noting that they risk distancing themselves from her. Asha suddenly notices that a potted plant nearby is wilted.
Back at the hotel, Leez finally gets up. A button pops off from her pajama top, and as she passes in front of a mirror, she notices that she has grown up.
Spoilers and Trivia
Edit
Episode 2-28
Edit
Season 2 Episode 28: Reflection (2)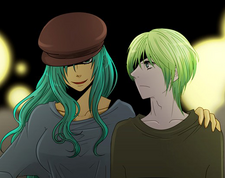 At the Temple of Chaos, Claude is told that Teo has just left and will not be back for a while. Claude comments that we cannot always have perfect timing or see the future like the gods, and decides to wait at the temple. He thinks of Asha, and predicts that she will come begging for his help.
At the hotel, Ran brought clothes for Leez, but she takes the bag and closes the door before he can see her. Ran wonders if she is paying more attention to her image now, but dismisses it, noting that she is not his type. In a separate room, he notes the time needed for his brother to send back the Hide of Bondage, and decides to go to the Temple of Chaos with the others. Leez then walks into the room, wearing a hat to hide her face. Ran is surprised by her sudden grown-up appearance and spills hot tea on himself.
After Leez explains her encounter with Claude, Ran deduces that she had hoti yama cast on her. He explains that the effects only show up 12 hours after the spell is used, but refrains from explaining more. He tells her to wait for Asha to return, so that both of them can go find Claude before the sun rises. Leez wants to meet people while in her new form, so she leaves the hotel before Ran can stop her.
Outside, Leez enjoys being a cool person. She also notices that a lot of halfs have come out, and deduces that they probably stay inside during the day because of people who are uncomfortable with being around them (like Ran). She wants to make a half friend, and sees a bully picking on another guy for bumping into him. The bully asks him if he is a half since he has one eye covered, then demands to see his sponsor. Leez steps in, claiming to be the sponsor, and suggests that they settle the incident with an arm-wrestling match.
Spoilers and Trivia
Edit
Episode 2-29
Edit
Season 2 Episode 29: Reflection (3)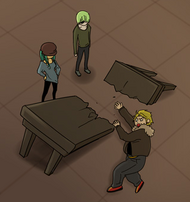 The man accepts Leez's arm-wrestling challenge, and insists that magic is not allowed. Leez easily wins anyway, and the crowd wonders why they have never seen such an strong fighter before, considering that her opponent was a quarter who fought at the Fighters Championship Tournament. One bystander mentions Airi and Teo as other strong fighters. Leez grabs Gandharva, reminding him that she is still pretending to be his sponsor, and they leave together. Teo is hidden in the crowd, wondering who Leez is.
On the way back to the hotel, Asha deduces that the wilted plant had hoti yama cast on it. She returns to see a crying Ran sitting on the stairs to the hotel. From his mumblings, she deduces that Leez went out and that he was unable to follow because of his half phobia. Ran adds that Leez had hoti yama cast on her, and that she looked around Asha's age. Asha prevents him from saying anything more, noting that according to magician rules, he must not talk about Leez's age. Asha tells Ran to head back inside, and tells Yuta to come with her to find Leez. She is angry at Claude for interfering.
In an isolated area in Kalibloom, Leez offers to part ways with Gandharva. Gandharva asks for her name to thank her. Since she looks different, she decides to give a fake name, "Riche." Gandharva then asks her if they had met before, but Leez thinks not. Teo observes them and finds the conversation suspicious because Gandharva claimed he had amnesia.
Asha finds news of where Leez has gone. She notes that the spell must be undone before dawn. Yuta has never seen a magician use hoti yama, so he asks what it does. Asha explains that it has no effect on suras, since suras don't die of old age. The spell gets rid of all but 12 hours of the victim's remaining lifespan. So, 12 hours after the aging effect happens, the victim dies. Yuta is surprised because Ran said Leez looked to be about Asha's age. Asha explains that each person has a different given lifespan. If they survive until then, their heart simply stops. Only the God of Death can save someone once their lifespan runs out.
Spoilers and Trivia
Edit
Episode 2-30
Edit
Season 2 Episode 30: Reflection (4)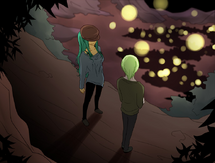 Gandharva notes that "Riche" looks completely different from the person he was thinking about, so he must be mistaken and he blames his age. Since he does not appear very old, Leez decides that he must really be a half. Gandharva then asks her where she lives. She claims to be a traveler just stopping by, so Gandharva tells her to leave the city, claiming that he dreamt that suras will come and destroy the whole city. He thinks that she will not believe him, but decides that it is enough repayment. However, Leez agrees, but notes that she cannot leave by herself. She agrees that staying within a city is not necessarily safer, since suras may attack the whole city just to eliminate one target. She adds that suras are truly evil, and mentally notes that the whole city could be endangered because of her.
Gandharva asks her not to think of it in black and white terms, noting that his daughter is waiting for him, so he has no choice. He notes that he has to borrow someone else's power to reach her, that he has become weak, and that he may not be able to see her again before dying. He asks Leez to imagine being separated from her father, and how her father would have to try his best to return. However, Leez just responds that in that case, she would prefer that her father not return. After all, she asks him how the daughter would feel if she found out that her father died trying to reach her. Smiling, she assures him that a daughter would miss her father, but would not blame him. Gandharva thinks about Shakuntala again, as she tells him that he must abandon her if someone uses her as bait.[25]
Leez tells him that no child would want their parents to suffer, so he should take care of himself first. At that moment a wind blows off her hat, and she chases after it. When Gandharva asks her why she is so attached to it, she claims that she suffers from hair loss. The two leave. However, Teo, who is hiding nearby, saw Leez's face and is surprised by her close resemblance to Rao Leez. She knows all of Rao's relatives, and knows that Leez is not among them. She also thinks that the name sounds fake, so she decides to continue to follow them, but she is suddenly interrupted by Asha, who asks her what she is doing. Teo claims that she is out for exercise. Asha says that she is looking for someone, but it appears the person is not there. Teo then realizes that she has lost track of Gandharva and the woman.
In the distance, Yuta observes the area as he searches for Leez. He suddenly feels something, and spots Leez talking to someone.
Spoilers and Trivia
Edit
Episode 2-31
Edit
Season 2 Episode 31: Reflection (5)
Gandharva thanks Leez for walking with him. Yuta recalls Taraka telling him that their race hungers after prey they normally cannot defeat,[30] but who ends up in a weakened state. He is unable to understand why he would want to eat what appears to be an ordinary human, and he is unwilling to show his true self, but he has trouble controlling his appetite. However, he finally recognizes Leez, recalls her hatred of suras, and runs away.
Gandharva senses something and looks in the distance where Yuta was standing. The feeling is similar to when Taraka and the Chaos clan attacked his clan, but he thinks he must be mistaken. He turns back to Leez, and thanks her for making him realize that his daughter was truly concerned for him. Thanks to their conversation, he tells her that she has helped him decide to search for a road with fewer regrets. Leez happily agrees. She then sees Gandharva staring at her, and asks him why. He responds that she is pretty, though not in the sense of a pretty face, as he grew tired of those a long time ago. Leez is very confused, but Gandharva remarks that Leez's father must be very proud of her. She responds that she will work even harder to make her father proud.
Elsewhere, Sagara is angry that Gandharva is taking so long. Even Riagara stands no chance against him in a one-on-one battle, so it makes no sense for him to not be able to kill a human priest. She deduces that he is unable find the right opportunity, since he had to lower his regenerative abilities and transcendental value to pose as a human. If he restores them to fight, he will reveal himself and be surrounded. Riagara still thinks the delay is unreasonable, and wonders if something else is going on, but Sagara states that Gandharva has no choice but to side with them since he has not yet given up on Shakuntala. Riagara suggests they take action while the Earth barrier is still active, and reveals that the Temple of Chaos is outside the Earth barrier. During the Month of Chaos, the Temple of Chaos is open to the public. They will still be unable to use offensive transcendentals or take sura form, so Riagara suggests that she or Pingara should go. Sagara decides to go instead.
Spoilers and Trivia
Edit
Episode 2-32
Edit
Season 2 Episode 32: Reflection (6)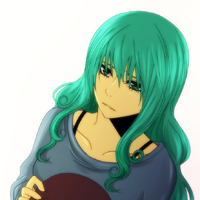 Teo wants to find Gandharva and the woman he was with. Gandharva suddenly shows up, and pats some dirt off her pants. Seeing this, Teo wonders again if she was mistaken. He can eat vegetables, he has a good personality, and he is her type. She catches herself on the last part, and wonders why he is lying to her about having amnesia. Gandharva then asks to come with her the next time she patrols outside the city.
As Leez makes her way back to the hotel, she is feeling happy that she was able to help a half. Asha suddenly finds her and casts bhavati marut, which, after a delay, slices a signpost behind Leez. Asha claims she missed her because of the Chaos barrier's interference. Leez objects that she could have been killed, but Asha tells her that she will die anyway if the hoti yama is not removed before dawn. Leez points out that Ran failed to tell her about that part. She then asks if the spell could be undone by another person or by hoti asvins. Asha explains that the domain of Death is independent of other domains, so hoti asvins would be ineffective. In addition, the only way to undo hoti yama is to have a magician of equivalent or higher divine affinity cast it again. However, magicians proficient in death magic are rare, and Claude is ranked 2nd among all magicians. Thus, a spell by him is practically absolute. Asha then suggests that they head to the Temple of Earth. Leez tells her that Claude told her that he would be at the Temple of Chaos. Asha realizes that since Claude told her this, he had no intention of killing Leez, and merely set a trap for Asha, so they have need to go. Claude will come down by himself. Leez is still worried, so she takes off her hat and apologizes, promising never to cause Asha any trouble again. She has no wish to die when she has yet to start on her revenge. Asha notes that Leez's face looks exactly like someone else, and considers this cheating.
Asha, Leez, Yuta, and Ran have arrived at the Temple of Chaos. Someone brought them up with bhavati kubera. Leez decides to learn this flying spell just like she promised to when she was climbing the pillar.[33] She then hugs Yuta, promising to bring him along. This causes Yuta to blush heavily. Asha tells her to give Yuta some space, but Yuta denies needing it. Ran then decides to give Asha some advice: At this rate, Leez will be in trouble if Yuta ever progresses to 3rd stage, since it is like puberty for suras, and causes an eruption of desire for the opposite sex. He warns that the situation with Yuta may become dangerous. Asha just notes that Ran must have ignored his topology books in order to read a different genre, causing Ran to object.
Spoilers and Trivia
Edit
Episode 2-33
Edit
Season 2 Episode 33: Reflection (7)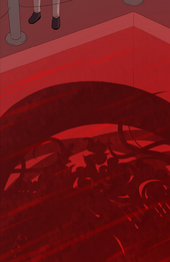 Asha confronts Claude, who declares that he is confident he could escape a conviction for murder. Asha replies that she has the same confidence, and proceeds to destroy several paintings in the room with bhavati marut. She reveals that the disruptions mean nothing to her for a mere Marut spell. Leez (wearing a picture frame around her neck with glass shards stuck in her hat) realizes that Asha was only out to scare her earlier, while Asha threatens to kill Claude if Leez dies.
Ran is surprised that Claude removed the spell so easily, and realizes that he was unable to see Leez's face properly when she was grown-up because her hat was in the way. Leez has decided not to reveal the truth about herself, because Asha instructed her to keep her situation a secret,[27] and she fears that revealing who her father is would lead to questions about her village and her real name.
Claude speaks with the person from the Temple of Chaos he was chatting with earlier. He admits that Asha is tougher than he expected. The person warns him that Asha has more fans than enemies, and Claude admits that his sister Airi was president of Asha's fan club back at her university. Still, Claude did all that because he had a few questions, and he found an answer. He notes that Asha decided to protect Leez even though Leez doesn't have long to live.
Ran, Asha, and Leez walk along a passage atop the walls over the Lake of Reflection. Leez takes her leave after Asha warns her against wandering around. Ran notes that Leez has become quite compliant, and inquires about Yuta. Asha explains that Yuta became sick from eating meat prepared with flower extracts earlier, but since the Temple of Chaos is outside of the barrier, Yuta can now go hunt outside. Ran then notes on the privileges of having a magician ranking. Asha reminds him that he will have a higher AA rank upon graduation. Ran admits that the ranks do not reflect one's true ability, as Claude was unable to do anything against Asha, and Ran himself thinks he would not be able to beat her.
Once Yuta returns to the Temple of Chaos, he searches for the others by listening for the sound of their voices. He arrives at the area below where the three just left. While passing by the lake, he suddenly sees a twisted reflection coming from the left. He rubs his eyes, but the reflection is gone the next moment. Yuta thinks that whatever it was, it made him feel sick.
Spoilers and Trivia
Edit
References
Edit
Ad blocker interference detected!
Wikia is a free-to-use site that makes money from advertising. We have a modified experience for viewers using ad blockers

Wikia is not accessible if you've made further modifications. Remove the custom ad blocker rule(s) and the page will load as expected.