Episode 2-34
Edit
Season 2 Episode 34: The Test of the Sword (1)
As the time for Test of the Sword approaches, the sky around the Temple of Chaos begins to turn from red to yellow. Leez has read halfway through a book on Bhavati Kubera, which she borrowed from the temple library. Asha spends her time reading books on sura biology and puberty, while ignoring Claude's attempts to contact her. Claude has also apologized to Leez, but Leez decides that she will get even by making her last question a difficult one.[1] Ran spends time with fighters to learn about bows.
A hungry Yuta goes into the Chaos Forest to hunt. Shuri taught him to only hunt prey that attack him first,[2] so he pretends to be weak by lowering his transcendental value in hopes of being attacked first. However, he fails to find anything. Elwin suddenly crashes into him, as she was practicing transcendentals for the Test of the Sword. She wonders what he is doing out there, and tells him that the temple has yet to open so he cannot enter without a high-ranked magician. Yuta soon realizes that she can hear sura speech, and tells her that he is staying with a magician at the temple. Mistaking him for a half, Elwin then asks him to teach her how to speak in the way of suras, since Mr. Kasak is thought to be the only other half on the planet capable of doing it. Elwin suggests meeting at the temple after the test starts, and warns him not to go in a certain direction because of the presence of upanis from the Ananta clan. After she leaves, Yuta optimistically heads in that direction.
At the Temple of Chaos, Ran and Leez have a discussion about the test and registration. The test is held twice in the first month, and the contents change each year. Leez then sees Asha returning with Yuta and notices that he looks healthier. Asha asks Leez whether she has been practicing her transcendentals. Leez complains about how hard they are to learn without anybody helping her, and says she thinks learning magic is more useful, as she holds up the Bhavati Kubera book. Asha agrees to change the conditions of the bet, from using transcendentals to learning bhavati kubera. Leez is happy, until she reaches a later chapter, which requires prior studies of intermediate-level Topology, university-level Physics, and university-level Astronomy.
The Test of the Sword finally begins.
Spoilers and Trivia
Edit
Episode 2-35
Edit
Season 2 Episode 35: The Test of the Sword (2)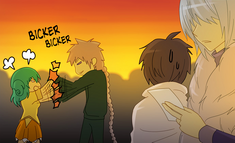 Teo Rakan announces the opening of the Test of the Sword. During the speech she accidentally rips a small part of her dress. Asha, Ran, Yuta, and Leez are part of the crowd. Leez mentions that Teo is too far away to get a good look at her, so Yuta draws a quick sketch of her. Ran feels nervous because of the presence of halfs, and Leez begins to tease him. He retorts by calling her "Chickie" and they begin to scuffle. All four of them had decided earlier to register for the test. After Teo gives a brief explanation of the test, she announces the start of the test.
The first test is a test of strength. The contestant must break at least 20 boards with one bare-handed strike to qualify. Ran does not try too hard and manages to break 94 boards, much to the surprise of the crowd, since even a strong half from earlier broke only 70 boards. Leez activates her bracelet when her turn comes, but she is told that she is not allowed to use items to enhance her strength. She is forced to take the test with the bracelet off, even though it suppresses her strength.
Teo is relieved that the opening is over, because she hates being forced to wear long dresses and high heels. When she uses the front of her dress to wipe off her lipstick, Gandharva (unnoticed until now) makes a comment about her priest-like appearance in that dress. This surprises her so much that she ends up ripping a big chunk of her dress, much to her shock and embarrassment.
Spoilers and Trivia
Edit
Episode 2-36
Edit
Season 2 Episode 36: The Test of the Sword (3)
When it is Leez's turn for the test of strength, she worries because she is unable to turn on her bracelet. She still manages to break 51 boards and thus passes the first test. The onlookers are surprised and think that she must be either a half or a quarter. Meanwhile, Leez is embarrassed because she broke fewer boards than Ran, and the two start bickering again. Yuta glances at Leez's results before he touches the boards and breaks only 47. Ran thinks he held back too much, but then realizes that Yuta held back for Leez. When Asha's turn comes up, some of the onlookers are surprised at her presence and wonder if she is strong enough to break even one. Asha proceeds to break exactly 20 boards to qualify, leaving the crowd to wonder how it could be possible that she is so strong. When Ran taunts her for barely making the cut-off, she simply tells him that an unnecessary display of strength is a sign of immaturity. Ran shuts up, to Leez's amazement.
The second test is the nerve test, where contestants must dodge blue balls and hit red balls with a paddle. Ran obtains a perfect score. Leez scores 99, blaming her boobs for getting in the way of one ball, and Yuta scores 98 by letting himself be hit on purpose twice. Putting forth minimal effort, Asha scores 90. Ran ends up asking Asha if she exercises in secret, but Asha just blames Ran for lacking the brains to calculate trajectories.
Elsewhere in the Temple of Chaos, Teo, her dress now fixed, returns Gandharva's coat which he lent her in the meantime. She tells him that since his debt is now cleared, all he needs is to for his memory to return, but he continues to claim that it is still gone. She then asks him why he is not participating in the Test of the Sword even though she registered him, but he replies that he did not see any reason to. Teo is surprised and disappointed since she secretly added an extra challenge to test him.
The third test (the new one Teo added) measures either the divine affinity or transcendental value of the participant. Based on the values of past Sword owners, one of the two values must exceed 500. Ran is worried that Yuta will get exposed.
Spoilers and Trivia
Edit
Episode 2-37
Edit
Season 2 Episode 37: The Test of the Sword (4)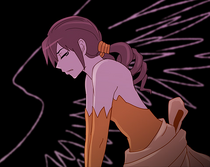 Asha decides to withdraw, since she does not want Ran to realize that her divine affinity is actually higher than his, which would have made her the winner of their bet. She recalls Ran admitting that he only beat her score, but not her.[22] She then claims she has lost interest. Yuta decides to withdraw as well. Leez is sad that both Asha and Yuta have decided to withdraw. Leez, who missed the conversation as she holds cotton candy in both hands, wonders what Yuta is giving up on. When she offers one cotton candy to Yuta, Ran snatches it away. When she offers Yuta the second one, Asha snatches that one away. Leez becomes angry, but Yuta, relieved to be off the hook, tells her that it is the thought that counts.
Outside the divine affinity testing area, Leez learns that both Asha and Yuta are withdrawing. Asha explains that Leez's test is the important one, and Yuta claims that he no longer needs the Sword of Return.
Leez measures her divine affinity. However, the result is 0, after subtracting for the boost provided by the Golden Knight, a known value of 2250. She is told that in rare cases, quarters have a divine affinity of 0, and is told to have her transcendental value measured instead. She is sent away before she can tell the supervisor that she is a pureblood.
In the forests outside of Kalibloom, Hura and the Ananta clan rakshasas are investigating the deaths of three 5th-stage upanis from their army. Cloche uses a transcendental to see their last moments by touching their blood, and realizes that a mostly black sura with huge wings killed them by eating them alive. Suspicion temporarily turns to Hura, who quickly denies it, but Hura is ruled out since the culprit is much bigger and has a tail. They also rule out the half dragon. They are now worried about Sagara, who has already gone to the Temple of Chaos alone.
Spoilers and Trivia
Edit
Episode 2-38
Edit
Season 2 Episode 38: The Test of the Sword (5)
Leez needs to get her transcendental value measured, but it requires her to use a transcendental skill since only Riche has the newer model measuring machine which does not require using a skill. Asha realizes that there is one way to make Leez use a skill, and Leez agrees to it. Asha instructs Yuta to stay behind. In the testing area, she instructs Leez to place her hand on the measuring device without switching on her bracelet, and proceeds to slice her head in half with bhavati marut, triggering the Self-Regeneration transcendental from the Golden Knight. Leez's total score is 5740, which gives her the highest overall score. When Leez has mostly regenerated, she is outraged that Asha would do that as though it were nothing. Asha tells her to stop whining, claiming that it is for the sake of the test. Upon seeing Leez's downcast expression, she claims that she will never truly intend to harm her. Leez notes that Asha does not look her in the eye, but smiles and pretends to be okay.
After subtracting the boost from the bracelet, Leez's transcendental value is 4240, a surprisingly high value. With this, she displaces Ran as highest scorer overall. The group hears an announcement for the six highest-scorers to draw the Sword first.
The six highest scorers are Leez, Ran, Zard Blain, Clari Utas, Parr Hael, and a sixth person. Zard thinks that Leez reminds him of Rao Leez, but Clari dismisses the possibility. Each candidate only has five minutes. Leez enters first, and heads towards the Sword of Return. At that moment, Sagara steps onto the sword.
Spoilers and Trivia
Edit
Episode 2-39
Edit
Season 2 Episode 39: The Test of the Sword (6)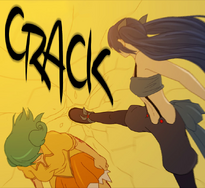 Leez mistakes Sagara for a test supervisor and greets her. She asks Sagara for instructions. Sagara realizes that Leez is wearing the Golden Knight, and attacks Leez to get it.
Outside, Asha and Yuta are discussing the Temple of Chaos's apparent lack of security. Asha explains that nobody dares to steal the Sword of Return because the culprit will be killed on sight to retrieve the sword. The sword also a disadvantage to superior suras because it also negates their own regenerative abilities. All gods and suras who held the sword met untimely ends, save for Kali herself. People suspect that Kali made it so on purpose. Yuta asks if others are unaware that the sword can pierce through the realms. Asha confirms this, noting that she never heard about it until Yuta told her. She concludes that suras do not seek the sword because they are unaware of this function. Yuta then asks Asha what she will do when Leez gets the sword. Asha says that she will take revenge on the sura that destroyed Leez's village, but she is unable to name the next target. She recalls her younger self covered in blood. Yuta concludes that she is being prevented from speaking again, and asks if the sura she spoke of is very strong. He claims he can beat a 4th-stage rakshasa if it is focused on transcendentals. At that moment, he sees Claude holding up a message asking to talk to him, so he excuses himself.
Left alone, Asha notes that Leez will soon be in possession of the Sword of Return. Thinking back to her encounter with Claude, Asha wants to ensure that Leez is not abandoned.[38] However, she hears loud noise coming from the test location.
Sagara has caused a lot of damage to the temple interior trying to kill Leez. She is unable to use attack transcendentals because of the Chaos barrier. Leez's bracelet is turned off, so Sagara deduces that she ran out of vigor. The nastika attacks again, and Leez is worried about her test time running out. Her bracelet turns black.
Spoilers and Trivia
Edit
Episode 2-40
Edit
Season 2 Episode 40: The Test of the Sword (7)
Zard Blain notes that if Leez fails to draw the sword, Ran will be next. He thinks Ran would have become a good fighter if not for his half phobia. They wonder if he got over it, but Ran panics when Parr greets him and asks him if he remembers her. He claims he has no idea who she is. Ran then hears loud noise coming from beyond the door. He is worried and wants the supervisor to check, but the supervisor tells him that Leez will be disqualified in that case. Suddenly, the room is filled with a transcendental skill that increases gravity. The supervisor is knocked out cold.
Inside the sword chamber, Sagara is surprised by the transcendental, 'Gravitational Field', since it is not one of the bracelet's. She notices that Leez has recovered her vigor and that her bracelet is on again. The speed of Leez's recovery surprises Sagara, and she tells the girl that her transcendental is useless against her. Lee claims that she is not responsible for the gravitational transcendental, and Sagara attacks again, but Leez pushes her away using Pushforce, then slices the pillar next to her using Piercing Hit. Leez decides to run towards the Sword of Return before running out of time, and manages to kick Sagara. Before she can grab the sword, however, Sagara turns into male form and powerfully knocks her into the wall, causing severe trauma to Leez, who still hangs on to life. Before Sagara can kill her, God Kubera appears.
Spoilers and Trivia
Edit
References
Edit
Ad blocker interference detected!
Wikia is a free-to-use site that makes money from advertising. We have a modified experience for viewers using ad blockers

Wikia is not accessible if you've made further modifications. Remove the custom ad blocker rule(s) and the page will load as expected.