Episode 2-41
Edit
In pain, Leez laments the fact that she will die without accomplishing anything. Before she passes out, she sees God Kubera and thinks she is dreaming. Kubera picks her up, and the Regeneration transcendental activates. The surprised Sagara returns to female form, thinking Kubera is there to retrieve his bracelet. She asks for some help in breaking the barrier, but Kubera asks her to leave the war and return to the sura realm. He adds that unlike for others, this is not a matter of survival for her. Sagara is furious and asks if there is something wrong with him. She reminds him that he was the one who called her through the gate, and declares that for her, this is a matter which means far more than survival. She recalls a person removing his hand from her head and leaving, while she cried out to him in vain. She then reminds Kubera that she said she would help him win. Calling him the main player in this war, she complains about his passivity. Kubera reveals that he chose the wrong means, and tells her once again to return to the sura realm. In response, Sagara declares that even if he ends up not doing anything, she will still do what she can. Kubera finally states that he will restrain her by force. Sagara thinks he is bluffing, since he was weakened from opening the gate to the sura realm, until to her shock, he picks up the Sword of Return. Kubera tells her that it does not matter if he loses his regenerative abilities, since he will disappear soon enough.
Near Rindhallow, Shess notices that Kubera is absent this time,[1] and that the other suras are absent, too. He wonders what is going on, but Kasak shows up and interrogates him, warning him that unlike last time,[2] he has plenty of vigor. Kasak asks him if he is siding with the enemy after all.
Episode 2-42
Edit
Riagara finds Maruna and informs him about the 5th-stage upanis that were killed. Maruna concludes that human magicians must have accompanied a sura to help seal transcendentals. Riagara fears for Sagara's safety, and notes that they will be too conspicuous if they go after Sagara in large numbers. She invites Maruna to come along, noting that he is surely worried about Gandharva as well.
At the Temple of Chaos, the test supervisor has fainted from internal injuries due to the pressure of the gravity transcendental, so nobody can open the door. Ran tries and fails to heal her, and is unable to use hoti asvins more than once a day. Clari Utas takes the supervisor away, and Ran decides to climb in from the outside, since he no longer cares about being disqualified at this point. Zard Blain, in the meantime, thinks to himself that Ran is more suited to being a fighter than a magician.
As Ran approaches the sword chamber, he barely avoids a transcendental attack. God Kubera prevents another one from hitting him by blocking it with the Sword of Return. Ran is surprised that an unknown man has the sword, but before he can get answers, Kubera pushes him off the edge, saving him from being killed by Sagara.
Sagara is in an immaterial male form again, so attacks using the Sword of Return go through his body. However, he has to materialize to use force. Kubera pushes back an attempted attack, and Sagara decides to leave, as he came for other reasons. Yuta suddenly appears. He was delayed because he was talking to someone.[3] Yuta asks Kubera to listen to him through insight so Sagara will be unable to hear him. He tells the god that in order to thank him for his help in the water channel,[4] he will return the favor.
Spoilers and Trivia
Edit
Episode 2-43
Edit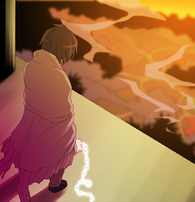 Yuta asks God Kubera to hand him the Sword of Return, since its rules do not apply to him. Yuta offers to destroy Sagara, who is still in a male and immaterial form. However, Kubera refuses, so Yuta asks him to take Leez somewhere safe and bring her back before the end of the day. Yuta's sword then transforms into a glowing axe, and he charges at Sagara. Sagara mistakes him for a half with a god-class item, and notices that Kubera has left. Yuta's eyes turn red, nullifying Sagara's transcendental, and forcing him to materialize again. Seeing Yuta's eyes, Sagara realizes that Yuta is from the Taraka clan. Yuta changes his weapon into chains to catch him, but Sagara cuts off his foot and jumps into the lake below to escape.
Zard Blaine informs Teo of the previous events, and tells her to come open the door to the test site. He then warns her against the stranger who is staying with her, saying she needs to pay attention to her image. However, Teo is more worried about whether Gandharva is a nastika.
Teo and Gandharva walk towards the test site. Teo explains that the sword was last drawn 40 years ago, but the owner died during the Cataclysm. Teo is feeling awkward because Gandharva is her type, and curses her bad luck in romance. Gandharva suddenly gets up close and personal, leaning her against a wall as a preoccupied Sagara walks by behind him.
Spoilers and Trivia
Edit
Episode 2-44
Edit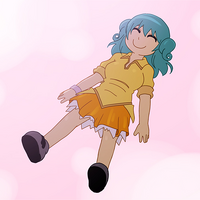 Sagara, still in male form, wanders around the Temple of Chaos. Having deduced Yuta's identity, he decides that he is a bigger hindrance to their plans than the half dragon in Atera. However, he believes Riagara can still defeat him in hand-to-hand combat. He worries how things would turn out if Yuta progresses to third stage, and swears that he will not let that lunatic clan destroy him like it did the Gandharva clan. He continues searching for the Priest of Chaos.
Gandharva sees Sagara leave. Teo, still against the wall, is surprised by his action. She decides that he is not a nastika, but an ordinary human who likes her, and wonders how she should react. Gandharva tells her that someone is trying to kill her. He tells her to return to the safety of the Earth barrier with him.
At the site of the 4th test, the participants are waiting for news of the top six candidates to start. Sagara is in the crowd, looking for Teo and Gandharva. Yuta finds him again, but he is unable to eat Sagara because of the crowd.
Outside the Temple of Chaos, Riagara and Maruna are trying to see what is going on at the temple. Maruna points out that he is unable to find a single individual in a crowd. If he could, it would not have been necessary to attack the entire city of Atera. Maruna sees two figures in the distance, and suggests splitting up. He tells Riagara to call him if there is danger. Riagara then heads towards the crowd at the temple.
Leez is sleeping in a cozy area. When she begins to wonder why her pillow is so hard, she hears Mister telling her to get up. She then realizes that her head is resting on his leg.
Spoilers and Trivia
Edit
Episode 2-45
Edit
Upon waking up, Leez realizes that her head is resting on Mister's leg. She gets up screaming, surprised by his sudden appearance. Mister claims that she put her head there herself, and Leez tells him that he should have pushed her off. She asks if perhaps he likes her. At that moment, God Kubera sees a vision of future Leez.
Workers at the Temple of Chaos are discussing the test. One notes that Teo still hasn't opened the door to the chamber with the Sword of Return, while the other claims he saw her leaving the temple. Male-form Sagara overhears this, but before he can go after her, he spots Yuta nearby. He soon realizes that Yuta is holding back from attacking because there are too many people and Yuta is posing as a half. Though surprised that one of the Chaos clan would go this far just for one girl, Sagara starts to run away, and Yuta gives chase. His pursuit is temporarily interrupted as he accidentally bumps into someone and breaks his arm. That person's companion then demands to see his sponsor.
Leez laughs off her earlier question, claiming that he can't like someone like her, or it'll be a disaster. She thanks him for rescuing her, but feels disappointed that she failed to draw the Sword. Mister claims she did, and shows the sword underneath a tree. Leez is apprehensive, but becomes overjoyed when she manages to pick up the sword. She thanks Mister again, and promises to train hard. Before he can take her back, she promises to grant him a wish.
Spoilers and Trivia
Edit
Episode 2-46
Edit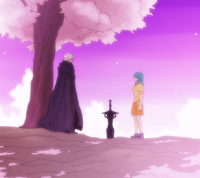 Mister tells Leez that he has never wished for anything. Leez admits that he is rich and strong, but asks if he has ever prayed for anything nonetheless. He asks who he would pray to, then explains that he does not pray to any god. Leez is surprised because she thought he was a magician. In the end, he decides that perhaps, he should use this opportunity, as this may be his last chance. Leez then notices his hair changing color and the sun rising. When he mentions that the sun will set soon in Kalibloom, she realizes that she must be very far away from the city. Worried about the time, she suggests that her offer can wait until next time, but he tells her that there is no next time. Calling her by her real name, Kubera Leez, he asks her to spend one day with him.
At the Temple of Chaos, someone demands to see Yuta's sponsor to pay for healing. Yuta begins to get angry, but in order to continue chasing Sagara, he decides to ignore him. The guy grabs a nearby mace and threatens Yuta with it, but he simply crushes the spiked end of the weapon. This causes the crowd to move aside. He then leaps over the crowd, his sword turning into a glowing spiked chain. When he launches an attack from a rooftop, Riagara grabs the spike just before it reaches Sagara. Onlookers believe that this is a fight between halfs. Riagara asks Yuta if he was the one who ate the three Ananta clan suras in the forest.[24] After confirming it, Yuta ask her what she is going to do about it.
Spoilers and Trivia
Edit
Episode 2-47
Edit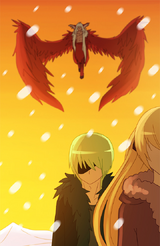 Riagara grabs Yuta's weapon and pulls on it, surprising Yuta with her strength. Riagara promises to pay back in kind.
Outside the Temple of Chaos, Maruna notices the commotion at the temple. However, he is more concerned about Gandharva, who is outside the temple with Teo. When Gandharva notices him, Maruna asks him what he's doing with a human. Teo complains about the cold and says she needs to preserve her uses of hoti kubera, and also worries about the fact that she's not supervising the test. When she wants to question Gandharva on his skills, she notices that Gandharva is not looking at her, and calls him. Gandharva claims he was checking to make sure nobody followed them. She doesn't notice Maruna, flying in the sky. Gandharva thanks Maruna.
At the Temple of Chaos, Ran wakes up to see Claude looking down at him after he fell down. Ran wants to check on Leez, but Claude explains that a substitute supervisor has already opened the door, and Leez is gone, along with the Sword of Return. The fourth test is cancelled.
Elwin talks to a supervisor. Though the Sword was drawn, they can't hold a ceremony with the person gone. They wonder where Teo went. Finally, there is an announcement that the Sword of Return has been drawn. The onlookers notice that the "halfs", Yuta and Riagara, still seem to be practicing for fighting. Yuta suggests leaving the temple grounds so they can fight in sura form out of the range of the turrets. The winner can eat the loser. If Riagara refuses, Yuta will go after Sagara. He isn't intimidated when Riagara tells him that she has teammates. The onlookers don't interfere because they don't want to be hurt. However, Elwin is part of the crowd, and overhears the conversation between Yuta and Riagara.
Spoilers and Trivia
Edit
Episode 2-48
Edit
Leez and God Kubera walk together in the forest. He assures her that she can leave the Sword of Return behind, since nobody else can pick it up. She says there's not much she can do for him so she offers to give him a shoulder massage, but he ignores her offer. Leez then asks him if he made a background check on her, since he knows her real name and told her to use a fake one earlier.[27] The god interrupts her questions and asks her not to ask anymore. Leez starts complaining when he starts playing with her hair, and he says that since it's the last time, he wants an ordinary day spent like normal human beings.
At the Temple of Chaos, Ran asks Claude if he saw Leez or a tall man come out. The priest responds that he only saw Yuta jump down. Asha headed towards the center, but then left before entering, and teleported away with hoti vayu. Claude suggests looking for Yuta, who headed towards the site for the 4th test.
Riagara asks Yuta why he'd risk his life when he should have enough vigor from eating the previous suras. Yuta notes that he's jealous because for them, hunting is optional and only necessary to replenish vigor. They won't starve to death. Riagara asks him what he means, but Yuta suddenly notices Elwin in the crowd. He recalls that Elwin can hear sura speech,[28] and starts to excuse himself, but Riagara realizes that he knows Elwin and kidnaps her. Yuta chases after them along the temple walls, confident that he will catch her, when suddenly she is picked up by a flying Garuda clan sura in red—Maruna.
Spoilers and Trivia
Edit
Episode 2-49
Edit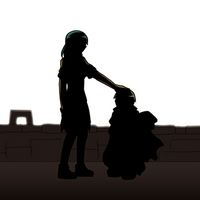 Shocked, Yuta recalls Asha telling him about revenge on the sura that destroyed Leez's village,[3] then recalls Leez swearing to kill that very sura at the sura exhibit.[1] He stands there, horrified, as Maruna takes Riagara away.
Maruna informs Riagara that he has already taken Sagara away, and asks her why she's carrying a half. He heard a commotion earlier but doesn't see anyone following her. She tells him to forget about it.
Yuta hides below. He had hoped that Leez's enemy was another sura. He can't think of an excuse for his brother, and wonders whether he should join his brother's side and attack humans. He suddenly feels pain in his chest, and passes out.
At a restaurant, Leez thanks Mister for inviting her to eat. When she declines eating more because of the time, he suggests doing one more thing after this, so she asks him about his last comment about becoming stronger.[30] Kubera notes that she has an excellent memory for unnecessary things, as she memorized what he said word for word, and suggests finding a mentor who walks a similar path as her. He suggests Teo Rakan from the Kalibloom Fighters Guild, as she is unparalleled in using transcendentals. Leez thanks him for the information, then asks to go to Atera.
Leez enjoys the view of Atera. She explains she wants to come there because it's the city closest to her hometown. She also reminds Mister that he brought her back there once, then turned into a kid.[27] In response, he turns into a kid again, then notes that she takes after a certain person in her tendency to trust. He thinks her choice will be obvious, but he's anxious because he can't see how it will end. Looking down, he thinks that perhaps, he will forever... Leez starts stroking his head and tells him to cheer up. Looking up to her, Kubera tells himself that he never hoped to win the war, thus he will have no regrets.
Ran caught news that Yuta was fighting a half earlier. Claude notes that his opponent likely wasn't a half. Surprised, Ran realizes that Claude knows about Yuta. They then notice a feverish Yuta passed out on the ground.
Spoilers and Trivia
Edit
Episode 2-50
Edit
At the Temple of Fire in Atera, Brilith calls out to Agni, saying that Mr. Kasak wants to talk to him. However, the room is a mess, and Agni is staring out the window. Brilith starts cleaning up, and asks him what he's looking at. Surprised by her presence, Agni claims that there isn't anything and changes himself into a janitor, "Custodian Kim."
Elsewhere in Atera, Leez is wearing bunny ears and sifts through a bunch of hats at a store. She thinks it's about time to return, or her magician friend will start lecturing her. She picks out a pair of wolf-ears and puts them on Mister's head. He asks her if the magician also considers Leez a friend. Leez starts to say of course, but recalls nearly being strangled by Asha.[35] She says it doesn't matter since she owes Asha her life, otherwise she would have ended up a beggar. Mister tells her to believe in those who give her their trust, and to not repeat the same mistakes he did. Leez thinks he's bothered by her earlier questions, and tells him that she trusts him.
Later, back where they left the Sword of Return, Leez asks Mister when she will see him again. She promises to be strong enough to deserve the power of the name by then. She looks disappointed when Mister repeats that it's the last time. He mentally adds that at least, it's the last time she'll look at him that way. He tells her to forget about him, and to trust and hold onto those by her side, the more the better. When Leez asks him about those she doesn't like, he tells her to forget about it. She tells him that she wants to hold onto him as well, and asks him to come back and check on her progress. In a future thought, she notes that it didn't feel like a parting, and that she was a bit sad to see him go.
At the Temple of Chaos in Kalibloom, Ran informs Claude that he paid for the damage caused by Yuta. Claude says there's only one possible reason for Yuta's fever. Ran panics and realizes that Yuta must be close to developing. If so, people will realize he isn't a half. Claude tells him that it isn't time yet. The growing pains indicate a forked development, and the final form is determined only when a choice is made. Asha suddenly arrives, pulling Leez by the ear. She thanks Ran for paying the debt and asks Claude how much he knows. Ran asks Leez if she's all right. He's surprised that Leez has the Sword of Return. Leez claims she drew it, but Ran knows otherwise and keeps it to himself.
In the forest outside Kalibloom, Riagara starts to report on the half she brought back. Sagara interrupts her, as she wants to return to Rindhallow to confront God Kubera. She interprets the god's eventual disappearance as dying, but since he is still alive, something must be holding him back. If he stops cooperating, however, it would mean that he abandoned Ananta twice. In that case, Sagara swears she will kill him herself.
References
Edit