Episode 2-81
Edit
Season 2 Episode 81: The Good (1)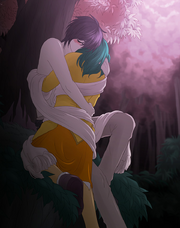 Leez lies in bed with several books in front of her, recounting the last few days since the attack. The restoration efforts for Kalibloom are underway. Magicians from Eloth are staying longer to help. The Magic Guild is in the midst of a debate over the Gandharva Halfs, while the Fighters Guild is searching for its President. Agni, who turned out to be a nice person, is no longer able to leave Atera. Leez also wants to meet Mr. Kasak, who is credited with ridding the city of the suras, but there has been no opportunity since he's always patrolling around the city. Meanwhile, at the Temple of Earth, Claude's inaction during the attack comes into question considering he is higher-ranked than everyone else present. Siera blames him for the loss of the god-class items to the suras, while Claude claims that he was working behind the scenes, and that this way, the suras didn't threaten Siera by progressively destroying the city. Finally, Leez expresses concern for Yuta, whom she hasn't seen since the end of the attack.
During a meeting in Atera, Brilith reads a notice from Mr. Kasak stating that he plans to stay in Kalibloom for a while. Agwen is depressed because her father seems to have forgotten about her. To cheer her up, Agni tells a white lie, stating that her father also requested that they look out for her. He then questions her about Leny and Shess, who are shown preparing to leave. Agwen says that they're Kinnara Halfs and friends of her father. Agni says everything's fine.
Leez chats with Ran at their lodgings. They remark that Asha has been very busy. Ran adds that many magicians don't trust him, so he may end up as an AA in name only. Parr brought back the Neutral Bow, but Ran is unwilling to thank her in person because of his Half phobia. Ran then leaves to talk about the bow with his brother, while Leez goes to join the search party in hopes of finding Yuta.
Later, Leez and Parr discuss Ran's Half-phobia. Parr then informs Leez that everyone has already gone ahead with Mr. Kasak. She warns her, however, that the Half dragon may not be friendly at the moment. Suddenly, Leez vanishes from Parr's sight, and finds herself unexpectedly locked in an embrace with Yuta. He had been waiting all this time for her to come outside, and is very happy to see her again.
Both Lutz Sairofe and Lorraine Rartia are famous prodigies in the field of Creation magic. There is a story behind the fact that a rank #22 magician (Lutz) became the Priest of Creation instead of the rank #4 (Lorraine). As a university student at Eloth, Lutz never wanted to become a priest because he wanted to return to his little brother, Ran, in Mistyshore. Since the highest-ranking magicians typically become priests, Lutz decided that he needed to obtain a low score in his magic exam. He guessed all the answers in the Rapid Calculation Test, but still managed to get half of them correct. He gave minimal effort to the Magical Competence Test, to the chagrin of his testing partner. In the end, he was awarded an A rank while Lorraine, who did her best, earned an AA rank. Lutz was sure that Lorraine would become the Priest of Creation...until she fled from Eloth to Atera in her magic flying car. Lutz ended up becoming the priest against his will, but he took his responsibilities seriously since then.
Spoilers and Trivia
Edit
Episode 2-82
Edit
Season 2 Episode 82: The Good (2)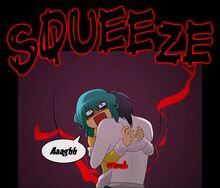 The members of the search party find it strange that Parr is late. Suddenly, they realize that their spells are no longer working. Kasak concludes that Yuta is nearby.
Leez calmly tries to get Yuta to release his hold on her, since his embrace doesn't seem to be ending and is becoming painful. Her bracelet also refuses to turn on. Yuta recalls the times she used to hug him,[11][12] and only hugs her tighter, but finally relents when she tells him that she wants to see him properly. Yuta realizes that he hurt her hands. Leez then switches the topic to his belt, which he transforms back into his weapon. When she compliments his scarf, which can keep changing lengths, he wraps it around her. She decides that Yuta is still a nice person as before. Yuta, however, feels guilty, because the clothes of a human-form sura are actually altered part of their body. As Leez tries to figure out how to get Yuta back through the checkpoint, the scarf suddenly covers her mouth to prevent her from talking. Kasak suddenly appears with the search party, saying that he would never pass as a Half anymore.
Agni receives a secret document from Kasak detailing his recent difficulties traveling through the Crescent Gate, his encounter with the Taraka Clan including Taraka herself, and the revelation that Taraka herself is just a facade. The true King of the Taraka clan may have an impulsive nature that is likely to cause emotional resonations. He may have a hidden streak of violence and his growing strength with also cause the Taraka clan to grow stronger as well. Finally, that King may be hiding in the human realm. Kasak has concluded that Yuta is the true King of the Taraka clan.
Spoilers and Trivia
Edit
Episode 2-83
Edit
Season 2 Episode 83: The Good (3)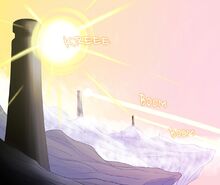 The turrets begin to fire since Kasak has taken sura form, causing the Priest of Earth to become tired and ill. Lutz offers to take over. Claude reiterates that he doesn't have Yuta in hiding, and warns Asha about his card readings that morning. Asha decides to look outside the city. Ran suddenly appears, and wants to tag along after learning that Asha is going to find Yuta. However, he decides to stay behind when he realizes that she'll probably meet Kasak, a Half.
Outside the city, the crowd panics as they believe that Leez has been taken hostage by a sura, and tells Kasak to stop. Leez wants to correct them, but can't because her mouth is covered. Yuta doesn't want Leez to be condemned for associating with a sura, so he is wants to take her to a place where no one will come between them. Humans would think that Leez was merely abducted. As a last resort, Leez summons the Sword of Re, rips off the scarf, and tries to reason with everyone. Yuta is angry that she cares about other people.
Spoilers and Trivia
Edit
Episode 2-84
Edit
Season 2 Episode 84: The Good (4)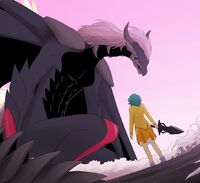 Leez
pleads in vain with
Kasak
to convince him that
Yuta
is a good person. Yuta starts to transform, but
Asha
interrupts him, informing him that they can stay together. Aware of Kasak's lack of emotions, she matter-of-factly informs Kasak that many of the people there would die if he and Yuta were to fight, especially Leez. She concludes that there is no reason to attack someone who isn't posing a threat, and merely seeks to remain peacefully in human company. Some among the crowd are opposed, but some Halfs also believe that it's unfair to judge someone based on race alone, as they have suffered persecution after the Cataclysm.
Kasak notes that Yuta seems to have dangerous ideas in his head, prompting Leez's curiosity and Yuta's unease. However, Kasak deduces that he isn't the kind of threat he was worried about, despite his shady desires. Finally, Kasak returns to human form, and notes that Yuta will need the priest's permission before entering again. Much to Yuta's dismay, he recommends a book, the The Biology of Sura for Leez to read before she would be allowed to see her friend again.[12]
Yuta has to remain outside the city walls, while the others try to convince the people of the city:
Asha, Magic Rank A++, ranked 5th, with her own fanclub, makes a case about making Yuta an ally.
Leez (Holder of the Sword of Re) and Ran (AA candidate) vouch for Yuta as companions.
Lutz, the Priest of Creation and Representation of the Creation Brand 'Artram', and Claude, the Priest of Death ranked #2, also show their support.
In official letters, Agni gives permission as long as the Priest agrees.
Only the Priest of Earth is worried about citizens who hate suras.
That evening, Leez learns that Ran knew about Yuta's identity since the incident in the water channel.[30] Ran notes that many people hate suras, and if Agni were to order it, they'd have been arrested as heretics. Ran explains that he kept quiet because Asha said not to tell her. Leez then asks Asha how long she knew, and Asha replies: since the day they first met him.[31]
Spoilers and Trivia
Edit
Episode 2-85
Edit
Season 2 Episode 85: The Good (5)
While reading a menu,
Leez
tells
Asha
that she did guess about Asha knowing about
Yuta
's true identity, since Asha was never worried in the times Yuta disappeared. She wishes that Asha could have told her. Ran chimes in, telling Asha that he kept quiet because he assumed that Leez had sura-phobia. He blames Asha's lack of communication for misunderstanding.
Asha is upset: just like that, everyone sided with 'sweet little' Leez while she is portrayed as heartless and inconsiderate. She thinks of the person controling Leez,[34] and of Yuta when magicians confronted him.[35] She then speaks up, explaining that she didn't tell her because Leez's village was destroyed by a superior sura. This revelation shocks Ran, while Leez is confused because she thought that it was supposed to be kept secret. Asha reminds her of the time she asked Leez whether she could befriend a superior sura.[36] Before Leez can explain herself, she insists that Leez would not have become friends with Yuta if she knew the truth. Ran starts to object, but Leez meekly gives in. She then claims that she has an upset stomach and leaves, much to Ran's dismay.
Left alone with Asha, Ran chides Asha for being so harsh on a normal 17-years-old girl, whose village was destroyed by a superior sura. Asha insists that having one's village destroyed is nothing special. She recalls her younger self, in N5, desperately trying to survive. She then dismisses Leez as a pampered child who pretends to be good. To her surprise, Ran points out that to Leez back then, a 'superior sura' could only have meant the one who destroyed her village, since all superior suras were confined to the sura realm after the N0 Cataclysm, and superior suras from the Ananta clan only recently started attacking cities. Thus, prior to Asha and Leez's arrival in Mistyshore, most people couldn't even imagine superior suras.
Out alone, Leez fusses her hair in frustration, trying to think of the earlier encounter in a positive way, since she was only misunderstood, and not mistrusted. Kasak calls out to her, wondering if nobody would worry about her being out alone at night. Leez says she's returning to her hotel. Kasak then asks her whether she's read the book he recommended.[37] She apologizes, saying all the copies at the library were rented out, and Ran kept avoiding the topic when she asked. Kasak hands her the book instead. The Biology of Sura, N15 Revised Edition, 16+. The book includes an additional section on reproduction, and promises interviews of 21 Halfs on their parents, as well as illustrations. He tells her to finish before Yuta enters the city: there is a way for him to enter, since there is a job only he can handle.
Spoilers and Trivia
Edit
Episode 2-86
Edit
Season 2 Episode 86: The Good (6)
Ran
informs
Asha
that she should have asked Leez 'What if someone you knew were a superior sura.' Asha imagines a scenario where she does that, and in this scenario,
Leez
admits that she'd be scared at first, but the people she knows so far were all nice people. In this scenario, when Asha informs her that a superior sura could have sided with humans, Leez responds with enthusiasm.
Ran tells Asha to consider the perspective of others, noting that his genius brother is also unable to do so. He notes that Asha seems unwilling to communicate with Leez to resolve such misunderstandings. Leez has become very timid because of Asha's attitude, and lets her win because she is the only one she can rely on. Ran concludes that the two don't suit each other, so he offers to take custody of Leez instead.
Outside the checkpoint, Yuta fidgets, hoping in vain for Leez to come out. When Kasak shows up, Yuta begs him to let him out, blaming what happened previously as a mistake. Instead, Kasak hands Yuta a pink shirt. Yuta is initially reluctant, as human clothing is uncomfortable to suras, and he objects to the color, but he enthusiastically puts it on when he hears that it's from Leez. When Kasak tells Yuta not to stay so close to the checkpoint, Yuta's eyes turn green, and he hears ongoing conversation within. Some humans are still wary, but many approve of having a rakshasa side with them.
Yuta confidently points out that people support him, even though some dislike Halfs such as Kasak. When he brags about looking more human than Kasak in his human form, Kasak points out that Yuta smashed his earrings. Yuta quickly kneels down in apology. He then carefully reminds Kasak of his two promises,[42][4] but Kasak asks for his earrings to be returned first. Kasak then suggests for Yuta to help out on a task that will win him support from Kalibloom's citizens.
Ran tells Asha that his aunt and uncle can adopt Leez, while he'll provide the actual support. Since Leez and his aunt share the same last name, they'd be distant relations. Ran wants to get Leez wherever she wishes, including an education or guild membership, because he wants her to live well in the remaining life she has. Asha agrees to his suggestion, but stops smiling as soon as he leaves.
In the morning, a beaming Leez greets Ran, Asha and several other people. When she tumbles down the stairs, Ran deduces that she must still be depressed. Zard Blain appears and calls Asha to come to the Forest of Chaos, where they found Teo in an unusual condition.
Spoilers and Trivia
Edit
Episode 2-87
Edit
Season 2 Episode 87: The Good (7)
Kasak convinces Yuta to use his ability to nullify the concealment transcendental that had covered Teo enshrined in ice. Yuta wonderes, why bother concealing something of no apparent value?
Leez prepares to leave with Asha wearing multiple layers of winter clothing, which Ran considered out of character for her, because of how little she was at the water channel. Leez denies being sick, and leaves with Asha. Ran stays behind because of his Half-phobia.
Later, Leez greets Yuta at the ice field. Yuta is badly surprised at her choice of wardrobe, but she misunderstands (or pretends to misunderstand) his expression as disappointment over the shirt she purchased for him. She runs off, saying she'll tell Ran to buy something new for him. Yuta becomes upset with Kasak and demands to know what he told her. Kasak blandly replies with the 'Hyung-nim' that he never gave her any wardrobe advice, but the honorofics just upset Yuta further. Leez tries to greet Asha, but Asha ignores her and walks away. Parr offers to explain the situation.
Lutz, Claude, and Asha discuss how they would recover Teo's body from the ice, which has so far resisted all attempts to melt it. They also discuss the importance of having Yuta as an ally to humans, as they wouldn't want him to use his nullification abilities against them. Asha brings up the possibility that the purpose of the ice was to prevent decomposition and conceal Teo's name from the underworld: for those who die before their set lifespan, the underworld must cross off their name manually, but it is possible to fool it by stopping the decomposition.
Asha questions Claude on whether he can see the remaining lifespan of someone who is already dead.[53] However, both Claude and Lutz consider the point moot since the spell of resurrection no longer existed. Asha tells Claude to stop pretending to be ignorant. In response, he warns her of the consequences of using the spell, noting that there is a reason the God only allowed her to use it, and that Teo isn't important to her.
Spoilers and Trivia
Edit
Episode 2-88
Edit
Season 2 Episode 88: The Good (8)
Parr tearfully explains to Leez how she ran away from Teo's attackers in order to find help, and blames herself for not staying behind and fighting. Yuta responds in sura speech that there would be no point since she would have just died as well, and maybe she is just saying that for appearances. Kasak finds both his comments and recent personality rather brusque, and Yuta responds that the half-dragon is not in a position to criticize him. Leez appears and asks Yuta if there is any possibility of melting the ice, and he acts sad while he shakes his head. Leez hopes that Asha will be able to find a solution, but Yuta does not think she can. Then, to everyone's surprise, the ice begins to melt and the old forest slowly reappears.
As they watch the ice disappear, Claude is convinced that Asha made a foolish choice, and she would be better off letting Leez go. Asha responds that leaving her would be complicated. Teo appears alert but disoriented, complaining of feeling sick. Based on her comments, Claude realizes that she has returned to a point before he arrived in Kalibloom. Asha says she meant to return her to the morning the suras attacked, but the Chaos barrier was unexpectedly restored before she finished the hoti visnu spell, and it interfered with her calculations. After some more confusion from Teo, Claude decides to walk away and leave the mess to Asha.
Asha explains what happened to Lutz, while the surrounding crowd begins to chatter and question why she never mentioned knowledge of the spell to anyone or used it to save people earlier. Lutz tries to defend her and explains the hardships for the magicians who knew the spell before the Cataclysm. Yuta realizes that she had used that spell on him when he was trapped by the Hide of Bondage.[33] He also notices how everyone seems happy that Asha brought Teo back, but Kasak cautions that their feelings will change given a little time.
A blue-haired boy's pinky finger begins to regenerate, to his surprise. Nearby, Elwin shouts that she heard Kalibloom is safe again and she needs to get back. She invites the boy to accompany her, but he responds that he will be fine. Elwin notices that his missing finger has been restored, and he explains that it took a while to regenerate, then sticks his hand into his pocket. She thanks him for keeping her company for the past few days, and hopes they would someday meet again. The boy walks away thinking, I don't deserve your thanks, before he transforms back into Gandharva.
Spoilers and Trivia
Edit
References
Edit
Ad blocker interference detected!
Wikia is a free-to-use site that makes money from advertising. We have a modified experience for viewers using ad blockers

Wikia is not accessible if you've made further modifications. Remove the custom ad blocker rule(s) and the page will load as expected.