Episode 2-89
Season 2 Episode 89: Taboo (1)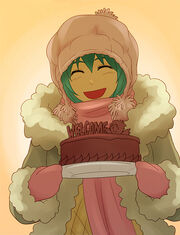 The Priestess of Chaos grants Yuta permission to enter Kalibloom, although the number of citizens who opposed the group, including Riche, had only grown.
Asha expresses relief that Yuta was allowed to enter, but Yuta implies that he could have broken the barrier, much to Asha's surprise. They then discuss Yuta's changing personality; he feels more combative than before,[1] uninterested in matters that don't concern him, and fears that he may turn into a bad guy later on. Yuta thinks it may be better then, if he stays away from everyone, but admits that he doesn't want to stay alone, as he's been alone for a long time. He is about to ask Asha to give Leez to him, but he crumples the paper. Next he touches on Asha's misunderstanding with Leez, regarding her hating suras. Asha admits that it was a misunderstanding, and Yuta points out that when Asha first met him, she made a similar mistake: she also thought that Yuta couldn't be a rakshasa because superior suras had been confined to the sura realm.[2]
Asha tells him to stop, since Ran already lectured her on the matter. Yuta asks then if she's hurt, because she did it for Yuta's sake: in the short term, for him and Leez to get along, and in the long term, to avoid a card she had gained through a stroke of luck. He tells her that even though he knew that she saw him as a card to be used,[3] he didn't care and was still grateful to her for keeping his identity a secret. He tells her that it was only a small, so she doesn't need to be upset. This suddenly reminds Asha of being told similar words by Rao Leez. Before she can respond, however, Yuta tells her to clear the misunderstanding with Leez: if this continues, everyone will leave Asha,[4] like he told her before.[5] She must become more honest to be remembered as a good person. Asha coldly informs him that it isn't necessary, since she isn't a good person anyway. Yuta closes his notebook, and decides to stop interfering. He tells himself that if Leez drifts apart from Asha, it can only be good for him.
Leez greets Yuta with a "Welcome" cake with raw meat inside, which he instantly devours. As Ran complains that the decorations aren't worth the time and effort, they hear a commotion outside: an angry crowd demands to see Asha, and criticizes her for keeping the resurrection spell to herself. Ran understands how they feel as he was once in a similar position, but also sympathizes with Asha, since the spell is traumatizing on the user. He recalls being in a similar position: after his parents died during the Cataclysm, he begged his aunt, then the Priestess of Resurrection, to revive his parents (whose bodies he had frozen), while refusing to believe that the spell could no longer be used. However, he also felt that their pleas were pointless: if the bodies aren't immediately frozen, the name gets crossed off pretty fast. Leez just observes the scene silently.
Spoilers and Trivia
Episode 2-90
Season 2 Episode 90: Taboo (2)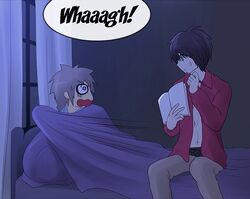 During the night, while
Ran
worries about the people (this time
Halfs
) just outside the hotel,
Yuta
appears in his room, writing that he doesn't want to be alone. They move their ensuing discussion over to the dining table over a few drinks. After Ran complains about his brother
Lutz
, Yuta asks his opinion of
Leez
's heavy winter clothing. Ran comes up with a few unlikely reasons, but thinks it's cute, so he suggests just letting her be, since it's probably only a temporary thing. He is sad that Leez has so little time remaining, as shown by
hoti yama
. Yuta ignores his concern and asks if Leez is wearing more clothes because she's scared of him being a
sura
. However, Ran counters with another question: had he done anything to give himself a guilty conscience? Realizing that he was right, Ran asks Yuta to tell the truth.
In the morning, Leez finds Ran passed out at the table, which is covered with empty bottles, and Yuta admits that Ran was up late giving him some advice. Leez is shocked that Ran is a drunkard, while Yuta remains silent on the fact he emptied most of the bottles. He then picks up all the bottles at once using his scarf, and begins a discussion over why she is wearing so much clothing, and if it was to keep him away. He asks her whether it was because of the hug earlier in the forest. Though Ran told him that he needs permission to do so, Leez always hugged him without asking before, and it made him happy.[17] When Leez brings up his development, he tearfully assures her that he is still the same person inside as he was before his recent development. Leez then decides that it is important for her to trust her friends, because it hurts when they don't trust her.[18] When she tells him she will believe him if he says everything is fine, he joyfully reaches out to hug her with his scarf, dropping all the bottles.
At the Chaos Temple, Teo feels sad and overwhelmed by all the things she couldn't remember, and blames herself for not protecting the city and losing so many lives. Elwin responds that it wasn't her fault at all, and she knows who was, in fact, responsible.
Spoilers and Trivia
Episode 2-91
Season 2 Episode 91: Taboo (3)
A meeting is held at the Fighters' Guild to help Teo learn of the events that happened during the gap in her memory. Parr is called upon to prove that the man who stayed with Teo was associated with the invading suras. She explains how he tried to convince Teo to leave the barrier,[20] then how she saw him later on, perfectly fine, after Teo disappeared. Another person later joined up with him.[21]
Elwin then explains how Yuta tried to help her when she was kidnapped by a superior sura.[22] This superior sura then inquired about the very same one-eyed man.[23] Zard then concludes that Teo was tricked by a person in cahoots with the suras.
Leez bought a new shirt for Yuta without buttons, since he was always leaving his previous shirt open in the front. Yuta writes that clothing made him uncomfortable and he prefers to have none, which leads to a misunderstanding between the two. When Ran asks Asha about her clothes, she explains that her suit was specially customized for her and has exceptional defensive capabilities. She added that her cloak is for storage as she pulls out the Vajra she used to save Riche from an attacking Sura.[24] Ran wonders why Riche was among the group of people who are opposed to them if Asha saved her life, to which she responds that it was probably because of the hoti visnu.[25]
Riche's assistant brings her the records of Asha's trial for the 29 homicides that were ruled to be an accident, adding that they were hard to obtain, as someone seems to have gotten to them first. It took him 100,000 gold to piece everything together. He then questions her purpose for digging up this info which could prove dangerous for her. Riche speculates that the outcome of the trial would have been different if people knew Asha could cast hoti visnu.
Spoilers and Trivia
Episode 2-92
Season 2 Episode 92: Taboo (4)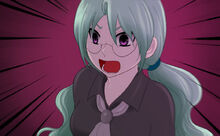 Not long after the
N0 Cataclysm
occurred,
Riche Seiran
had an unknown person's body frozen in hopes of getting him/her resurrected with the now-defunct
Hoti Visnu
spell, against the advice of others. She offered a 1 million gold reward. At Eloth University, Agwen is surprised by the amount offered. The younger
Asha
cryptically remarked that it was a shame. Agwen then congratulated her on having full exam marks again. Half a year later, there were still no takers, so Riche finally relented and held a funeral.
In the present, after browsing the files, Riche considers the fact that Asha saved her life, and the fact that magicians like her are needed in such times. She decides that she is willing to overlook the files if Asha acknowledges what she did and apologizes.
At the hotel, Leez and Ran discuss their progress on the competition for the Neutral Bow. Leez claims that she is going to win, much to Ran's incredulity. Riche shows up alone to confront Asha. When asked why she didn't use Hoti Visnu on any of her homicide victims, Asha replied that she didn't know the spell at the time so she couldn't, and this was a pointless waste of time. Once Riche takes her leave, Ran questions Asha about the homicides. She simply replies that they were accidents, and that she paid the fines - case closed. Leez tries to change the topic and urge them to go to diner.
Back at the mansion, Riche decides that instead of making her information public, she will send the files to the President of the Eloth Magic Guild, who is the #1 ranked magician on Willarv and wanted the death penalty for Asha.
Spoilers and Trivia
Episode 2-93
Season 2 Episode 93: Taboo (5)
After a night of hunting, Yuta enters the Kalibloom checkpoint where Asha, as his sponsor, is waiting for him to return. He mentions that he had to go out further than usual to hunt thanks to Kasak's earlier patrols. Asha asks if he ever feels any guilt over killing other suras, and that they must often beg for mercy. On the contrary, he replies, they understand and accept the fact that they will receive no mercy from a hunter. Among the suras, those who get overwhelmed with guilt over hunting do not survive long. Asha wonders how it would be if humans had the same outlook over killing each other, then concludes that it would not matter anyway since guilt would be her downfall.
Lutz fires a shot from the Neutral Bow while he and Ran are out evaluating it, and finds that the longer the bowstring is drawn, the further the arrow flies and the more vigor is consumed. Even at its lowest power, the bow's function is inaccessible to most people. Both brothers wonder why Riche didn't ask a half with high vigor to try out the bow when she had it, and Lutz suggests that Ran try the bow later after he builds up enough vigor first. The elder brother begins to leave in a rush for a meeting when his brother throws out a couple of quick questions: Did Asha really kill 29 people, and was he not at her trial?
The President of the Eloth Magic Guild is about to review Riche's documents when a messenger bursts in to announce that a pair of low-level suras have been spotted at a village ~500km (~310 miles) away. The President, #1-ranked magician and Priest of Light Saha On, uses hoti surya bhavati surya to immediately eliminate the threat without moving from his desk, and brings his attention back to the documents. He is feeling tired, so his personal bodyguard, Tilda Melliot, jokes that he could use ask Asha to return him to a more vigorous state. He reminds her that he has been on the DNR (Do Not Resurrect) list for a while now. After quickly browsing the documents, which reveal that many of the homicide victims had aliases and/or had a god's name, he tells Tilda to prepare for immediate departure to the Human Search System.
Spoilers and Trivia
Episode 2-94
Season 2 Episode 94: Taboo (6)
Inside the Human Search System, Saha puts in a search for the year N11, which showed the location of 35 humans still living, with the rest deceased. Next, he searches the year N13, which shows only 19 still living. When he begins his search of the year N16 (present time), Tilda yells at him to get out now since his time is nearly up.
In the lounge, Tilda chastises him for taking a huge risk in a space that disappears with him if he remains past the time limit. She asked why he couldn't just ask another AA to use the search system for him, and he replies that he could no longer trust any of them, including his fiancée, and wonders which one was Asha's accomplice in the homicides.
Not far from their hotel in Kalibloom, Leez (with Yuta) spots Ran passing by, and tells him she made a little progress with Bhavati Kubera. Ran responds that maybe she'll win the Neutral Bow after all, and continus on his way with a distracted look. Leez presumes that he is still rattled by the news of Asha's 29 homicides. When Yuta asks if she thought they were really accidents, Leez looks away, then says yes, because Asha said so, and it's important for friends to trust each other.
In a meeting at the Earth temple, Lutz discusses Asha's case with Siera and Claude since Riche has been raising the issue again. They all agree that they (as well as Lorraine, Brilith, Airi, and Teo) would support Asha. However, they aren't sure about Laila, who doesn't seem to like Asha much despite being the one to issue the A++ license, so they ask Claude to bring her around. Claude is reluctant to face her but agrees to send a letter.
In Rindhallow, Laila lies down, complaining of fatigue, when an staff member delivers a letter from Claude, in which he both apologizes for not returning and requests that she supports Asha. Laila finds his message more irritating than heartfelt, then notices that the weather outside suggests a storm is on its way.
Spoilers and Trivia
Episode 2-95
Season 2 Episode 95: Taboo (7)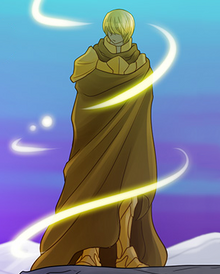 Near Rindhallow, Kubera equips his armor. Sagara muses that they won't need to bother with Eloth now; they only need to destroy Rindhallow in order to call an unknown individual back.
Parr delivers Teo's meal, then reports back to Zard that she is still downhearted but at least eating. Clari is apologetic to Zard since he has to deal with her being affected by emotional resonance twice now, the first time during the N0 Cataclysm. Zard wonders if the Sura who attacked and flooded the city was Gandharva himself, and why Agni remains silent about what happened. He concludes that the best they can do is to wait for the God to give them an answer.
At the Earth temple, Siera is unhappy that this situation has put them back to the way they were before the Cataclysm—depending on the Gods to fix their problems instead of collaborating among themselves to find solutions. Lutz is concerned that a priest of all people would say something like that, and goes on to discuss Asha and her 29 homicides: a horrible thing in of itself, but when looking at the greater picture, she's saved many more lives in Atera,[57] and has the great potential of saving even more when the Sura attack again. Lutz is willing to bury the past for the sake of the future.
At night outside their lodgings, Ran meets up with Asha to discuss why she always behaves in a polite and respectful manner except when Leez was around. Did she speak to Riche so harshly because of Leez? Asha offers to leave their company by tomorrow if he prefers not to stay with someone like her. Yuta, eavesdropping from a rooftop somewhere, smiles at Asha's words.
Spoilers and Trivia
References
Ad blocker interference detected!
Wikia is a free-to-use site that makes money from advertising. We have a modified experience for viewers using ad blockers

Wikia is not accessible if you've made further modifications. Remove the custom ad blocker rule(s) and the page will load as expected.