Episode 51
Edit
Season 1 Episode 51: The Wavering King (1)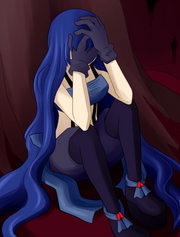 In a flashback, the death of Ananta leads to difficult times for his clan. As Sagara cries uncontrollably, calling Ananta's name, Manasvin tells her to return to her previous lover, Vasuki, who is now the strongest Ananta clan member and who should become the next king. At first she protests, calling Vasuki a coward, and besides, they split up a very long time ago and she is now with Manasvin. He insists that she had always craved power, and now is her opportunity to sit alongside a king. Sagara is (briefly) overcome by his self-sacrifice.
At Taksaka's nest, a young rakshasa named Riagara announces that Sagara has arrived. Vasuki expresses surprise at her visit since she had written him out of her life long ago. His voice sounds a bit off so Sagara takes a closer look at him. She realizes "he" is now female, making Vasuki weaker than Manasvin. Sagara becomes enraged, punches Vasuki in the face, and storms off. Taksaka questions Vasuki's motives since this is her chance to get back together with Sagara, but Vasuki admits that doing things this way would allow Sagara to stay with the person she loves and still attain the power she wants. Taksaka thinks the whole idea is stupid. Vasuki adds that someday, maybe Riagara will understand these matters of love...
...but the present-day Riagara, all grown up, still cannot make much sense of it all. Since that time, Manasvin had died and Sagara is now king, a position she could only dream of before, yet her hold on the throne is not very strong. Her rakshasa team will protect her in the human realm. Riagara notices Sagara smiling at the news that Gandharva suras are now becoming violent.
At Mistyshore, the young man asleep on the raft manages to float beyond the city's barrier, and is accosted by a large Gandharva sura with long, sharp teeth.
Spoilers and Trivia
Edit
Episode 52
Edit
Season 1 Episode 52: The Wavering King (2)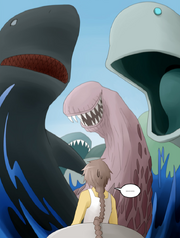 As the young man on the raft realizes he drifted beyond the city's barrier, more Gandharva suras appear.
In a flashback, an instructor stresses the importance of speedy and accurate calculations when using magic, complaining about the aforementioned young man's reliance on intuition without understanding the underlying theory, causing mistakes and failures with his magic.
Out on the water, the young man believes that his way of doing magic is more advantageous in a real fight, and casts hoti varuna, creating a wave that lifts his raft up and away from the advancing suras. He continues to scoff at unnecessary accuracy and theory. Recalling the instructor telling him that he should follow the example of a great magician like Asha, the young man believes that the bastard can't possibly cast a bhavati spell faster than him since he doesn't waste time on calculations. He casts bhavati varuna and freezes the suras, but unfortunately he also freezes both his right arm and leg, and much of the surrounding ocean, demonstrating why a spell's boundary needs to be tightly controlled. As he becomes flustered about his situation, the suras begin to break free from the ice.
As Asha, Leez, and Yuta approach Mistyshore near the shoreline, Yuta hears the sounds of someone struggling out in the water; Asha tells him not to worry about it. Soon they arrive at the checkpoint, and as they wait in line, Asha explains to Leez that there are no restrictions for leaving a barrier, but you can only re-enter a barrier through a checkpoint. This leads Leez to wonder how the man in the black cape was able to bring them both back to Atera without going through the checkpoint. Suddenly, someone bursts into the waiting area; the young man, now injured, rudely storms past the line, straight to the check-in desk, and manages to offend Asha on top of everything else. Asha takes note of the information on the monitor as the man checks in; once he is gone, she mutters, "Ran Sairofe, Quarter, triple-varuna, rank BB." Asha menacingly states that she will find him and have a little chat.
Spoilers and Trivia
Edit
Episode 53
Edit
Season 1 Episode 53: The Wavering King (3)
Flashback: A sura with white hair tells Gandharva that Visnu and Shuri are gone, and Garuda may never wake up, so he is now all alone. She cannot help him indefinitely, and it is time for him to make a decision for his clan.
A second sura (recognizable as Urvasi)[8] tells Gandharva that he will continue to fight off their opponents until the king makes his decision, but there is only so much time. It would be better if the stronger clan members fled to the Garuda clan stronghold; however, the king's daughter has created a sticky situation.
Shakuntala tells her father that she must be left behind with the weak. She does not want to receive preferential treatment and she must stay with the children so they are not alone.
A fourth sura (recognizable as Makara)[8] tells Shakuntala that if she continues to be stubborn, the king will end up trying to create an ocean at risk to his own life. She still refuses to go.
Back in the present, deep in the ocean, Gandharva laments that saving the clan is not worth it without his daughter there.
In the vicinity of Rindhallow, Maruna is still searching for Gandharva when he is attacked by a Gandharva sura. He realizes that the sura isn't in its right mind since it didn't recognize him at first. Once he mercifully sends the sura on its way, Sagara appears and comments on how emotional resonance, which affects only inferior suras and Halfs, is such an annoying phenomenon, especially with an emotional king like Gandharva. She then begins to discuss the false hope "he" gave to Gandharva. Maruna assumed it was to trigger emotional resonance and make the usually-peaceful Gandharva suras more aggressive. Sagara tells him that he is only partially right, because the overly-aggressive Gandharva suras have become difficult to control and are now unreliable in battle, so their army no longer has the numbers to attack Rindhallow. She then claims the real reason is that "he" does not intend to help Gandharva and wants to attack Atera against his wishes. Sagara proposes that they forget about Gandharva for now and go to Atera.
Spoilers and Trivia
Edit
Episode 54
Edit
Season 1 Episode 54: The Wavering King (4)
As Asha walks through the streets of Mistyshore, she passes by an auction where someone decides to buy a half as an engagement gift for his fiance, who has always wanted to kill a Gandharva half herself. They decide to take the half to some nearby woods away from the crowds and any potential half rights protesters. Some spectators decide to follow since the killing would be entertaining to watch.
Leez is dying of boredom at their magic guild lodgings, and is disappointed that Asha refused to take her along to Mistyshore University. Asha had explained an hour before that the rude young man they saw at the checkpoint is likely a student at the local university who is having difficulty graduating because of his BB status, plus he has triple water attributes—the perfect victim for her to torture. Leez suspects that Asha must have other reasons to seek the guy out. When she finally decides to order lunch, she notices that Yuta is gone.
Yuta sits atop a building, deep in thought. He remembers Shuri's words to him to always keep his mind calm and to never allow it to waver, even when he feels great joy or deep sorrow, because that is the way of a king. Yuta then hears the Gandharva half screaming for help.
Somewhere on the beach, a woman named Agwen rejoices at her arrival in warm Mistyshore and her departure from that City of Steel, Eloth. She wants to go straight to the university, but her companion, Mr. Kasak, wants to put their luggage away at their lodgings first. As she becomes angry and yells at him, he suddenly hears someone screaming from the woods nearby. Agwen quiets down and hears the commotion as well, and decides to check it out, while Mr. Kasak protests as he tries to follow her carrying all of their luggage. Inside the woods, Agwen finds a bloody scene, with Yuta standing alone holding a bloody sword which then transforms into its wrappings. She nervously asks him if he saw who did this, and he stares back at her with red eyes.
Spoilers and Trivia
Edit
Episode 55
Edit
Season 1 Episode 55: The Wavering King (5)
In a flashback, several Ananta clan nastikas complain bitterly about Sagara's unprecedented ascension to the throne after Manasvin's death, because a weak king leaves them vulnerable to other clans. They refuse to acknowledge her as King and turn to Vasuki, still in female form, who is unwilling to do anything about it. The clan members assume that she still harbors old feelings for Sagara.
Sagara is roused from her memories as Riagara calls her name to get her attention. The rakshasa reports that the Priest of Atera, Brilith Ruin, will have to be captured alive. The priest maintains a flawless barrier and has the strong support of the people of the city, who revere her like a Queen. Sagara is jealous of this last fact, and anger begins to build before she reins in her emotions by mentally telling herself, "Though you laugh, it is not true laughter and though you cry, you cry false tears." She tells Riagara to get everything ready and that she will be accompanying her.
Leez looks around for Yuta, but avoids leaving the Guild grounds as to not anger Asha.
Out in the woods, Agwen assumes Yuta is a Half and cautiously asks him to come with her to find his sponsor. She attempts to cast a hoti brahma spell to capture him, but the spell inexplicably fails and Yuta runs off. Agwen yells at Mr. Kasak to remove his earrings and go after the boy. Mr. Kasak complies, which causes him to slowly change to a new form with horns, claws, and longer hair. He complains about being hungry and threatens to breathe fire, which causes her to yell, "Dad!" He responds to his princess that he is just kidding. When Agwen insists that he must find the killer, Mr. Kasak explains that the boy only injured the many humans who had been there and that they would survive; he only wanted them to feel pain for killing the Gandharva Half. When Agwen sees the body, she prays for the gods to have pity on him and consider him human. She then says that they cannot allow the boy Half to run around and they need to inform his sponsor. Mr. Kasak points out that the boy is not the kind of Half she thinks he is, already knowing about Yuta's heritage.
He catches up to Yuta, and comments that he is certain now of Yuta's lineage and is amazed that a sura of two clans actually exists. Yuta is surprised by Mr. Kasak, who is now in dragon form and chatting with him in sura speech.
Spoilers and Trivia
Edit
Episode 56
Edit
Season 1 Episode 56: The Wavering King (6)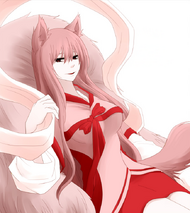 In a flashback, a monstrous, dark, female creature scoffs at the idea that a king must not waver. She tells someone that he can do anything he wishes and eat whatever he wants, since that is all that is necessary to be her successor. In this Chaos clan, law and order do not exist. Listening to her words is a very young Yuta.
In another flashback, Shuri tells Yuta that he must follow the ways of a true king. She will continue with her teachings until he is finally able to control his instincts.
In the present, Yuta thinks, yes, mother, I can control myself. Mr. Kasak gazes upon him and then commends him on his restraint, since he expected him to immediately attack like a typical Chaos sura. He then asks Yuta if he can speak, and surmises that he must have been under someone's guidance for quite a while in order to maintain his level of control as a Chaos clan member. Yuta finally retorts that he does not belong to Chaos—he belongs to the Garuda clan.
At Mistyshore University, a student complains about failing Topology again, and wonders if she should just take the class over. Her friend suggests that she do an alternative quest instead. She responds that those quests can be fatal and she would rather just enroll again. They then begin to discuss Ran repeating his final semester, and how his family is rich enough to afford re-enrolling him for the past four years. Another pair of students spot a sign welcoming Professor Agwen Rajof to the university, and one of them complains that he transferred to Mistyshore from Eloth to get away from her and her tendency to fail her students.
At the Mistyshore University College of Divine Magic, Rana Reimia is excited to meet Asha, and is shocked to learn that she is looking for Ran, the guy who just failed Topology for the eighth time. They are interrupted by people shouting outside, excited about seeing Mr. Kasak in dragon form. Rana explains that he is in Mistyshore because Agwen just transferred from Eloth University. Asha puts on a pair of Hunter's Eyes x50 to get a better view, and Rana remarks that Ran used to have the same model but destroyed it after the side effects almost killed him. Asha says that it's fine as long as she doesn't wear them too long, then says that the situation outside is fine since he knows better than to cause trouble for his sponsor. Rana assumes she is talking about Mr. Kasak, and Asha is about to correct her when she changes the subject back to Ran...
...who is elsewhere moping about his failing grade and imagining everyone's taunting reactions. He considers just running away, when suddenly that "pervert" from the checkpoint (Asha) is standing in front of him.
Spoilers and Trivia
Edit
Episode 57
Edit
Season 1 Episode 57: The Wavering King (7)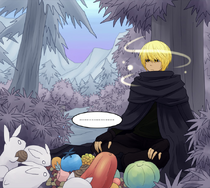 Back at Rana's office, Ran continues to put his foot in his mouth thinking Asha is a man with a strange sense of feminine fashion, when Rana finally whacks him with a book to shut him up. She apologizes for his bizarre behavior and asks Asha if he's truly able to help her, and she replies that he has the attributes she needs. Asha then addresses Ran and offers to take him on an alternative quest so he can meet his graduation requirements. He rudely replies that he isn't interested and he intends to re-enroll next semester. Asha cuts him short, making it explicitly clear that his opinion does not matter.
Mr. Kasak thanks Yuta for simple-mindedly confirming his suspicions of him being a half-breed, which caught the boy off-guard. Yuta also reveals he is still in his 2nd stage, causing the dragon to tease him for being a slow poke. This annoys the boy, who chastises the younger dragon while demanding more respect. Mr. Kasak replies that if he wants respect then he needs to grow up, especially since Visnu seemed to have a reason for leaving Yuta in the human realm so he may have challenges ahead. Yuta is surprised that he knew Visnu personally. The dragon tells him that the god visited his family a few times, and always spoke in confusing riddles, including one predicting their meeting. "You meet one who is of two halves. He is older than you, yet younger. On the first meeting you are superior, Kasak. But the second..." Mr. Kasak then reveals that Visnu also mentioned Yuta's brother and sister. This gets Yuta excited, but before he can get any information, the dragon runs out of vigor, returns to human form, and promptly falls asleep.
In an icy forest near Rindhallow, God Kubera is feeding some starving rabbits with food he conjured up when Sagara drops by. She teases him for appearing younger than usual, and he explains that his larger form was too intimidating to the animals. He asks Sagara why she came, and that he will not get involved with Atera. She tells him that she's curious about Maruna and why he's willingly helping him out. God Kubera replies that it is a simple matter of finding something he is looking for, once their business concludes. Sagara grins and says she's envious of his ability to lie so easily with his expressionless face. But it doesn't matter to her, since they have the same goal and the means to reach it aren't important. She then asks him to pray that their attack on Atera will be a success, then jokes that he has nobody to pray to.
Spoilers and Trivia
Edit
References
Edit