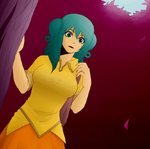 The following tables provide links to episode summaries grouped by chapters (formerly referred to as arcs), as well as the image gallery for each chapter. Individual episode summaries can be viewed by clicking on the episode name on each chapter page, or via the Episode Guide.
Season 3: Fragments
Edit
Ad blocker interference detected!
Wikia is a free-to-use site that makes money from advertising. We have a modified experience for viewers using ad blockers

Wikia is not accessible if you've made further modifications. Remove the custom ad blocker rule(s) and the page will load as expected.