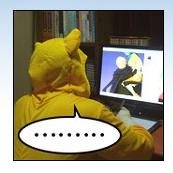 Currygom (카레곰) is the alias of a mysterious South Korean author responsible for creating, writing, and illustrating the webtoon Kubera (and the related novel the finite). She is also a recurring background character in the webtoon.
Not much is known about Currygom, but most of the fans believe that Currygom is female, and she already confirmed this herself in one of her Me2Day posts. Currygom has a blog on Naver where she frequently posts important information about her webtoon Kubera, cooking recipes, music, and many other things. Also, in one of her ME2day posts we found out she is under 30 and does not have a steady boyfriend 
Currygom the bear
Currygom makes her first appearance in the Prologue[1] of Kubera where he/she is hiding in a field of curry mushrooms. Later in the series Currygom appears in many situations, often in a humorous manner. Her depictions seem to be quite popular in the Kubera universe, as her name and face is printed on many widely-used products such as mathematics books, potato chips bags, and more, but they also appear on more valuable items such as paintings. Despite all this popularity, Currygom can move around freely, and is never surrounded by fans when making a public appearance. These webtoon appearances are also considered to be hidden Currygoms.
Stressed out by her many talents, Currygom sometimes overworks herself, losing her curry-yellow color and stretching thin like a piece of paper. This form is known as Whitegom (Whitebear). Despite being worn out, Whitegom works the hardest, and is responsible for the publication of the series The Daily Life of Goo Bera.
List of publications
The following is a list of webtoons, one-shot episodes, collaborations, and novels published by Currygom.
Title
Type
Korean
version
English
version
Notes
Kubera
webtoon
Naver
02-2010 to present
LINE Webtoons
07-2014 to present
Kubera
(Best Challenge
version)
webtoon
no longer online
07-2008 to 11-2009
none
This is the earlier version of the current webtoon series.
the finite
novel
none
This is the side novel to Kubera, set 142 years before the webtoon's storyline.
After I Am Gone
webtoon
(1-shot)
Naver
02-02-2015
LINE Webtoons
04-22-2015
2015: Space Series, Episode 9
The Voice of House (Sounds in the House)
webtoon
(1-shot)
Naver
08-20-2015
LINE Webtoons
11-13-2015
2015: Creepy (Korean version), Episode 23
Chiller (English version), Episode 26
This episode includes sound effects.
Myum Myum
webtoon

(1-shot)

Naver

none
This is only one story of a 35-chapters-long cycle of webtoons about world supposedly ending in 2012.
External links
References
↑ Kubera, Season 1 Episode 0: Prologue