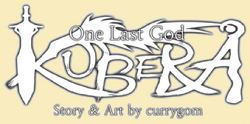 This is the list of available episode summaries of One Last God: Kubera. See also: Chapter Guide
(Korean) version: 쿠베라, Naver Manhwa
(English) version: Kubera, LINE Webtoons
The Episode summaries mainly use LINE Webtoon's translation (which unfortunately has problems with inconsistent terminology pre-Season 3).
The Episode articles can be read by new readers and contain spoiler tags (desktop version only) to hide subsequent plot elements. (The rest of the wiki contains many spoilers, however.)
For those interested in in-depth discussions on this webtoon, please visit the Kubera forum on Batoto.net.
Ad blocker interference detected!
Wikia is a free-to-use site that makes money from advertising. We have a modified experience for viewers using ad blockers

Wikia is not accessible if you've made further modifications. Remove the custom ad blocker rule(s) and the page will load as expected.