Season 2 Epilogue was released on Naver on March 28, 2016, one week after the end of Season 2 (Episode 2-180).
Part 1: unlikely "brothers"
Edit
Gandharva (holding a broom) informs Maruna (sitting, wearing overalls and a ponytail) that he had met with Shess, who is posing as a half in Atera. Maruna asks where the rest of them went: Samphati, Hura, Cloche, and Clophe. He throws his rice ball lunch to the ground, gripes that they should be looking for them instead of being in their current situation, and complains that there is no way he can eat this crappy food. Gandharva tells him that he should adapt to this lifestyle since there are still two 5th-zen gods on this planet who are the second-strongest pair in terms of firepower (the strongest being Agni/Vayu), so they have to keep a low profile for the time being. Maruna protests about his clothes, the food, and pretending to be a half. Someone nearby shouts to Gandharva, asking if his brother is done eating his rice yet, because he is supposed to be a strong laborer yet he seems to be slacking off instead. Gandharva apologizes to the person, and tells Maruna to behave. Maruna begins to rant about getting revenge on the farm and the terrible cooks who serve vegetables. Gandharva then quietly informs him that he has been helping out in the kitchen since yesterday. Maruna begs for his forgiveness, but Gandharva does not respond.
Part 2: Melted Currygom, part 1
Edit
(Translation by Jay and Birdie)
...Hello? To all my readers—
Thank you for reading so far.
Kubera Season 2 ends here. You could perhaps say that it was the first half of the story... From Season 3 onwards, there will be a time skip. There will be some big changes in the positions of the main characters. You'll have to check them out for yourself, though.
Oh, by the way, some of you have been asking if Seasons 1 and 2 will be pay-2-read once Season 3 begins. My webtoon must be read through from the beginning in order to be understood, so I wouldn't turn part of it into paid content... There's the possibility that Season 3 will not be released starting from the end of Season 2, but as a separate title. By the way, I'm planning to use the pay-2-read-first system. (Those who pay will be able to read each episode ~3 weeks before the general public.)
Um... and... What was I trying to say again? Seeing a melted currygom all the time is getting boring, right? I'm sorry, but I can't move right now. I'm going to rest and post some low-quality comics for a bit.
Part 3: Leez's dress design winners
Edit
This part reveals the two winners of the contest to design an outfit for Leez. Leez shows Yuta a box of clothes and tells him that she can only choose two, so she will pick one outfit and he can pick one that he would like her to wear. Yuta admires one sexy outfit, but thinks that Leez would hit him if he chose it...and in the end he chooses it anyway. Leez models Yuta's pick first, and then the princess dress she chose second. Yuta blushes as he thinks "I love you" to both designers.
Part 4: Melted Currygom, part 2
Edit
Currygom tells is that during the hiatus, she will work on making a better Season 3. She wants to practice drawing actions scenes (which she admits she does badly), work on the printed books, and work on the Season 3 Prologue. She also mentions that since she skipped some planned chapters in Season 2 in order to keep the story progressing, they will be added to the audio drama. She then suggests re-reading Kubera before Season 3 begins, and also look for hidden Currygoms when you do.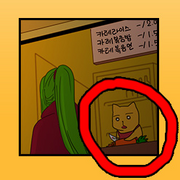 Currygom is creating an event, similar to the one after the end of Season 1, for her readers to try to find the most hidden Currygoms in Season 2. She says that most of them have been found and discussed in the webtoon comments, but there are still some that have yet to be found. She answers the questions below (which may be translated at a later time).
1. What counts as a valid Currygom?
2. How long is the event?
The event runs from now until the Season 3 Prologue is released.
3. How do I participate in this event?
4. How is the winner determined?
5. What are the prizes?
Currygom then thanks her readers again, promises improvements for Season 3, and tells everyone to stay healthy until they meet again.
Part 6: brief scenes
Edit
These are some brief scenes with a few characters, without dialogue.

Kubera season 3
To be continued in 2017

Currygom's comment: Season 3 will begin at an undermined date in early 2017.
It's going to be a long wait, so I'll try to return with some improvements for Season 3.
Afterword
Edit
Currygom's afterword for this episode (posted March 28, 2016):
(thumbnail - Leez's yellow outfit): The Chickie dress hasn't been thrown away!
(angry Maruna): Strong laborer #1, slacking off. He's not worried at all about the suras other than the four he mentioned (Samphati, Hura, Cloche, and Clophe). Why...?
(Leez's two headshots in the winning outfits): Leez's outfit design winners announced: (link to the list of winners, posted to the blog March 27, 2016). (The rest was left untranslated by birdie because it's unimportant contest details.)
Kubera Season 3 is scheduled for Spring 2017. The exact date is still pending. It might not even be on Tuesdays anymore! During the hiatus I will be working on the audio drama first, and the books second. (The book are so far behind...) Of course, I still have to prepare the Season 3 Prologue and analyze the problem with my action scenes. ...Ah... I have the ominous feeling that I'll be even busier...

The audio drama CD cover is out. The CD is focused on the side stories only. Since I worked on it, they can be treated as canon. Sorry for delaying the release date to April 21. My apologies to those who were eagerly waiting... So I will send a tumbler to those who pre-ordered before March 20 (I was originally going to give them out randomly). (You can see images of the tumblers at the Naver store.)
(blushing sticker)
You can pre-order until April 15. (Pre-orders have a chance of getting picked for bonus tumblers.) If you're interested, check it out! (link to the Naver audio store is in the blog/information is in Korean)

In the linked page is a list of characters and their voice actors, as well as the titles of the side stories that didn't appear in the webtoon. I'll add the short descriptions after they're translated.

Goalkeeper is a God
Teo's Cooking Lessons
The Strongest Half

If you have any questions about hidden Currygoms, follow this link. (link is in the blog/information is in Korean)
For more information on the 7th Kubera character popularity vote, follow this link. (link is in the blog/information is in Korean)
It appears that hoti visnu also affected Gandharva and Maruna, who are no longer concerned with Sagara and the rest of the sura army that vanished with Asha.
Agwen is likely crying because of news of her father's disappearance.
References
Edit
Ad blocker interference detected!
Wikia is a free-to-use site that makes money from advertising. We have a modified experience for viewers using ad blockers

Wikia is not accessible if you've made further modifications. Remove the custom ad blocker rule(s) and the page will load as expected.