Haas Lehn
하스 렌


Basic Information
Race
Pure-blood human
Birthday attributes
Vayu - Asvins - Brahma
Gender
male
Occupation
student at the Atera Magic Academy
Personal Information

 
Birthday
Year D998
5th month (Vayu)
? day (Asvins)
4th hour (Brahma)
Age
Height/Weight
176cm / 61kg
Family
Kaz Lehn (brother)

First Appearance
Webtoon
Episode 1
Haas Lehn (하스 렌) is a human and a childhood friend of Kubera Leez. He is a survivor, along with his brother Kaz, of the destruction of their village, and they now live in Atera where he attends the city's magic academy.
Appearance
Edit
Haas is often drawn as light-blueish, outlined figure that has no distinctive features. When he is more properly drawn, he appears as a young man, with slightly tanned skin tone and short yellowish-brown hair. He initially wears blue trousers and a light blue jacket with a hood (he is not seen covering his head with the hood). He is later seen wearing grayish trousers, a green belt around his light-blue jacket and a greenish-gray bag over his shoulder. From a picture of the mobile game Kubera, he seems to have eyes matching his hair color.
Personality
Edit
Acting his age, Haas appears more mature and composed than Kaz. He seems to have a good understanding of situations and is looking after Kaz in times of trouble.
Skills and Abilities
Edit
Haas has a high divine affinity and considerable magic talent, but did not attend a magic academy until after his village was destroyed. He didn't want to leave his brother behind, who is unable to become a magician. Guard Roen gave him a book and he taught himself some magic, including teleportation. He now attends Atera Magic Academy.
According to Anna Haias in Leez's dream, he and Kaz still have a place in Kubera Leez's future, though she isn't yet aware that they're still alive.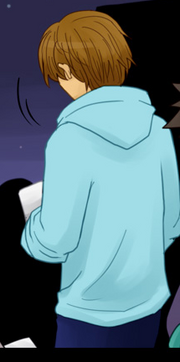 Haas first appeared in chapter 1, along with Kaz, who was presenting his pun present for Kubera. Seeing Kaz get rejected, he sighed about Kaz's way of doing things and suggested they buy another present.
Haas appeared with Kaz in Atera shortly after their village was destroyed and was seen among the crowd of Brilith admirers. When Gandharva and Maruna attacked Atera, he obtained food for himself and Kaz, and promised to help out others for the food as intended. He didn't recognize surafied Maruna as a Sura, but felt bad about the creature and notified other people around him of its presence.
He was still in Atera with Kaz when Sagara attacked, and was initially seen talking with Kaz near a crowd of people in the temple square, as Sagara bumped into Kaz. He was still in the temple square and talking with Kaz when surafied Cloche appeared, and witnessed her quick defeat. Once the battle was over, he was seen with Kaz, listening to an explanation about Brilith Ruin and the barrier.
Currently he enrolled in Atera Magic Academy as a freshman. Enrolling students can choose the color of their hoodie, but the color of the belt divides them into grades.[2][3] He is probably staying in the dormitories provided free of charge by the Academy together with his brother Kaz Lehn.[4]
References
Edit
Ad blocker interference detected!
Wikia is a free-to-use site that makes money from advertising. We have a modified experience for viewers using ad blockers

Wikia is not accessible if you've made further modifications. Remove the custom ad blocker rule(s) and the page will load as expected.