Jibril Ajes
지브릴 아제스


Basic Information
Race
Pure-blood human
Birthday attributes
Agni - Agni - Agni
Gender
female
Occupation
Priest of Fire until N5
Magician rank
AA (#?)
Personal Information

 
Birthday
Year D974
7th month (Agni)
? day (Agni)
7th hour (Agni)
Age
32 years (in N5)
Height/Weight/
Measurement
170cm / 54kg / 75C
Family
Talith Ruin (husband)
Brilith Ruin (daughter)

First Appearance
Webtoon
Episode 6
Jibril Ajes was a human magician, the Priest of Fire during her lifetime, and the mother of Brilith Ruin. She is deceased by the time the main story takes place, and all her appearances occur in flashbacks.
Appearance
Edit
Jibril appears as a woman with light skin tone and long red hair, that she ties on her back. She is typically shown wearing long black gloves, with two golden bands around her arm, a black dress, and a long dark coat with thick grayish fur around the top part. She also wears long dark-purple stockings, and a lighter purple cloth, that is fastened around her waist by a wide purple sash.
Personality
Edit
Not much is known about her, but she is claimed to have been a person who was kind to others, and always kept a smiling face. She is claimed to not have cared very much about her daughter, however. Her detachment from her daughter and others is at least partly due to her proficiency in silent magic.
She appears to be a role-model for her daughter Brilith, who seems to follow her in almost all of her actions, and often remembers her.
She shares her surname with Praul Ajes; they are distantly related, but were not aware of that fact although they took the magic exam together.[1]
Jibril is the Arabic form of the name Gabriel.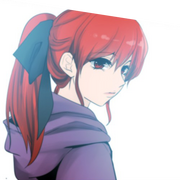 Jibril mastered silent magic at a young age, and Laila Hemawati recalls asking her to teach her how to use it.[2]
Brilith fondly remembers her mother as the first person to summon a god after the N0 Cataclysm.[3] She was a priest of Atera, and was greatly respected. According to Brilith, Jibril suffered great pains that resembled her own, which were caused by keeping a god actively summoned. She had a god-class item called the Staff of Agni in her possession, which she has used to defeat a large number of suras. She had a divine affinity of over 10,000 and was capable of catching rakshasas on her own.[4] She passed away in the year N5,[5] and the cause of her early death seems to be related to the summoning of Agni, and keeping his summoned state, as well as the use of unhealthy levels of Agni's power that slowly drained away her life. During her funeral, her body was burned on a pile of wood.
References
Edit
↑ Currygom's blog, Supporting characters: Jibril Ajes / Praul Ajes
↑ Kubera, Extra: Punishment
Ad blocker interference detected!
Wikia is a free-to-use site that makes money from advertising. We have a modified experience for viewers using ad blockers

Wikia is not accessible if you've made further modifications. Remove the custom ad blocker rule(s) and the page will load as expected.