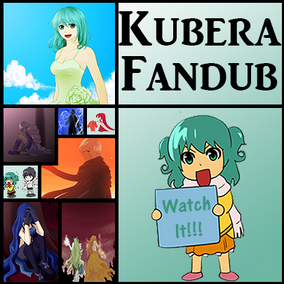 The
Kubera Fandub
series of videos is the brainchild of Jessica Jacobs (Adversaria), a voice actor who has been a fan of the webtoon for years and wanted to bring
Kubera
to life. The fandub was also a way for her to discuss the comic with more people, such as the other voice actors. She is also the creator of the
Super secret
fandub where she voices Emma.
Kubera - art/story by Currygom
Audio editing - Soulgig
Video editing - Adversaria
Voice actors
Edit
The following are listed in order of appearance.
Main characters
Edit
Note: Willow Fengs is also the voice actor for Aleah in the Siren's Lament fandub.
Supporting characters
Edit
Note: Chammilleon is the creator of the Siren's Lament fandub.
Video links (YouTube)
Edit
"The Girl with a God's Name"

"The Magician"

"The Queen"

"The Idiot"

"The Sorrow of Loss"

"Surviving Sorrow"

"Loss"

"AAA Magician"

"A New Rank"


Episode 9 coming soon!

Ad blocker interference detected!
Wikia is a free-to-use site that makes money from advertising. We have a modified experience for viewers using ad blockers

Wikia is not accessible if you've made further modifications. Remove the custom ad blocker rule(s) and the page will load as expected.