Overview Appearance and Personality Skills and Abilities Synopsis Relationships
Family and villagers
Until her 16th birthday, Leez spent her entire life raised in a small village near Atera with a population of 112.[1] In general, all the villagers appeared to be kind people, and Leez apparently had friendly relations with all of them. As a result, she grew up with a trusting personality and a peculiar sense of morality (believing, for example, that people who waste food will end up in hell).[2][3]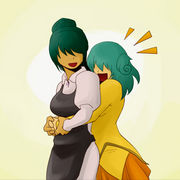 Out of all the villagers, Leez was closest to her mother, Anna Haias, whom she describes as the person she loves most in the whole world.[4][5] Leez would apparently help her mother out with chores and cooking.[4][6][7] Thanks to Roen's stories of her Anna's days as a fighter, Leez also admired her mother and wished to become a stronger fighter than her parents. These stories also made her wish to have Half friends like her mother.[8] After Maruna destroys her village, Leez is shown to miss her mother the most.[9][10][11] She also treasures the last gift she obtained from her: the yellow and orange outfit she wears throughout her journey.[5]
In contrast to her mother, Leez has never met her father, Rao Leez, and only knows him from a photograph and an autobiography he left behind.[4] Because of this, she doesn't know what a father-daughter relationship is really like, and is puzzled when she sees how Agwen treats her father Kasak.[12] Though she was disappointed in the name he gave her, which prevented her from leaving the village and going to school,[13] she nonetheless missed him and looked forward to meeting him one day.[7] Even so, she later tells a person that she doesn't blame him for his absence, and would have preferred for him to be happy and alive elsewhere, rather than suffer while trying to return.[14] Though learning of his death devastated her,[7][15] she nonetheless resolved to do her best to make him proud.[14] Having read his autobiography, Leez appears to follow his philosophy of life, such as always putting forward one's best self before a separation.[16]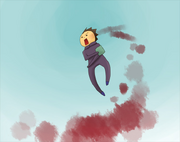 Leez also grew up alongside two orphans: the older Haas Lehn, and the younger Kaz Lehn. She frequently beat up the latter, who would frequently brag about going to school (unlike her), and made fun of her poor skills at calculations.[4][6][13] Still, Kaz didn't seem to suffer lasting injuries from Leez's punches, and Leez herself was apparently aware that he was an exception.[17] Overall though, they appeared to be on good terms: believing them to be dead, Leez sometimes thinks back to them,[6][18] though she spots Kaz briefly (and mistakes him for a ghost)[19] before Asha teleports her away from Atera. Likewise, Haas and Kaz both think she is dead and appear to miss her.[20]
Leez also appeared to be on good terms with the village guards: Roen Renod and Peil Sairofe. Roen, in particular, appeared to know Anna from her days as a fighter, and would tell Leez about how strong her mother was.[8] After Roen helped her mother buy her a birthday present, Leez invited both to her birthday party.[4] After Leez's village is destroyed, Leez also sometimes thinks of them whenever she thinks about her village.[6][18]
The loss of her village leaves Leez devastated and believing that she can't live if she has nothing left.[21] This prompts her to try to form new bonds by befriending Asha, but also to seek revenge against the one who destroyed her village: Maruna.[19][6][22]
Quotes
Maruna
Leez first encounters Maruna after the latter destroys her village.[6] Despite her anger, she finds herself unable to stand up and confront the much stronger opponent,[6] and ends up fleeing with Asha. Even so, she loathes her helplessness at the time,[18] and doesn't hesitate when Asha offers her the chance for revenge.[19]
Throughout her travels, Leez appears to repress her true thoughts of revenge. Even so, she reacts strongly whenever something reminds her of Maruna:
She swears to make her revenge possible, even reminding Asha of herself.[19]
She shows an expression of disgust when Asha asks her whether she could befriend a superior sura,[8] a question that in fact made her think of Maruna.[24][25]
In Kalibloom, when she sees an exhibit on Garuda suras, her expression immediately changes, even though she is unaffected by exhibits of other species.[26]
She tells a disguised Gandharva that suras are evil creatures, as she thinks back to her own losses.[14]
She tells Yuta that she imagined killing her opponent thousands of times.[27]
This may also be the reason she objects to Ran's nickname for her, 'chickie'. (unconfirmed for now)

After leaving her village, Leez also seeks various ways to become stronger. She learns hoti kubera from Ran, who teaches her about magic without calculations,[28] practices transcendentals from the Golden Knight,[29] participates in the test of the Sword to draw the Sword of Re,[30] and attempts to learn bhavati kubera (eventually leading her to repeatedly jump to her death from high cliffs to trigger the spell).[31][32] She later implies to Ran that all of this was for the sake of her revenge.[33]
Leez eventually faces Maruna once more, in Kalibloom, after she draws the Sword of Re. Seeing her target right in front of her, she objects when Asha tells the group to retreat,[34] but experiences a blackout and does not remember the rest, as the person controlling her faces Maruna instead.[35] When she comes to, her vigor is drained, and Yuta is facing Maruna as well. She moves in to shield Yuta and tells him to run while she attempts to lure Maruna away.[36][37] Her actions prompts Yuta to develop to 3rd stage, take sura form and tell Leez to escape. Unwilling to leave him behind, however, she tries to attack Maruna again, only to fail in her attack.[38] Yuta protects her until Maruna leaves.[27]
After this, Leez is frustrated that she was once again helpless against her opponent, but does not give up on her revenge.[27] When Yuta is distraught over her methods to practice bhavati kubera, she tells Yuta that she can never give up, citing her helplessness back then among other reasons.[32] She later turns down Ran's offer to go with him, opting to stay with Asha in order to learn the way to obtain her revenge.[33]
Quotes
Asha Rahiro
Early impressions
Leez first encounters Asha when Asha saves her from Maruna, right after he destroys her village. After learning Leez's name, Asha decides to drag her to Atera by force. Leez quickly accumulates a list of negative impressions towards Asha:

Even so, she starts to follow Asha voluntarily after Asha tells her to either stop whining, or go find someone else.[39] After Asha teleports her to safety a second time, she has a dream in which her mother tells her to return to the 'friend' who is waiting for her. After she wakes up, she confidently tells Asha that she wants her to at least acknowledge her as more than a burden.[9] She starts to accompany Asha from then on.
Despite her poor initial impressions, Leez acknowledges that she's an elite magician.[41][40] Considering her to be her savior, she is worried when Asha's arm is stuck under a boulder,[9] then when Asha collapses from operating Atera's barrier.[46] When Maruna attacks Atera, she also tries to pay her back by offering to power Atera's barrier in her place, only to be pushed out by Asha.[47]
After powering the barrier, Asha spends nearly one month in bed to recover. During this time, Leez listens to Brilith's story of her magic exam, when she was partnered with Asha. After this, she learns that it is Asha's birthday, and realizes that she knows very little about her savior.[48] Envious of the bond between Asha and Brilith, she decides to actively befriend Asha by making her a curry meal for her birthday.[49] Though she loses the curry mushroom needed, Asha accepts her intentions, much to her gratitude. The next day, Asha tells her that there were no survivors in her village (which unknown to Leez, is actually a lie). Asha then offers Leez a way to achieve revenge, which Leez doesn't hesitate to accept.[13][19]
Surface interactions
After departing from Atera, Leez mostly retains a cheerful and enthusiastic behavior around Asha. She asks her all sorts of questions: about locations (Atera,[41] Mistyshore,[50] Kalibloom[51]), about people (the current treatment of Halfs,[8] the relationship between Agwen and Kasak[12]), and about magic,[52] while occasionally attempting to tease her.[53][54] However, she is also prone to dramatics around her: she often whines about being hungry,[41][55] and sulks when Asha insults her or doesn't acknowledge her efforts.[56][55] As she often gets into trouble with Asha, she also panics when Asha then threatens to cut off her ear or worse,[42][57][21] subject her to long hours of lectures.[58][59][60][61] Still, Leez never acts depressed long around Asha, and appears to recover quickly.
Overall, Leez considers Asha to be really good at magic, good-looking, and a genius good at everything except coming up with names.[62] After Asha saves her then proceeds to protect Atera, she also seems to think of Asha as an inherently good person, and believes that Asha wanted to save a Half from Half hunters just like she did.[53] She also appears to genuinely believe Asha's promise to protect her.[40] Much later, she explains that she thinks of her as a savior to whom she owes her life,[62] and a friend who helped and protected her when she had lost everything. For this reason, she decides to remain Asha's her friend and stay by her side until the end, as the only way she can repay her.[63]
As Leez is entirely broke after the destruction of her village, she depends entirely on Asha for her finances. When the two reach Atera, Asha initially gives her a single gold coin, which Leez is initially reluctant to accept, but finally takes at the cost of her self-esteem.[41] Since then, she shamelessly mooches off of Asha, having realized that money is not a concern for the rich magician.[53][58][64] Near Mistyshore, she also realizes that Asha only carries gold coins and never keeps the change from payments, and has since been collecting Asha's change for her own use.[65]
Underlying tensions
Despite the friendly surface interactions, Leez actually harbors a lot of insecurities around Asha, and her interactions are actually a conscious effort to get along with everyone, even when she realizes that her efforts aren't being reciprocated.[66] In particular, her efforts in befriending Asha stem from a need to form new bonds after losing anything, believing that she'd be unable to survive otherwise.[21] Because of this, she exhibits a very strong dependency on Asha,[67] and a correspondingly great fear of being abandoned by her,[68] even refraining from asking Asha about her motives because of this.[40] What's more, because Asha saved her life, she thinks that it is natural for her to put up with anything Asha does to her.[62]
At the same time, Leez is forced to repress her true sadness from losing her village around Asha, as Asha told her to either stop whining or go find someone else.[39][41] After Asha warns her not to tell anybody about what happened to her village,[47][69] she also finds herself unable to confide in anyone, resulting in a lot of pent-up grief that Agni notices through his Insight.[70] Though Leez frequently complains about being hungry, she later explains to Yuta that for her, eating is a way of coping with stress.[63]
Despite her efforts, Leez realizes that she is being left out of the group:

Parallel to this, Asha's attitude towards her visibly deteriorates in Kalibloom, while Leez is also forced to confront other facts about her:

Afraid of being abandoned if she acts depressed, and unwilling to admit that she is being left out,[66][38] Leez chooses to maintain a cheerful front while feigning ignorance and pretending to shrug off attitudes that in fact leave her frustrated. Towards Asha in particular, she becomes increasingly timid and obedient, resolving herself to do whatever Asha tells her after Claude cast hoti yama on her.[79][69][67] She also starts apologizing and accepting the blame, even when she is not at fault or was merely misunderstood.[78][72][68] At the same time, she hopes that the group will one day trust her enough to open up to her,[38] and in Asha's case, she decides to think that everything is her fault, as she'd then be able to reconcile through her own efforts.[63] At one point, she also decides to cook Asha her favorite dishes in an attempt to reconcile with her.[85]
However, Asha's frequent put-downs and cold attitude appear to have done real damage to her psyche:

While Leez suffers from Asha's increasingly cold attitude, she also tries to figure out when things started going wrong, but is unable to come up with an explanation.[85] She is also confused about Asha's seemingly contradictory behavior: she realizes that Asha appears to hate her, but doesn't understand why she'd save her multiple times. She deduces that Asha is trying to push her to become stronger for her revenge, but doesn't understand why Asha apparently doesn't want her to learn magic.[88]
Despite all this, she is determined to stay with her, citing various reasons to different people:
Others
Training for revenge
Throughout the journey, Asha has imposed various tasks onto Leez, such as drawing the Sword of Re, learning the transcendentals from the Golden Knight and learning Bhavati Kubera (as part of the bet for the Neutral Bow). Though Asha doesn't always explicitely state so, Leez considers that all these are to help her for her revenge.[33] For this reason, even though she is upset when Asha doesn't acknowledge her progress, and is temporarily angry when Asha slices her head with bhavati marut during the test of the sword, for the most part she complies with what Asha tells her to do. She is quite upset though when Asha assumes that she has only been eating and sleeping (when in fact she had been studying and training out of sight).[32]
However, Leez has also noticed that Asha apparently doesn't want her to learn magic:
This contradictory behavior confuses Leez, who doesn't undestand why Asha seems upset about her learning magic,[88] yet didn't prevent her from learning bhavati kubera, even changing the conditions of the bet to learning the spell.[89]
Asha and Ran
Ever since Ran joined the group, he often bickers against Asha. Some are for petty reasons such as betting who is the stronger one. However, later on, Ran increasingly openly objects to Asha's treatment of Leez (though often when Leez isn't around). When witnessing these fights, Leez usually either doesn't interfere, or tries to pacify both, only to get ignored.[55][15][66]
However, when Ran asks Leez to come with him and she turns down the offer (implying that she needs to stay with Asha for her revenge),[73] Ran confronts Asha again, this time over the fact that Asha doesn't acknowledge Leez's efforts. This time, Leez succeeds in getting the two to stop, quoting her father, who advises one to put forward one's best self before a separation.[16]
Asha and Yuta
Yuta's safety is one of the few issues on which Leez will openly oppose Asha. When Yuta lets Taraka take him away in the water channel, Leez objects to Asha's instructions to leave him behind, casts hoti kubera to break through Asha's hoti brahma bindings, then chases after Yuta.[83] Later, near Kalibloom, when Yuta is taken away by Riche's trap, she objects to Asha once more, but has no choice but to follow Asha into Kalibloom when the latter points out that Leez doesn't know what to do next. In Kalibloom, Leez argues against Asha for Asha's heartless treatment of Yuta.[74] However, Asha later succeeds in bringing back Yuta, thus ending the argument.
Mister
During several of her escapades, Leez meets up with Mister. Apparently at his request, she doesn't tell Asha about most of the things suspicious about him, though she does apparently tell Asha about racing him for the box.[90] Leez also doesn't tell her about the bracelet stuck at her wrist, but finds it strange when Asha doesn't ask her about it, then the fact that Asha is apparently aware of what it is.[91][40][53]
Blackouts
Leez experiences several blackouts throughout the series, over which she has no control. When Leez confronts Maruna again in Kalibloom, she objects to Asha's decision to retreat, only for another blackout to occur. She is then taken over by another entity, who claims that Asha is stopping Leez from attacking Maruna in order to have a reason to control her, then accuses Asha of suffocating Leez. Though Asha is affected by this occurrence, Leez is unaware of this entire exchange.[35]
Quotes
By Leez
By others
God Kubera
First encounter
At the start of the series, Leez doesn't know much about Kubera as a god, as humans apparently have little information about him.[42] However, he is the god she prays to for mushrooms.[60]
Leez first comes across God Kubera in Atera, when he is in child form. He refers to her as 'shorty' (Line: 'kid'), earning her immediate dislike. She tries to pick him up in order to teach him a lesson, but finds herself unable to despite her strength. When God Kubera places his hand on her, she feels something strange and runs off, flustered but not sure why.[49]
Later, while she's chasing thieves, she meets him again, this time when he's in adult form. Mistaking him for a thief, she races him for the bracelet, only to lose. She ends up kicking him when he threatens to strangle her,[90] but is reluctant to leave him alone in a dangerous area. Right after, she finds him standing behind her, fully recovered, and with the now-resized bracelet stuck to her wrist. After asking him for ways to take it off, she realizes that there is no way for her to remove it immediately (short of bodily harm). Seeing her worried about paying back the owner, God Kubera offers her piles of gold or a diamond, only to get scolded for stealing. Leez then realizes that they've been surrounded by suras.[11] God Kubera ends up giving her advice on how to use the bracelet and disposing of the remaining suras, before taking her (and the box) back to Atera.[94]
In Atera, Leez thanks him for his help, but finds herself confronted with his threat: to either live and regret living, or to die right then. She calls out for help only to see him in child form. Realizing that he's the child from earlier, she becomes angry and starts to scold him. God Kubera decides to leave before hearing her answer, but not before commenting that she's using a false name, warning her against telling others of the 'magic' he used, and telling her not to die before they meet again.[21]
Since then, she has encountered him twice:
Once in the water channels, while searching for Yuta. After she gets lost in the changing tunnels, he guides her back to her companions.[95][59]
General interactions
Leez refers to God Kubera as Mister ('ajussi', a Korean term used by younger people to refer to middle-aged men). After he tells her that he doesn't have a name, she tries to name him Alexander, only to be turned down.[59]
Leez is initially wary of (adult-form) God Kubera, and finds herself bickering one-sidedly against him on several aspects:
Leez's attitude towards God Kubera also changes depending on whether he's in adult or child form, as she has trouble taking him seriously when he's like a child.[94][59] God Kubera also frequently plays with her hair, much to her annoyance,[11][94][59][96] and tends to startle her by suddenly showing up when she's not expecting it.[90][11][95][59]
Despite her early impressions, and other things she finds suspicious, Leez becomes increasingly attached to him throughout the series:
After he brings her back to Atera, she thanks him and decides that he's a good person since he chased away the thieves, defeated suras and brought her and the box back to the city.[94]
Though she's initially upset that he followed her to the water channel, she then decides to live and promises to watch over him, while stating her belief that he's not a bad person (though kind of a pervert).[95]
In Kalibloom, after being knocked out by Sagara, Leez is startled to find herself sleeping on God Kubera's (very uncomfortable) legs. After retrieving the Sword of Re, she thanks him for saving her and for guiding her in the water channel, then offers to grant him a wish.[97] As a result, God Kubera asks her to spend the day with him like 'ordinary people', citing that it's the 'last time', and calling her by her real name: Kubera Leez.[60]
He then invites her to a meal then takes her to Atera. When she sees him upset, she ruffles his hair just like he does with hers.[98] In Atera, he buys bunny ears for her, and she buys wolf ears for him. God Kubera tells her to believe in those who give her their trust, and not make the same mistakes he did. Thinking that she's talking about him, she repeats once again that she trusts him and thinks that he's not a bad person, just kind of a pervert.[62]
When he's finally about to leave, Leez is upset when he once again confirms that it's the 'last time.' When she asks about his earlier advice on trusting people, God Kubera backtracks and tells her not to force herself. She tells him that she wants to hold onto him, and asks him to come back and check on her growth, even saying that she will no longer complaing about him touching her hair. When he does leave, she has trouble believing that he's leaving for good, but feels sad to see him go.[62]
Despite growing closer to God Kubera, Leez hides her true feelings around him, as she does with everyone else. However, God Kubera still notices her repressed feelings thanks to his Insight.[11][59][62] In Atera, Leez opens up to him a bit by mentioning Asha, whom she thinks of as a friend, even though she isn't certain whether her friendship is reciprocated. However, Leez still tells him that she thinks she owes Asha her life.[62] She has also briefly entertained the idea that he might like her, but quickly dismissed the thought, adding that it would be a 'disaster.'[97]
At God Kubera's request (and threat), Leez doesn't talk about God Kubera to most of her companions,[33] though she does mention the box incident to Asha.[90] Later in Kalibloom, after Yuta leaves, she finds herself thinking back on Mister's words, depressed that despite her efforts in trusting others and holding onto them, she still ended up alone.[99]
The Power of the Name
God Kubera mentions the Power of the Name when he first confronts Leez as an adult. He states, in particular, that he is disappointed to see it wasted on her.[90] However, he later backtracks and decides to watch her for a while longer.[100]
Leez, in fact, finds many things suspicious about him:
During their first meeting, God Kubera asks Leez to choose between living but regretting her choice, or being killed by him immediately. Finding this suspicious, Leez initially puts off answering. When God Kubera shows up again at the water channel, she even considers answering that she doesn't want to live, hoping he'd then stop stalking her. However, she reconsiders when he reveals that in that case, he'd kill her right then and there. Trying to figure out the situation, she deduces that he must somehow benefit from her staying alive. When he reveals that he doesn't know, she deduces that he's asking her to cast the dice in his place, and chooses to live, stating that she'll watch over him and that she doesn't believe him to be a bad person.[95]
God Kubera also reveals during their first meeting that he knows that she's using a fake name. Later, in Kalibloom, he even calls her by her real name: Kubera Leez.[60] Leez finds this suspicious, and asks if he's done a background check on her, but refrains from asking more at his request.[96]
Finally, Leez is surprised by the skills he displays against suras, and by his glowing appearance at night. She mistakes these for magic,[100] and initially decides to ask others about these skills to find out who he is. However, she promises never to mention them after he threatens her.[94] When Ran shows her hoti kubera in the water channel, she is reminded of the strange glowing appearance.[52] However, she is surprised to learn later on that God Kubera doesn't pray to the gods, as she had assumed him to be a magician.[60]

Throughout the series, God Kubera also gives her advice on how to become stronger, telling her to become strong enough to be "worthy of the Power of the Name":[59]
He tells her how to use the Golden Knight, then tells her that she has the potential to make full use of it.[100]
In the water channel, he tells her that she should be capable of using magic without calculations, and tells her to ask a magician.[59]
In Kalibloom, he advises her to seek out Teo Rakan, who is unrivaled in transcendentals and to whom Leez is similar in a lot of ways.[98]
Though Leez doesn't understand what all this is about (and doesn't understand why he makes a big deal of the fact that he doesn't have a name),[59] she decides that Mister is a good person since he's helped her so many times, so she decides to trust him despite the things she finds suspicious.[94][95][62] Before he leaves her in Kalibloom, she also promises to become strong enough to be "worthy of the Power of the Name."[62]
Future
In nearly all of the scenes showing Leez's future, the grown-up Leez is hostile towards God Kubera:
In one of God Kubera's Insights, she deplores him as despicable and wicked, and describes how miserable she is because her father gave her God Kubera's name, because God Kubera found her, and because he didn't kill her the day he met her.[94]
In another scene from the future, Leez asks him what he saw using Insight that day, noting that he'd not have given her the choice had he seen what's truly important.[21]
In the water channel, God Kubera's insight shows her telling him to stay back and her threatening to kill him. However, God Kubera is also surprised that the Insight has changed, and that she is addressing him differently (in a manner that could either be considered close or rude).[95]
However, she is shown smiling in the brief Insight he has of her in Kalibloom.[97][97]
Quotes
Yuta
First encounter
Leez first encounters Yuta when the latter saves a Half from Half hunters, only to get chased by said hunters.[101] Leez attempts to rescue them, but Asha shows up and chases the hunters away instead. Yuta then accompanies them back to their inn.[53]
When they have dinner together, Leez takes an immediately liking to Yuta:
She finds him to be really cool when he swallows a dish whole (unknown to her, he did so to not disappoint her).
After he turns down an offer for more food, she mistakenly thinks it's because he doesn't want to waste other people's money, and thinks that he's very kind (unknown to her, it's because the food is giving him indigestion).
She also thinks he's cute and has good manners.[2]
The next day, Asha informs Leez that he'll accompany them to Kalibloom, much to Leez's delight (as she is apparently unfazed by the fact that he also wants to draw the Sword of Re).[102] As Yuta can't tell them his real name, Asha comes up with a few possibilities, which Leez immediately rejects.[58] She spends the next day and night thinking up a new name for him, finally settling on Yuta after he returns from bringing the rescued Half back to her home.[54]
General interactions
Despite knowing that he's older than herself,[58] Leez sees Yuta as a little brother,[27] and behaves in a very close and familiar way around him:
She frequently feeds him food, unaware that food other than meat gives him food poisoning:
She frequently hands out compliments:
She acts very familiar around him:

He also becomes the person she turns to whenever she wants to talk about something, finding him more receptive than her other traveling companions despite the fact that he can't talk. This ranges between:

As a result of their close interactions, the two even end up often drawn with synchronized expressions:

Over time, Leez becomes very protective of Yuta, whom she increasingly thinks of as someone very dear to her:

Though Leez usually suppresses her true feelings and the sadness from losing her village, she also gradually starts to confide in Yuta:

Overall, she thinks of Yuta as an inherently good person, apparently failing to realize that many of his actions are direct attempts to appeal to her. This opinion doesn't change after he develops: she tells him immediately after that she knows how good he is.[27] She also repeats that he's a good person again when Yuta tells her he's going to the temple, thinking that he's going to help the Priest of Earth.[115] When Kasak and other magicians confront him, she tries to convince them that he is a good person who helped her against the other sura. She then tries to convince the inhabitants of Kalibloom to let him into the city.[116]
Yuta being a sura
The day after meeting Yuta, Asha asks Leez whether she could befriend a sura. Thinking of Maruna,[24][25] Leez immediately acts repulsed, causing Asha to dismiss her question as a joke.[8] Unknown to Leez, Asha later tells Yuta that Leez hates suras. As a result, both decide to hide his identity from Leez.[54] Later on, when Ran learns of his identity, he also refrains from telling her.
Unknown to all three, Leez does realize outright that Yuta is a sura, and that everyone is hiding the fact from her:
However, unaware of the exchange between Asha and Yuta, she mistakingly believes that they are hiding the truth because they don't trust her. Unwilling to admit that she's the only one left out, she decides to feign ignorance, hoping that one day, they will trust her enough to tell her on their own. For this reason, when Leez confronts Maruna near Kalibloom and Yuta develops to 3rd stage, then takes sura form, Leez isn't surprised by the revelation, but finds herself momentarily scared. However, she calms down after she sees a message that Yuta has carved into the ground, telling her to run. She then decides that Yuta is the same as before, and is grateful for the fact that he 'trusts' her enough to reveal the truth to her. She confronts Maruna again, only to protected by Yuta until Maruna leaves.[38]
After Yuta develops to 3rd stage and Maruna leaves, Leez is initially more worried about whether he'll be attacked by other magicians. She assures him that she is fine with him being a sura, since they are friends who trust each other. Perhaps to reciprocate his trust, she even tells him about what happened to her village, but insists that Yuta is a good person and is different from the other sura.[27]
Even so, Leez never tells anyone in her group that she realized Yuta's identity long ago, pretending instead to have found out recently.
Changes after third stage development
Even though Leez accepts the fact that Yuta is a sura, her attitude immediately changes after he develops to third stage:
This appears to be due to Leez's habit of treating people differently depending on their appearance, a problem she also has with God Kubera.[21]
Even so, Leez remains convinced that he's a good person and tries to convince the inhabitants of Kalibloom to let him enter the city.[118] She also tries to maintain her normal friendly relationship with Yuta, acting mostly normal (save for her huge amount of clothes) and cheerful around him and spending all day to make him decorated cakes made of raw meat to celebrate his re-entry into the city.[25] However, Yuta is still upset by her layers of clothes, and asks if it's because he hugged her in the forest. He tells her that she used to hug him first, and that it made him happy, so he thought she'd be happy too. He then starts to cry and begs her to believe that he's still the same. This reminds her of the frustration she felt when Asha refused to listen to her. After this, she promises to believe him regardless of his development stage, and removes the extra layers of clothes,[81] and often finds herself wearing Yuta's scarf around her neck.[117]
After Leez finishes studying the book on bhavati kubera, she has Yuta accompany her when she trains by repeatedly jumping down a cliff. Through Insight, Yuta hears her thinking that she's grateful to him for being there when she's scared and hurting, then confessing that she likes him very much.[32]
Later, when Yuta comes to her in tears for a reason unknown to her, Leez tries to comfort him by telling him that he can come to her when he's feeling sad. She then decides to take out the food she had prepared for him to help him relieve stress.[63] When they talk about Asha, Yuta suddenly hugs her and kisses her, believing his feelings to be reciprocated. However, he ends up killing her by eating her face without meaning to, and runs away upset after leaving his scarf with her.[86]
After this, Leez claims to have amnesia about the whole incident,[87] and usually keeps the scarf close to her, though she is upset about the fact that even Yuta has left.[99] On the day she departs for Aeroplateau, however, the Hide of Bondage worn by Lutz grabs hold of Yuta's scarf. She is forced to leave it behind with Ran, who promises to send it back to her later, in order to board the ship on time.[119]
Others
Yuta's feelings for her
Even though Leez thinks of Yuta as a very important person to her, and gradually starts to confide in him, she doesn't appear to believe that her feelings are entirely reciprocated:
When she's captured by Taraka and sees Yuta's crying expression, she mentally tells him not to worry, as she won't run away to save her own life anymore, oblivious to the fact Yuta was crying for her sake.[120]
When she sees Yuta facing Maruna, she moves in to protect Yuta, then tells him not to cry since she won't let him die, again oblivious to the fact that he's actually worried about her. This is despite the fact that she already knows him to be a sura.[37]
Finally, she doesn't see a problem at first with repeatedly jumping to her death in front of him while practicing bhavati kubera. She does seem to realize that he's worried when he grabs her hands and cries, but then explains how important it is for her to learn the spell, and is happy when he decides to keep watching.[32]
This way of thinking is apparently not limited to Yuta: Leez appears to have gained a low sense of self-esteem in general, as she also doesn't think Asha would be worried about her for nearly drowning,[68] and talks casually about falling to her death to Asha and Ran, oblivious to the fact that it'd cause Ran to worry.[32]
Instead, she appears to attribute Yuta's actions to him being a good person in general, unaware of the fact that he's making a conscious effort to look good to her.
Asha
Throughout their journey together, Leez appears to turn to Yuta as the more receptive member of the team, especially with Asha acting generally cold towards her.
Despite growing closer to him, however, she still appears to be uncomfortable about speaking frankly about her issues regarding Asha:
At the temple of Earth, she dismisses the possibility of Asha being a murderer instead of discussing it with him.[75]
When Yuta asks her whether she believes the murders to be accidents, she says she'll trust Asha, but averts her eyes as she says so.[84]
Later, she frankly tells him how much Asha means to her, as her savior and the one who guided her when she lost everything, but doesn't tell him about all the difficulties she's had with her recently.[63]
Future
There have been 3 Insights or future thoughts depicting the relationship between Leez and Yuta so far:
In Taraka's Insight of Leez's future, she sees Yuta attacking Leez. In that Insight, Leez reaches out a hand to hold Yuta's cheek.[121]
After Yuta returns to Leez outside of the water channel, we see thoughts from Leez's future, where she laments the fact that she was unable to do anything about his pain and grief.[121]
When she's training bhavati kubera, Yuta briefly sees her current image overlapped with one from her future. He hears her thanking him for being there when she's frightened and in pain, and saying that she likes him very much. It isn't clear whether the thoughts belong to her current self, future self, or both.[32]
Quotes
By Yuta
Ran Sairofe
General interactions
Leez first encounters Ran when he cuts in front of the line at the checkpoint in front of Asha. Though furious, Asha decides for Ran to join their group for the passage through the water channel.[109] When Leez later learns that Ran has a phobia of Halfs, she thinks that they should obviously stay with Yuta rather than choose Ran.[112] Fortunately, Yuta borrows earrings from Kasak, allowing him to temporarily hide his sura features. The group then joins up with Ran at the entrance of the water channel.[50]
Leez thinks very little of Ran at first:
On the other hand, Ran refers to her as 'chickie' when they first join up, much to Leez's annoyance,[50] and has been calling her that ever since, resulting in frequent complaints by Leez later on.[52][78][30][80][31] However, he also helps to test her on whether she can use magic without calculations, and learns to his surprise that she is capable of it. After this, he teaches her hoti kubera.[56]
Eventually, the two develop a sort of friendly rivalry, where each side frequently teases the other:
For a while, their rivalry turns more serious as they argue over who gets to buy the Neutral Bow from Asha, having realized that it belongs to Rao Leez. While Ran points out that Leez doesn't have money, Leez points out that she can earn it, as she's done part-time work before (unlike Ran). Asha ends up imposing a bet: Leez needs to learn transcendentals from the Golden Knight, Ran needs to fire the Neutral Bow. The first one to succeed can take the Neutral Bow.[124] Despite this, the two don't seem to be on particularly hostile terms afterwards, and their everyday interactions remain the same:

Still, Leez doesn't appear to develop a close relationship with Ran as she does with Asha and Yuta, for most of their time together:
Hiding of information
Throughout most of their travels together, Leez hides a number of information from Ran:
What's more, Leez doesn't tell him the fact that Rao Leez is her father. When Leez recognizes her father's portrait at the Fighter's Guild in Kalibloom, she denies being related to him, and claims she only knows him because she read his autobiography. Ran tells her about how Rao died, then distracts her and kindly tells her not to cry when she tears up, by asking her how that'd make Rao feel.[7] Later on, with the bet on the Neutral Bow, she briefly considers telling him that Rao Leez is her father, but decides against it because she thinks he wouldn't believe her.[126] When she grows older because of hoti yama, she hides her face with a hat to avoid revealing her newfound similarity to Rao,[78] and decides once again not to show her appearance to Ran, this time to obey Asha's warning not to reveal anything about her village. Instead, she chooses to put up with the fact that Ran calls her chickie.[69]
However, after Asha reveals that she didn't tell Leez about Yuta being a sura because she deduced that Leez hated all suras, Ran argues back after Leez leaves, pointing out that Asha's question would have automatically made Leez think of the sura that destroyed her village.[24] After Yuta leaves, he invites Leez to lunch, and asks her to tell him about her village, as well as whether she really drew the Sword of Re. When Leez hesitates, he tells her that he explained her perspective regarding suras to Asha. Grateful, Leez starts to cry. Ran admits feeling left out, just like her, and asks her to let him help her.[99]
Leez decides to tell him part of what happened to her, but leaves out the part about her Name (because both Asha and her mother warned her not to), and also doesn't tell him about Mister, though she apologizes for not telling him everything despite the fact that he understood her. Ran teases her for being too honest, then reveals the fact that he used to be close to Rao Leez. He starts describing how his child would be like, thus revealing that he realized that Leez is his daughter. Leez is still reluctant to admit to being Rao's daughter, so Ran sets it aside and asks her to come with him. Leez turns him down, implying that she needs Asha to tell her how to get her revenge.[33] When Asha shows up and asks her to choose between going with her or Ran, she immediately chooses to go with Asha, fearing that she'd lose her otherwise.[31]
After this, Asha reveals that she planned to leave because Leez wasn't being serious about her revenge. While Leez is disappointed, an upset Ran counters Asha, explaining that Leez has, in fact, been studying and training hard when Asha wasn't around. This leads Leez to reveal that she has been practicing bhavati kubera by repeatedly jumping off a cliff to her death, speaking of it casually without thinking that her companions would be worried about her.[31] After this, Ran and Asha starts arguing again. Leez interrupts them and quotes her father to ask them to set aside their issues, as they may never meet again. Ran calms down, but gets mad again when Asha tells him that he lost the bet and must hand over the Neutral Bow.[32]
Later that evening, a grateful Leez finds Ran and gives him the Neutral Bow. She tells him that his words meant more to her than 100,000 gold, and that if she, who neither has a father nor a brother, had a male relative, she wishes he could be like Ran. She then runs off before Ran can return the bow to her.[32]
Others
Ran's Half phobia
At first, Leez mistakingly believes that Ran's phobia is due to a hatred of Halfs.[112] Outside of the water channel, she is happy to learn that Ran is 'over' his phobia (at least in Yuta's case),[64] but is reminded of his phobia in Kalibloom,[127] then she makes fun of his phobia during the Test of the Sword.[30] Later, when the Gandharva halfs lose their minds because of emotional resonance, Ran panics and starts calling Leez his mom. Upset, Leez acknowledges his phobia but berates him on the latter part, only to realize that he's fainted.[128] After the attack on Kalibloom, she tells Parr that in fact, she doesn't really understand why he's afraid of Halfs, as he doesn't appear to hate them.[81]
Ran and Asha
Leez witnesses Ran's frequent fights with Asha, first over their bet, then over Asha's poor treatment of Leez. Leez usually either doesn't interfere, or attempts to pacify them, only to be ignored.[55][15][66] After the bet, she is also puzzled by Ran's expression when he tries to apologize to Asha.[110]
After Riche talks about Asha's murder cases and Ran asks Asha about it, Leez tries to distract them by talking about dinner.[83] Still, she notices that Ran has been very affected by the revelation, though she evades the topic when Yuta also asks her about it.[84]
Though Leez doesn't respond to most of the instances when Ran takes her side against Asha (most of which were when Leez was not around), she is nonetheless very grateful to him for telling Asha about her perspective after Asha misunderstood her hatred of suras.[99] Though she decides to stay with Asha instead of leaving with Ran, she nonetheless decides to express her gratitude by giving him the bow that belonged to her father.[32]
Quotes
Gandharva
Meeting near Atera
Leez first meets Gandharva on her 16th birthday, while out picking for mushrooms. She fails to see him lying on the ground and accidentally steps on him. When she asks him he's all right, he nearly freezes her, leading her to reprimand him against using magic against humans, which is illegal. When Gandharva turns to her angrily, she mistakes him for a Half and, fearing for her life, she attempts to pacify him by apologizing, only for him to mistake her for 'Shakuntala.' Gandharva then corrects himself and expresses embarrassment at confusing a human with an 'abnormal face' for Shakuntala. Angry at the insult, Leez picks up a tree to hit him, but puts it down scared when Gandharva tells her that the tree seems too light for exercise.
Gandharva then inquires about the curry mushrooms she picked. At first, Leez enthusiastically explains the use of curry mushrooms, but is forced by Gandharva to demonstrate what happens if she attempts to eat it. Gandharva starts laughing, causing much frustration to Leez, and she gives him a fake name when he asks for her name, only for Gandharva to come up with a version that sounds like Detergent. After this, Gandharva tells her to either head in the direction opposite of her village, or die on the spot. Leez has no choice but to run off in that direction,[129] though she changed direction after she's far enough.[6]
Meeting in Kalibloom
Leez and Gandharva meet again in Kalibloom. Leez looks older due to the influence of hoti yama, and decides to use a fake name, Riche, whereas Gandharva has disguised himself as a human. For this reason, they don't recognize each other, though Gandharva thinks she seems familiar before attributing his 'mistake' to old age. In Kalibloom, Leez mistakes Gandharva for a Half and helps him by winning an arm-wrestling match against a person causing him trouble.[130] Gandharva then tells her to escape, claiming that he had a dream about suras invading the city and killing everyone. Leez agrees to do as he says, but notes that the decision is not up to her alone. Still, she agrees that cities are actually not safe, since the whole city is endangered if a sura targets a single person in the city, as suras are evil creatures who'd kill thousands to get what they want. She then thinks of how the whole city can be put into danger because of her.
Leez is confused when Gandharva then talks about his daughter, and how he must do everything he can to reach her. However, Leez, who had recently learned that her father died while trying to return to her,[7] asks him what his daughter would feel if she learned of him dying on the way. She then adds that the daughter would miss him, but not blame him for his absence, as no child in the world would want their parents to suffer. Before she can say more, a wind blow off her hat, and she runs after it while claiming that she's suffering from hair loss.[14]
After this, Gandharva thanks her for helping him realize his daughter's perspective. He decides to keep searching for his daughter, but do so while searching for a road he can walk with less guilt. Leez smiles and agrees, but tries to hide her face once more when Gandharva stares at her and calls her pretty, only to end up confused when he adds that he's not talking about her face, as pretty faces are too common to him. When Gandharva tells her that her father must be proud of her, she smiles and says that she'll try even harder to make her father proud.[23] She leaves, proud of having helped a Half in trouble, only to see a furious Asha upon her return.[79]
Gandharva as a sura
Leez first comes across an exhibit describing the King of the Gandharva clan, at a sura exhibit in the Kalibloom magic guild.[26] However, she doesn't know that he is the person she met in Atera.
After the Test of the Sword, Leez is shocked to see Gandharva's sura form,[131] so huge that she thinks something is wrong with sky at first,[132] and mistakes the dark form as a storm cloud.[71] She is also puzzled by the sudden appearance of ice mountains, and the fact that Gandharva suras have become violent.[132] She eventually realizes that it's a huge sura, though it isn't clear if she recognized him as Gandharva, as described by the sura exhibit. She is then puzzled to learn that the sura is absorbing water, and helps convey this information to Agni.[68]
Quotes
"
If a daughter finds out that her father died trying to reach her, just how do you think she would feel? If I don't go to her, she'll be disappointed in me. She'll want me to come find her, even if it's difficult. Is that what you think? Because it's not true. She would miss you, but she wouldn't blame you for it. What child in the world would want their parents to suffer? Take care of yourself first.
"
 

– Leez telling Gandharva that his daughter won't blame him if he doesn't go to her.

[23]
Agni
Meeting in Atera
Leez first meets him in Atera while he is disguised as a human magician, when he buys the last mushroom skewer that she wanted to buy.[108] When she begs him to let her have it, he lets her, much to her gratitude. However, the store owner tells her to first pay back for the damage she caused to his counter. Agni intervenes by offering to fix it for her. She quickly gets over her initial suspicion and decides that he's a nice person when he offers to buy her 10 mushroom skewers as well. After this, the two eat their snacks outside. When Agni suddenly asks her why she's crying, Leez nearly chokes and tries to deny it. However, Agni kindly tells her to let out her tears. To cheer her up, Agni then takes her to a park to have fun.[108]
At the park, Agni creates a necklace made of fire to lure out a swarm of glowing insects. He puts the necklace on her, causing the insects to cover her face. When Agni starts laughing at the sight, Leez ends up punching him, only to worry about hitting him too hard. Agni then claims that his suit can create magical effects, clean itself, make skinny people look buff and even absorb shock, much to Leez's amazement. Agni then asks her if she's cheered up, then tells her that it's Insight rather than mind-reading. Leez doesn't get what he's talking about but thinks she should cheer him up, but ends up punching him again when he claims he wasn't serious. She then introduces herself as Leez Haias. When Agni introduces himself as Babo Kim, she punches him for not being serious. When he then claims to be Agni, she then punches him for blasphemy.
After this, Leez panics when she accidentally blurts out that if he is Agni, then she's God Kubera. Agni tells her that she isn't similar to him at all, save for her strength. Leez thinks he made it up. When Asha shows up, Leez starts looking at him doubtfully when he approaches Asha then makes excuses by complimenting her. Before she leaves though, she thanks him for helping her earlier, and promises to treat him next time.[22]
Meeting in Kalibloom
Leez meets Agni again in Kalibloom, when he is fighting against Gandharva. This time, he isn't disguised. To inform him of a recent discovery, Asha sends Leez flying into the air with bhavati vayu, resulting in Agni catching her. When she sees him, the surprised Leez calls him Babo Kim-oppa.[68] Worried about offending a god, she quickly apologizes for calling him that, then for claiming that he looks like someone she knows. To her surprise, Agni deduces what she wants to say before she finishes speaking. To avoid getting in the way, she then suggests for him to throw her towards the mountains, but Agni tells her that despite having a durable body, her heart is bruised and battered.
He tells her that he once met a crying child, whom he managed to cheer up, but this child is crying even harder now. He concludes that she should let herself cry properly, lest she forgets how. Leez realizes that he really is Babo Kim and starts crying while Agni comforts her. Before he leaves, to alleviate her loneliness, Agni tells her that someone who loves her very much will stay with her until the end, leaving her puzzled as she has no idea who it could be.[70]
Agni as a God
At the start of the series, Leez's only knowledge of Agni is from books describing him as the scary, cruel and heartless god that throws sinners into pits of fire.[22][125] After realizing that Babo Kim is Agni however, Leez's original assessment of God Agni changes, and she believes that the books describing him as cold-blooded and scary should be burned.[125]
Quotes
Others
Brilith Ruin
Leez respects Brilith as she's a Priestess, so she is shocked when Lorraine and Ruche rudely seek Brilith to pass the time. When Brilith smiles instead of becoming mad, Leez becomes convinced that Brilith is a kind person. She becomes curious when Brilith starts telling them of the time she was partnered with Asha during their magic exam, as she had heard that they were close friends.[133] When Brilith offers Asha a handmade present, Leez sadly realizes that her own bonds with Asha doesn't come anywhere close to theirs. After this, she becomes determined to buy a birthday present for Asha to surpass their bonds with her own effort.[48]
Before leaving Atera, Leez sees Brilith standing outside of Asha's room. Brilith runs away as soon as she sees Leez, leading Leez to wonder why. Leez then thinks that despite staying at the temple for a month, she knows very little about Brilith save for her friendship with Asha. Leez then decides that it's none of her business, since she is leaving Atera anyway.[13]
Quotes
Kasak Rajof
Leez first meets Kasak in Mistyshore, though the latter is asleep then. She is puzzled by how Agwen treats her.[12] Later that evening, she's disappointed that Kasak will leave before she can talk to him.[112]
After the attack in Kalibloom, she considers going to see him at the Temple of Earth, but she gives up after learning that he is hardly ever at his room.[125] When Leez finds Yuta outside of Kalibloom, Kasak shows up and threatens him.[116] Leez tries to convince him and the fighters with him that Yuta is a good person, and Kasak agrees to give him a chance after Asha argues that there is no reason to turn a possible threat into a certain one. After Leez thanks him, Kasak tells him that they'll need the Priest's permission before Yuta can enter. He then tells Leez to not leave the city until she has finished reading a book, The Biology of suras.[118] When Kasak sees her again, she admits that she wasn't able to find the book. Kasak passes her the book, then instructs her to read it before Yuta enters the city.[24]
Claude Yui
Leez first sees Claude at the Temple of Earth. Before she can ask him for directions, Yuta drags her away.[107] The next day, she meets Claude again in the city. Believing him to be a magician from the Temple of Earth, sent to investigate the firing of the Neutral Bow, she cooperates and answers all his questions.[126] When Claude asks her if she's always this trusting, she answers that in her opinion, a person should be treated as good as long as he doesn't do anything bad. This prompts Claude to compare her to Rao Leez, though he then claims that he only heard about him. To thank her for her cooperation, Claude lets her ask him three questions.
Claude starts by describing the transcendentals embedded in the Golden Knight, then compliments Leez on her note-taking by saying that she must do well at school. As Leez never went to school, she hesitates before smiling and thanking him. When Claude then tells her that he's impressed by how she's already used several of the transcendentals, Leez awkwardly dismisses it by pointing out that she doesn't remember how she did it. Leez then recalls how Asha nearly strangled her that morning, and asks Claude about how a magician would murder someone. When Claude tells her hoti yama, she momentarily freezes, then complains that she thought he'd cast it for real. Leez then wants to confirm that a magician has no reason to strangle someone, prompting Claude to ask her whether it happened to her. Leez quickly dismisses it as a dream. Claude then tells her that he's going to the Temple of Chaos, and asks her to think of her last question.[78]
When Leez later wakes up, only to see that she's become several years older, Ran tells her that it is because of hoti yama.[134] She ends up running off to spend some time in the city, only to find Asha furious upon her return. Asha tells her that she'll die if the spell isn't removed soon, adding that as the 2nd ranked magician, a death spell by Claude is just about absolute.[79] The whole group heads to the Temple of Chaos, where Asha threatens Claude into removing the spell, while Leez pouts at him.[69] Though Claude apologizes to her, Leez no longer feels like referring to him as Claude-nim, even though she's since found out that he's a priest of Rindhallow, and just calls him Claude-ssi instead. She also decides to get even by thinking of and asking him a very hard question.[69]
Quotes
Ananta
Leez encounters Ananta in a dream. In the dream, she comes across him after wandering around for hours in a white space. He has his back to her, and ignores her when she asks him where she is. Instead, he talks to himself, lamenting about a poor woman who hasn't learned her lesson and who will lose once again. Though Ananta claims he doesn't care any longer, he says can't stand by and watch, as he pities her too much. Leez wakes up the next moment, to find herself being strangled by Asha.
Sagara
Leez meets Sagara during the Test of the Sword.[80] Mistaking her for a test supervisor, Leez bows to her at first, then asks about the rules of the test. However, Sagara then attacks to get the Golden Knight. Leez blocks the attack and asks who she is. [135] Despite finally managing to use the transcendentals of the Golden Knight, Leez is still no match for Sagara. When Leez decides to dash for the Sword of Re to pull it before her time is up, Sagara grabs her by the hair and insults her. Leez grabs Sagara's own hair in return, then kicks her while possibly using Piercing Hit. Before she can pull the sword, however, Sagara turns into male form and knocks her into pillars. Before Leez passes out, God Kubera shows up and interrupts Sagara.[136]
Later, when Zard Blain investigates the incidents at the Test of the Sword, Leez asks what happened to the girl with blue hair that was after her bracelet. However, she is surprised to learn that nobody knows anything about her.[137]
Quotes
References
Ad blocker interference detected!
Wikia is a free-to-use site that makes money from advertising. We have a modified experience for viewers using ad blockers

Wikia is not accessible if you've made further modifications. Remove the custom ad blocker rule(s) and the page will load as expected.