Overview Appearance and Personality Skills and Abilities Plot - S.1 Plot - S.2 Plot - S.3 Relationships
Family and villagers
Until her 16th birthday, Kubera Leez spent her entire life raised in a small village near Atera with a population of 112.[1] In general, all the villagers appeared to be kind people, and Leez apparently had friendly relations with all of them. As a result, she grew up with a trusting personality and a peculiar sense of morality (believing, for example, that people who waste food will end up in hell).[2][3]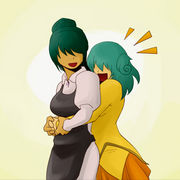 Out of all the villagers, Leez was closest to her mother, Anna Haias, whom she describes as the person she loves most in the whole world.[4][5] Leez would apparently help her mother out with chores and cooking.[4][6][7] Thanks to Roen's stories of her Anna's days as a fighter, Leez also admired her mother and wished to become a stronger fighter than her parents. These stories also made her wish to have Half friends like her mother.[8] After Maruna destroys her village, Leez is shown to miss her mother the most.[9][10][11] She also treasures the last gift she obtained from her: the yellow and orange outfit she wears throughout her journey.[5]
In contrast to her mother, Leez has never met her father, Rao Leez, and only knows him from a photograph and an autobiography he left behind.[4] Because of this, she doesn't know what a father-daughter relationship is really like, and is puzzled when she sees how Agwen treats her father Kasak.[12] Though she was disappointed in the name he gave her, which prevented her from leaving the village and going to school,[13] she nonetheless missed him and looked forward to meeting him one day.[7] Even so, she later tells a person that she doesn't blame him for his absence, and would have preferred for him to be happy and alive elsewhere, rather than suffer while trying to return.[14] Though learning of his death devastated her,[7][15] she nonetheless resolved to do her best to make him proud.[14] Having read his autobiography, Leez appears to follow his philosophy of life, such as always putting forward one's best self before a separation.[16]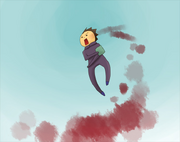 Leez also grew up alongside two orphans: the older Haas Lehn, and the younger Kaz Lehn. She frequently beat up the latter, who would frequently brag about going to school (unlike her), and made fun of her poor skills at calculations.[4][6][13] Still, Kaz didn't seem to suffer lasting injuries from Leez's punches, and Leez herself was apparently aware that he was an exception.[17] Overall though, they appeared to be on good terms: believing them to be dead, Leez sometimes thinks back to them,[6][18] though she spots Kaz briefly (and mistakes him for a ghost)[19] before Asha teleports her away from Atera. Likewise, Haas and Kaz both think she is dead and appear to miss her.[20]
Leez also appeared to be on good terms with the village guards: Roen Renod and Peil Sairofe. Roen, in particular, appeared to know Anna from her days as a fighter, and would tell Leez about how strong her mother was.[8] After Roen helped her mother buy her a birthday present, Leez invited both to her birthday party.[4] After Leez's village is destroyed, Leez also sometimes thinks of them whenever she thinks about her village.[6][18]
The loss of her village leaves Leez devastated and believing that she can't live if she has nothing left.[21] This prompts her to try to form new bonds by befriending Asha, but also to seek revenge against the one who destroyed her village: Maruna.[19][6][22]
Quotes
Maruna
Asha Rahiro
God Kubera
Yuta
Ran Sairofe
Gandharva
Agni
Others
References