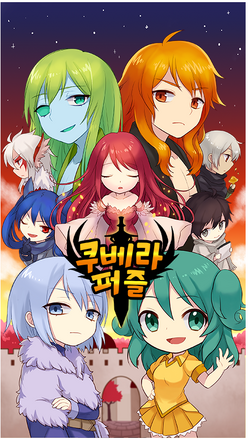 Kubera Puzzle (쿠베라 퍼즐) was a limited-time app released in South Korea and made available from the Google Play Store. There was not an iOS version. It was available from November 24, 2014 until February 15, 2015.
The player can choose one of the nine main characters shown on the cover image, as well as a supporting character: Kaz, Haas, Airi, Lorraine, and Ruche. The main and supporting characters have different tasks to accomplish.
The setting is from Episodes 1 to 50, so Ran does not appear. The game is independent of the webtoon story, and character relationships don't matter; for example, Leez hates Maruna in the story, but in the game that's not important.
Other game features:
There are three quests/missions to complete per day.
The player can earn bonus time and buy items from the shop.
Each player can add other players as friends.
Game images
Edit
The following images were posted on Currygom's blog, here and here.