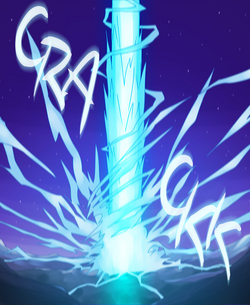 Unlike Hoti magic and Bhavati magic, silent magic does not require the magician to utter a spell. Agni has stated that silent magic was not an ability originally meant for humans.[2] The more human a magician, the harder it is for them to use silent magic. He lists the following as qualities that make a magician proficient at silent magic:
a desire for strength
lack of compassion for the enemy
a cold-hearted willingness to sacrifice everything for the sake of one's objectives.
The type of silent magic a magician can use is decided at birth. Each attribute has 1 or 2 silent magic abilities associated with it. Nobody is required to learn it.[3]
Silent magic itself does not use vigor, but when used with spells that require vigor, vigor consumption increases. hoti indra example: Using hoti indra by itself only uses vigor when cast, but when it is controlled with silent magic, vigor continues to drain out.[4]
List of known silent magic abilities
Edit
References
Edit
Ad blocker interference detected!
Wikia is a free-to-use site that makes money from advertising. We have a modified experience for viewers using ad blockers

Wikia is not accessible if you've made further modifications. Remove the custom ad blocker rule(s) and the page will load as expected.