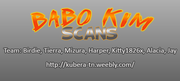 All material on the wiki belongs to the copyright holders: Currygom, Naver, and fans (in the case of fanart).
Sources 

The English fan translations were previously provided by the Company but are no longer available except from various aggregate sites. English fan translations after Episode 2-96 are being provided by Babo Kim Scans using the overlay translations method, where the translations are viewed directly over the Korean webtoon on Naver.
All appearances and descriptions are taken directly from photos and manhwa panels found on the wiki. Some dialogue is also taken from panels.
Ad blocker interference detected!
Wikia is a free-to-use site that makes money from advertising. We have a modified experience for viewers using ad blockers

Wikia is not accessible if you've made further modifications. Remove the custom ad blocker rule(s) and the page will load as expected.