So I decided to re-read another Kubera chapter just for fun and again I noticed something, well this time I also noticed it when I read that chapter for the first time, but I forgot, because I was too curious about the other chapter. Anyway now I'm going to talk about Sagara, more precisely her male form.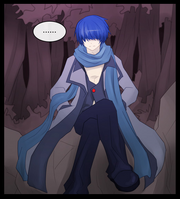 I don't know how many VOCALOID fans are here, but I at least know that I am one of them. So it was for a quite a shock when I saw Sagara's mle form for the first time. He reminded me so much of Kaito. If i didn't know any better I'd think he'd be a Kaito look-a-like or I'd think that it was Kaito fanart or Currygom could be a secret Kaito fangirl. XD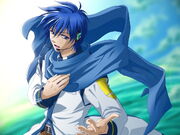 They have both short blue hair, they're both wearing a long blue scarf and they're both wearing long jackets. I wonder how a meeting between these two would end. Not good I guess, because Kaito doesn't speak korean and Sagara can't understand a word japanese.
If I had to choose between the two, I'd definitely choose for Kaito. sorry Sagara, but love Kaitio's voice and sometimes he has such cute expressions. He's smexy and cute at the sametime and has an awesome voice, while male Sagara only has smexy and killing abilities, plus sometimes she really acts like a snobby bitch. Thought I wouldn't mind hearing a duet from those two, that must sounds very awesome.
I also have to admit that I like Kaito's clothing style better. Sagara's looks a bit emo with all those dark and greyish colors. Come on... girl/ men is you want to look good then at least wear some clothes that will make you look lively. Kaito at least combined his blue scarf with a white jacket and this always brightens things up, along with the color yellow.
So that was another blog entry from me. I hope it was interesting guys, stay tunes, who knows what else I'll post next time.
-Dreamingflower (talk) 18:42, May 5, 2013 (UTC)
Ad blocker interference detected!
Wikia is a free-to-use site that makes money from advertising. We have a modified experience for viewers using ad blockers

Wikia is not accessible if you've made further modifications. Remove the custom ad blocker rule(s) and the page will load as expected.